Bad credit loans up to R200,000
Low-interest starting from 16%
Repayment up to 60 months
In-page navigation
---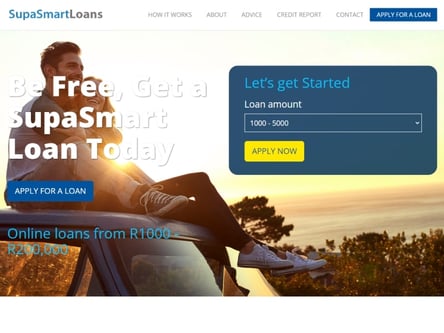 Author SupaSmart Loans. Screenshot of SupaSmart Loans website.


[Accessed December 9, 2022]
About SupaSmart Loans
There's no telling when you'll get money after making a loan application with a bank but with SupaSmart the online process is instantaneous.
When clients apply for credit online, they usually need the money instantly. SupaSmart Loans will give you one of their quick loans on the same day if you meet their credit criteria.
SupaSmart don't waste time
SupaSmart won't give you the run-around, this wastes your time and effort and is not the way to build the reputation this provider strives for. Instead, they want to ensure that you get everything you want in the shortest turnaround time.
Loans that meet your needs
SupaSmart offers super and smart online personal loans and related services all year round. They'll ensure that they put you in touch with one of the best lenders that can offer you a loan suited to your budget and requirements.
Therefore, it's important to determine your budget constraints from the beginning. SupaSmart will do its own verification and assessment based on your financials.
A loan for literally anything
When you need to pay for a medical bill, fix your car with petrol, or do some renovations at your house, money is needed. SupaSmart isn't concerned with what you use the money for.
At the end of the day, being able to assist you in your time of need gives them great pleasure and ensures they meet their objectives. How you use the bad credit loan is up to you.
SupaSmart Loans Services
The last thing you need is to find that you've taken on too much credit and you can no longer afford to pay it back.
Having said that, SupaSmart will ensure that the quick loan that you take is one that you can afford without falling short on your other expenses.
Can you afford a loan?
This is the reason SupaSmart requests to see bank statements and payslips - so they can determine your affordability. When desperate times come, customers tend to not think about their credibility but brokers and lenders have a responsibility to do so.
SupaSmart wouldn't be doing their customers justice if they allowed them to obtain any loan amount without taking into consideration their affordability.
Allow SupaSmart Loans to work for you
If you're interested in their online loan application, you have to go to their website and fill in the application form. All you have to complete your personal details as well as your salary and employment details.
After you're done, you can submit it to SupaSmart and the rest will be attended to by their consultants who will ensure that you get your loan.
Should SupaSmart find that you don't qualify for one of their bad credit loans in South Africa, they'll inform you and advise you what you can do better to stand a greater chance of being afforded credit the next time you apply. However, their lenders will do whatever it takes to meet your needs.
What SupaSmart Loans can offer you
These loans can give you access to amounts ranging from R1,000 up to R200,000. The repayment terms are between 1 and 5 years. The interest rates will depend on the lender offering you a loan.
SupaSmart Loans – Bad credit loan
Loan Type

Bad credit loans

Interest Rate

16 – 28% p/a

Loan Amount

up to R200,000

Repayment

12 months to 60 months

Decision

a few hours
Benefits of SupaSmart Loans
Instant response
Easy application
24/7 service available
Bad credit loan calculator
Get just the right amount at SupaSmart Loans
Once everything has been approved and the money has been made available, you'll have to start paying your repayments. When you read the terms and conditions, you have to ensure that you can adhere to the agreement.
If you are not too sure that you will be able to adhere to the contractual obligations, you might have to think long and hard before applying for SupaSmart's bad credit loans.
This is because if you don't pay the loan on time, you'll incur extra charges and it may affect your credit. Ultimately, your credit profile will be tainted and it will take a significant amount of time to get it back into the green.
All information is protected and confidential
Everything that you furnish SupaSmart with in terms of documentation will be kept safe and not used for any other purpose than processing your short-term loan application. The agent that will be helping you will be the only person who has access to your personal files on the database.
Only apply for the exact amount that you need
While the maximum amount of money you can apply for is R200 000, you should exercise caution and only apply for the amount that you need. You should only use credit during emergencies or for expenses that you cannot afford outright.
Always paying your loans on time will ensure that your credit improves over time and you'll even be able to enjoy loans at better rates later on.
If you keep this pace, when you search for credit in the future, you'll easily be approved. Applying for a short-term or payday loan has never been easier than it is now with the help of SupaSmart. What are you waiting for? Find out if you qualify right now!
Customer Reviews & Testimonials
"
April 2019
Supasmart Loan certainly knows how to effectively attend to customer's concerns; I got my loan within a day.
Thomas V
— Vanderbijlpark —
May 2019
With the interest rates I got from Supasmart Loan, I was able to pay my other credit plans.
Caroline P
— Northern Cape —
SupaSmart Loans Contact
Contact Number
E-Mail
Website
Physical Address
CAB Partners, Roeland Square, Gardens

Cape Town

Western Cape

8001

South Africa
Opening Hours
Monday

09:00 – 17:00

Tuesday

09:00 – 17:00

Wednesday

09:00 – 17:00

Thursday

09:00 – 17:00

Friday

09:00 – 17:00

Saturday

– Closed

Sunday

– Closed