Bad credit loans up to R100,000
No fees charged!
Repayment up to 60 months
In-page navigation
---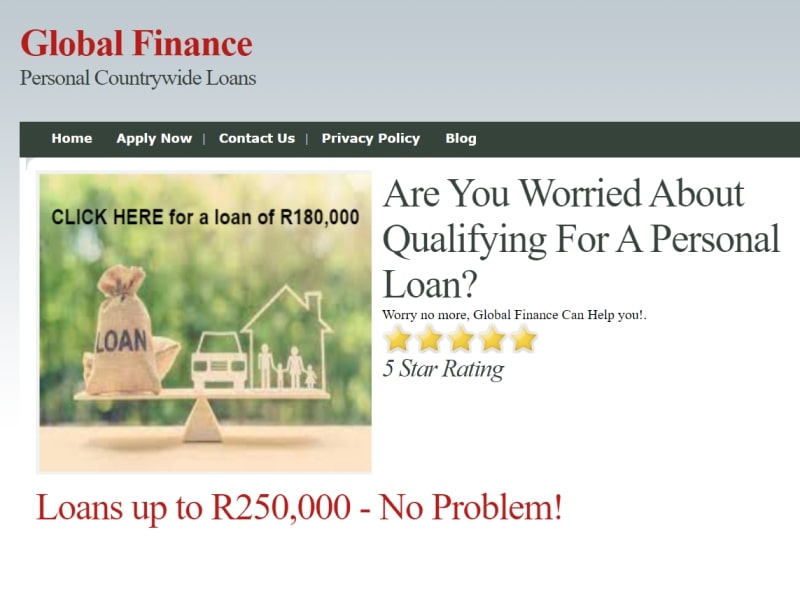 About Global Finance
Global Finance offers you up to R100 000 through our bad credit and blacklisted loans, clients can access cash loans with no problem!
We are specialists in the lending market when it comes to offering blacklisted and bad credit loans. When you feel despondent from being declined at banks and other lenders just because you have a less than perfect credit score, you will find solitude in the fact that Global Finance can help you.
Does the system work?
We offer you a free no obligation quote when you want to apply for finance. We don't judge you on your credit score instead we take a look at your level of affordability and how much you can afford to pay back on your loan. If you can afford to pay back your monthly instalments, you should be able to qualify for one of our loans.
We offer unsecured loan options
Our short-term loans are unsecured, so clients don't need to come up with collateral to secure their loan. When you have a list of overdue accounts on your plate, or even need a vacation away from everything, we have the loan that will suit your needs.
No matter what you need a loan for; Global Finance will help you get it, today! Apply online now and let us open up a world of opportunities for you to take advantage of. Everything you need is right here on our website.
Global Finance Services
We are an online financial services company that works with technology that speeds up the lending processes to make getting your cash a breeze.
We offer all kinds of financial products including loans for blacklisted and bad credit clients. Being blacklisted can be the effect of one bad payment in your past, or being late on a couple of payments. You may have had a minor lapse in your payment history that sticks to your record for a while but we won't let that affect your loan application.
What makes us different?
Many banks in SA and lenders won't even give you a second look should you want to apply for finance from them when you are blacklisted. This process can be stressful and adds more pressure to clients when their financial needs heighten. We at Global Finance are able to assist you, even if you have had past financial defects and non-payments on accounts.
Thousands of loans approved
Since our establishment in January 2000, we have managed to help thousands of clients who are blacklisted, in getting loans to suit their repayment terms and budget. We will go the extra mile to get you the finance you need and we will find it for you fast.
Simply go to our website, apply for a loan, get approved and we will deposit the cash straight into your bank account. It's that simple! It only takes minutes of your time and being online, can be accessed from your home or office, at any time.
Global Finance – Bad credit loan
Loan Type

Bad credit loans

Loan Amount

up to R100,000

Repayment

6 months to 60 months
Benefits of Global Finance
Unsecured, blacklisted friendly
Easy application
Fast payout
No fees charged
Bad credit loan calculator
---
Global Finance provides competitive personal and blacklisted loans
We will assist all individuals even if you are blacklisted with a loan of up to R100 000.
When you feel like you just can't make it through the month and have too many payments to make, let us help you get rid of some of those overdue accounts. Often, we find clients come to us after being turned away by other lenders. This is due to being named as a blacklisted client. We are different. We have the capabilities and the financial resources to assist all clients, including those with a bad credit history.
Personal loans of up to R100 000
This can be used for covering outstanding debts, taking a holiday, or putting down a down payment of a car. Whatever the use, we can help you find a loan.
Applying through our website is simple. Our entire application processes in paperless and everything is done online. This will save you time when you don't have time to run around from lender-to-lender.
Who can apply?
To qualify, you need to be over the age of 20 years and earn a monthly income of no less than R1 500. Clients need to be residents of South Africa and have a valid ID book to prove it. Individuals who apply may not be under debt review or be receiving debt counselling through administration.
We offer a wide range of benefits for clients who are blacklisted and those who need to apply for finance.
Some of these benefits include:
Get the lowest rates which are highly competitive in the market
Get cash to the amount of up to R100 000
You can choose to pay off your loan over 60 months
Our loans are unsecured, so you don't need collateral as security
We don't require any annual fees
Our online and consultants services are available five days a week
Cash paid directly into your banking account
Use your loan on anything you like
Clients can get a no obligation quote by requesting one online. We will assist you from beginning-to-end with the entire loan process.
Customer Reviews & Testimonials
"
Global Finance will never give you a loan that will prove to be too costly for you to pay on a monthly basis.
Gift M
— Mpumalanga —
If you looking for a credit provider that will go out of its way to ensure that you get a good credit deal, Global Finance is your best shot at getting good value for money.
Carl J
— Kimberly —
There is always something beneficial from applying for credit at Global Finance. Benefits for clients are always a definite!
Ernest M
— Mafikeng —
Global Finance Contact
Contact Number
E-Mail
Website
Physical Address
23 Grey St

Aliwal North

9750

South Africa
Opening Hours
Monday

08:00 – 16:30

Tuesday

08:00 – 16:30

Wednesday

08:00 – 16:30

Thursday

08:00 – 16:30

Friday

08:00 – 16:30

Saturday

– Closed

Sunday

– Closed