Bad credit loans up to R250,000
Low-interest starting from 20%
Repayment up to 60 months
In-page navigation
---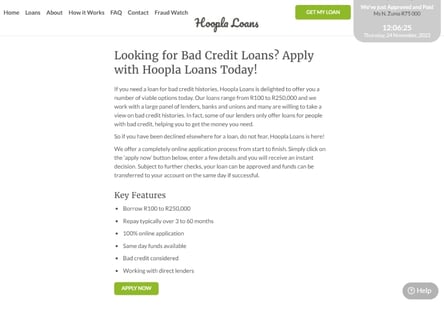 Author Hoopla Loans. Screenshot of Hoopla Loans website.


[Accessed December 9, 2022]
About Hoopla Loans
Do you need a loan but suffer from bad credit? This is where Hoopla can help you.
Hoopla Loans provides you with quick loans that can be used for anything you desire.
They offer loans from R100 to R250 000. These loans are paid straight into your bank account with no delays.
They also have a very high approval rate, and don't need to know what you'll be using the money for - that's entirely up to you!
About Hoopla's bad credit loans
Hoopla's bad credit loans are easy to apply for, and you can use your loan for any purpose. If you have a bad credit history, his lender can still help.
These short-term loans will be paid directly into your account once you've signed the loan agreement. Hoopla helps hundreds of people every single day and they're ready to help you too.
An instant loan decision
When applying online with Hoopla Loans, your application is secure. Your details will not be used for other purposes such as third-party marketing.
They use their online platform to compare many lenders within seconds, for your benefit. This is a superior way for you to review loan prices and rates and find the most competitive option.
It takes roughly 4 minutes to apply the loan and once approved, you can obtain your money within hours. Hoopla's services are exclusively available to South African citizens.
Hoopla Loans Services
When applying with Hoopla, your details are protected.
Their website is encrypted with the latest technology to keep your information safe and secure. They check their safety systems daily to make sure that they're still running smoothly.
This provider is a new-age online platform that's here to help South Africans find bad credit loans that suit their needs.
They have a panel of lenders that they've partnered with and are here to bring you the best options that also suit your needs. As the intermediary, they don't charge you any fees.
How much cash can you borrow?
You must know what kind of loan you need. Each loan type has a specific range.
A payday loan offers from R100 to R8000.
A personal loan is the next step up from the payday loan and offers from R8001 to R20 000.
A long-term loan would be the next tier up and offers from R20 001 to R250 000.
As a client, it should be comforting to know that 84% of all Hoopla's applicants get approved.
Types of loans Hoopla offer
Hoopla Loans brings you a wide variety of loans. From payday loans to personal loans, there's so much that they can provide. They offer bad credit loans, short-term loans online, and long-term loans. These range from R100 up to R250 000.
The repayment period also ranges from 1 month up to 5 years. These loans are ideal for emergencies and once-off payments. They can also be used to cover small costs throughout the month.
Hoopla Loans – Bad credit loan
Loan Type

Bad credit loans

Interest Rate

20 – 112% p/a

Loan Amount

up to R250,000

Repayment

2 months to 60 months

Decision

Between 5 and 45 minutes
Benefits of Hoopla Loans
Low repayments
Same day response to applications
Free online application
Bad credit loan calculator
Bad credit loan eligibility and the Hoopla application process
To be eligible for a loan with Hoopla, you must be 18 years or older and be permanently employed.
You won't be able to apply for a loan if you don't meet these minimum requirements. The great thing about this platform being online is that you'll get a response almost instantly after applying.
If you get approved, you'll most likely be notified online. If not, you'll be notified through email, SMS, or telephone.
Why you should apply for a loan through Hoopla
They offer finance to all. Even those with poor credit histories.
With Hoopla, you have a high chance of approval.
Their monthly repayments are low, and their interest rates are reasonable.
They're a 4-star rated company with a website that's 100% safe and secure.
Hoopla's application process is easy and fast
All of Hoopla's lenders are NCR licensed meaning they are licensed with the National Credit Regulator. They trade according to the laws set out in the National Credit Act and they offer same-day loans.
Who can Hoopla help?
Hoopla Loans know that everyone has a past, and they strongly believe that everyone deserves a second chance. Even if your credit record has seen better days, don't worry. They'll help you because that's what they do!
It's Hoopla's wide panel of lenders that enables them to do this when others simply can't. To apply for one of their bad credit loans online you must be aged 18 or older, be permanently employed, and be able to pass the lender's affordability checks.
You'll also need to submit a copy of your ID, proof of address, your payslips, and bank statements.
Customer Reviews & Testimonials
"
November 2019
Best comparison website I've used
Louis O
— Cape Town —
February 2019
Great prices and rates
Arnold F
— Bloemfontein —
June 2019
It was a very easy website to use
Sinovuyo E
— Polokwane —
Hoopla Loans Contact
Contact Number
E-Mail
Website
Physical Address
Office 2 Manhattan Corner, Century Way, Century City, Milnerton

Cape Town

Western Cape

7441

South Africa
Opening Hours
Monday

08:00 – 17:00

Tuesday

08:00 – 17:00

Wednesday

08:00 – 17:00

Thursday

08:00 – 17:00

Friday

08:00 – 17:00

Saturday

09:00 – 13:00

Sunday

– Closed