Bad credit loans up to R8,000
Low-interest up to 32.1%
Repayment up to 6 months
In-page navigation
---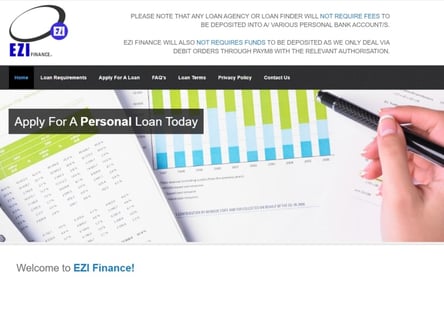 Author EZI Finance. Screenshot of EZI Finance website.


[Accessed December 9, 2022]
About EZI Finance
EZI Finance is the specialist to call when you need a loan but you're blacklisted or have a bad credit score.
This lender offers different types of credit options from personal to debt consolidation loans.
The solution you're searching for
EZI Finance eliminates the difficult application process and all the risks involved in taking out a bad credit loan.
This provider is the best alternative to banks and major credit companies that will reject you automatically if you're blacklisted. They understand your needs and will meet them fully.
Get your loan approved
When you apply for a loan with EZI Finance they'll do everything in their power to obtain a loan on your behalf. They do this by applying to all the lenders in their network with one simple application. This will not negatively affect your credit score.
If your loan is approved they'll provide you with the cash you need at a very attractive interest rate.
Their loan repayment terms are highly flexible and can be arranged to run automatically to align with your pay date.
This will ensure that you don't miss a payment and incur penalty fees or other charges. To help you remember your debit order, and so you can ensure you have sufficient money in your bank account, they'll send you a reminder a few days before the order is set to run.
EZI Finance Services
EZI Finance is committed to helping every South African citizen get finance to solve their financial problems.
You shouldn't have to be penalised for your past mistakes which is why this lender is happy to help you with a loan when you need it.
Bad credit loans at EZI Finance
If you're in a better place financially and can show that you can easily afford the repayment terms then this provider will gladly offer you a loan.
Being blacklisted doesn't need to mean the end of your financial journey; you can easily qualify for a loan that won't break your bank account. EZI Finance is a responsible lender and won't offer you more than you can afford to borrow.
They specialise in helping people with bad credit and those who have been blacklisted find the ideal loan which is affordable and convenient.
Whenever you need cash quickly, you simply need to turn to them and they'll provide you with the sum that you're looking for. There's no need to jump through barriers or find loopholes.
Transparency is key to EZI Finance
One of the reasons this provider's clients remain happy is that their loan contracts are completely transparent with no hidden fees.
You can trust them to get you out of the financial emergency that you've found yourself in. Once you recover, you can repay them and they'll be able to start a long-term partnership.
EZI Finance – Bad credit loan
Loan Type

Bad credit loans

Interest Rate

up to 32.1%

Loan Amount

up to R8,000

Repayment

2 months to 6 months
Benefits of EZI Finance
No fees charged
Blacklisted loans available
Low-interest rates
Quick and easy application
Bad credit loan calculator
EZI Finance - a lender you can trust with your financial emergencies
If you have blemishes on your credit record you should know that this will not necessarily prevent you from borrowing money.
There are special loan products to help people with bad credit obtain a solution. EZI Finance offers a range of flexible products that can be adjusted to suit your specific requirements.
Experienced at finding you the best deal
EZI Finance is a service broker specialising in assisting people who have a bad credit record with finding loans when all the other lenders say no.
They have considerable experience and provide simple friendly service. They operate entirely online and this makes their service accessible for everyone.
The online application saves you time and effort and makes it much more convenient for you to obtain a loan. EZI Finance's bad credit loans are provided by a variety of micro lenders specialising in the provision of this type of credit product.
The benefits of EZI Finance's service
EZI finance's job is to process your application and submit it to lenders. The major benefit is that you can apply for a loan to more lenders at the same time - this gives you a much higher chance of securing a loan.
Another benefit is that your credit score will not be adversely affected as you won't make a large number of separate applications. You can expect EZI Finance's bad credit loans to be diverse.
The loan amount which you'll qualify for will depend on your income and your existing debt. Generally, most loans are unsecured so your salary will be the major deciding factor on the amount which you will be able to borrow and whether your loan application will be approved or not.
Reasonable interest rates
Interest rates on bad credit loans are higher than the ones that people with a clean credit record are charged, but they'll find a competitive one that you can afford.
The fees they arrange are reasonable and their loan terms are flexible. You'll be able to select the term of the loan depending on how much you borrow.
EZI Finance's bad credit loans are affordable and offer a great amount of flexibility - so what are you waiting for?
Customer Reviews & Testimonials
"
May 2019
There is always a benefit you get from applying for a EZI Finance loan!
Christopher Van Rensburg
Christopher V
— Northern Cape —
May 2019
EZI Finance is the reason why my financial obligations were attended to in the most cost effective way.
Nokwanda D
— Soweto —
EZI Finance Contact
Contact Number
E-Mail
Website
Opening Hours
Monday

08:00 – 17:30

Tuesday

08:00 – 17:30

Wednesday

08:00 – 17:30

Thursday

08:00 – 17:30

Friday

08:00 – 17:30

Saturday

– Closed

Sunday

– Closed