Bad credit loans up to R150,000
Bad credit friendly
Repayment up to 60 months
In-page navigation
---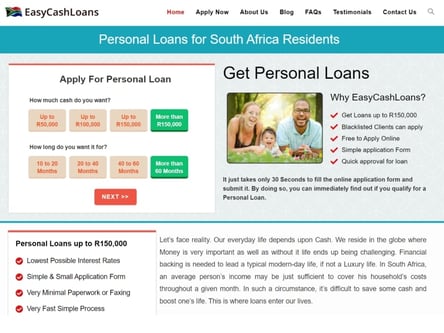 Author Easy Cash Loans. Screenshot of Easy Cash Loans website.


[Accessed December 9, 2022]
About Easy Cash Loans
In the short time Easy Cash Loans has been in the industry, they've assisted thousands of people in finding the right financial solution to help make their dreams come true.
Easy Cash Loans deliver value
Easy Cash Loans focus on delivering sustainable, value-added services that are guaranteed to provide a tailored loan solution to all qualifying applicants. This means, everyone, even clients who are blacklisted, can get their loan applications approved.
They've made over 4 Billion Rand in pay-outs since they first started. They've truly held their heads high because they have the ability to help people when no one else will.
Striving to make a difference
Easy Cash Loans want to see you get back on your feet when you've been set back due to the lack of financial help. When you have bills to pay and your salary just isn't getting you through the month, look no further for a fast and reliable online loan.
Online services of the utmost convenience
Easy Cash Loans offer convenient online application processes that will make life easy for you. It will allow you to access cash no matter where you are, at any time.
They are the short-term lender that you need to help you get your life back on track. Apply now and have the cash you need in your bank account by the very next day!
Easy Cash Loans Services
Easy Cash Loans will help everyone who qualifies for a loan get it fast!
Loans for any purpose
They can offer you a cash loan of up to R150 000 to use for whatever you need. Just imagine having that little extra boost in your bank account to help you get your finances back on track.
Their applications, approvals, and payouts are all processed online through their website, making life easier for you and ensuring you get the money as quickly as possible.
Get a loan in only a few minutes!
The application form takes just a few minutes to complete. Once Easy Cash Loans has verified your information they'll contact you to discuss the next steps of your application and how to proceed.
This lender offers a totally paperless, online application process, which saves a lot of time by not having to physically make an appointment to speak to a consultant. From application to verification and approval, the process takes only a few minutes.
Lowest rates available
You'll receive interest rates that are incredibly low because their repayment terms are stretched out over longer periods. From beginning to end, they make everything as quick, simple, and convenient as possible,
Easy Cash Loans – Bad credit loan
Loan Type

Bad credit loans

Loan Amount

up to R150,000

Repayment

3 months to 60 months
Benefits of Easy Cash Loans
Affordable personal loans
Bad credit friendly
Fast turnaround and approval
R150 000 maximum loans available
Bad credit loan calculator
Easy Cash Loans has simple and affordable bad credit loan options
All South Africans have a simple and fast way to apply for a personal loan when they need it through this incredibly efficient online lender.
Blacklisted applicants welcome
Personal loans are available to blacklisted clients, offering an amount of up to R150 000 to use as you please. Easy Cash Loans will check whether or not you can afford to pay back the monthly instalments without causing yourself extra stress. This provider is different, reliable, and is the best lending platform to help you find a cash loan.
Benefits of Easy Cash Loans' services:
No intimidating credit checks
Low-interest rates
Short and uncomplicated online application
Paperless processes
Quick and painless processes, with detailed steps to follow
Approval is instant, so you can start planning ahead
Secured and unsecured loans are offered
Clients who are blacklisted have an opportunity to get a loan
The application processes and services are completely free with no obligations
All client data is confidential, your personal information is secure
There's no one size fits all
Easy Cash Loans offer clients short-term loans, payday loans, longer-term loans, personal finance, as well as loans for bad credit. Their payday loans are suitable for clients who need a little cash boost to last them to the end of the month.
This amount will cover what you need it to and you can pay it back easily by your next pay date. They aim to provide a seamless, simple, and fast service that you can appreciate.
No matter which loan you choose to apply for and no matter what your credit score is, they'll make sure that you have as little stress and hassle as possible when it comes to getting the cash you need.
Get the cash you need today!
Get cash in your bank account in fast turnaround times. You may feel like there's no financial assistance available to you; however Easy Cash Loans can help.
Apply now and receive a world of value-added benefits that are all available quickly and easily on Easy Cash Loans' website.
Qualifying criteria
South African citizenship
Own a bank account registered in your name
Be permanently employed
Be at least 18 years old
Earn a minimum salary of R1,500 monthly
Customer Reviews & Testimonials
No reviews for this business.
Easy Cash Loans Contact
Contact Number
E-Mail
Website
Physical Address
20 Anderson St, Klerksdorp Central

Klerksdorp

2570

South Africa