Bridging Finance Specialist
FAST and Reliable
Approval in 10 minutes
In-page navigation
---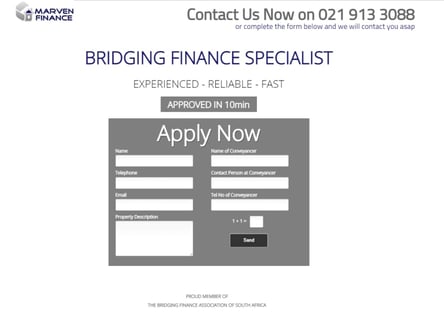 Author Marven Finance. Screenshot of Marven Finance website.


[Accessed December 9, 2022]
About Marven Finance
Marven Finance is a specialist in quick loans.
Based in Cape Town, they make use of their online platforms to cover the whole of South Africa with their financial services.
Find a loan easily and quickly
You can find the loan that you require to fill the holes in your monthly budget or to pay for a small holiday for you and your family, easily and quickly.
Marven Finance has one of the fastest turnaround times in the industry and doesn't believe that any individual should wait around for approval. As long as you meet their basic eligibility criteria, they'll transfer the cash to you immediately.
As registered microlenders, they abide by responsible lending practices based on the standards set by the National Credit Regulations.
Marven Finance won't give you more than you can afford. They'll tailor a loan that's suited to your needs and affordability.
If you're in a situation where you're short on cash, you can use a quick loan. Marven Finance offers products that can be useful to you in the case of a financial emergency. These products offer maximum flexibility in respect of loan amount and repayment terms.
Marven Finance Services
The financial solutions offered by Marven Finance are simple, convenient, and easily accessible to all South Africans.
Marven Finance understands that time is money and they know that you cannot get out of your office in the middle of the day to apply for a loan.
Their online services allow you to apply for a quick loan from the comfort of your home or from your office.
Quality products and excellent service
Marvin Finance provides unsecured loans up to R4,000. This is more than what many short-term lenders have to offer.
An online service based on excellence
Once you submit the short application form, they'll review your supporting documents and approve your application.
You'll then receive a loan agreement that will specify the details of your loan. This will include the interest, any fees that must be paid and the loan term and expected instalments.
Apply today and you could have the funds deposited into your bank account within hours.
Marven Finance – Quick loan
Benefits of Marven Finance
Property bridging finance
Pension bridging finance
Marven Finance - dedicated to service excellence
For the majority of South Africans, managing a monthly budget comes with its fair share of difficulty.
If you choose to work with Marven Finance you can expect friendly service in every respect. Their staff are experts in their field and will work with you to obtain the best solution for your circumstances.
The consultant you'll be working with will give you the best advice to accommodate you in the best possible way. At the same time, you're under no obligation to accept the offer if it doesn't meet your needs or if it exceeds your affordability.
Apply online with Marven Finance
These easy online loans are readily available and can satisfy a range of needs; Marven Finance aims to assist you in resolving your cash emergency in the quickest possible time.
You can apply online from the comfort of your own home or over the phone but you're also welcome to visit their offices if you would rather have an in-person meeting. All of these options will deliver results fast.
Your application will be processed in minutes
Time spent waiting for your application to be approved is time wasted. Once you've accepted the offer, the cash will be transferred to your bank account. As a result, you'll be able to use the cash on the same day or the next day at the very least.
Quality products and excellent service
You can get the money you need to pay late utility bills or to settle emergency expenses. Use the funds for whatever reason you see fit; go on vacation, repair a vehicle or use the money for house renovations.
Terms that mould to your needs
The repayment terms are flexible. If you'd like to save some money on the interest you could choose a shorter term but this is entirely up to you.
Marven Finance's interest rates are similar to what competitors charge. The same applies to the initiation and administration fees. Still, it's up to you to decide on the affordability of the loan based on the offer that you're presented with.
Marven Finance's quick loans are convenient, quick to obtain, and simple. The lender is transparent and doesn't have any hidden costs or fees. They're honest, reliable and always willing to do the very best for their clients.
Don't hesitate to give Marven Finance a call today; they always look forward to being of assistance and will gladly take care of any questions or concerns you may have!

Marven Finance is a trusted & reliable provider of quick loans
In our review, Marven Finance adheres to the compliance criteria in accordance with the National Credit Act, where the granting the loan will not cause financial distress to the consumer.
✅ Marven Finance is a registered credit provider in South Africa: NCR CP1229
Customer Reviews & Testimonials
"
April 2021
Marven Finance is the reason why my financial management skills are so up to par!
William H
— Krugersdorp —
May 2019
Applying for the Marven Finance loan was the best decision I ever took for my finances.
Patience F
— Soweto —
Marven Finance Contact
Contact Number
E-Mail
Website
Physical Address
50 Adderley St

Cape Town

Western Cape

8001

South Africa
Opening Hours
Monday

08:00 – 17:00

Tuesday

08:00 – 17:00

Wednesday

08:00 – 17:00

Thursday

08:00 – 17:00

Friday

08:00 – 17:00

Saturday

Closed –

Sunday

Closed –