Quick loans up to R15,000
Fast loan comparison
Choose the best offer
In-page navigation
---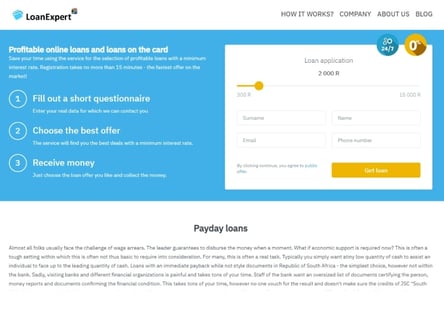 Author Loan Expert. Screenshot of Loan Expert website.


[Accessed December 9, 2022]
About Loan Expert
Loans Expert is a leader in providing quick loans online to South Africans.
With their online platform, they aim to find a loan that fits your needs. Loan Expert is a loan comparison site that provides access to top-of-the-range loans. It's designed to help guide your search for a loan by giving you several options to browse through.
A globally recognized loan comparison site
Although they have a branch in South Africa, Loan Expert can still be accessed across the globe, thanks to their online application platform. The fact that they operate in many countries gives them insight into the financial needs of people and ways to help them. Loan Expert consultants strive to help you access quick loans online via their platform.
Loan Expert services come free of charge
Using Loan Experts' services does not cost you any money, and the application process does not have any hidden fees. They believe in providing a convenient service to help clients get quick loans online without additional charges.
Loan Expert is secure and user-friendly
Their website uses the latest technology that enables you to compare different easy online loans at once. When using their services, you can feel safe knowing that your information won't be accessed by third parties.
Loan Expert is a safe and secure comparison site. They only recommend lenders that are fully registered, and that comply with the rules and regulations of the National Credit Regulator.
Loan Expert Services
Loan Experts can help you get a quick cash loan that fit your needs and help you start living a financially stress-free life.
Quick Loans are perfect for helping with financial problems or cash emergencies. You can now find what you need with easy access to many loans.
The online platform helps you make the best decision about which loan solution to select.
Find a quick online loan
Quick loans are a simple, fast way to get access to funds. To apply at Loan Expert takes a few seconds with their online platform, which only requires basic information.
After that, you'll receive quick online loans options ranging between R300 and R9000, each with repayment terms that fit your needs. Loan Expert consultants ensure that you get the loan amount and repayment term you want.
The benefits of a quick loan
Although quick loans have many uses, most people require them for emergency costs such as hospital fees. They're designed to suit your needs and also be affordable. Loan Experts will only provide you with loan options you can afford.
Get a loan in just 15 minutes
As soon as you apply on their online platform, Loan Expert will provide you with their options. When you decide on a loan, you'll receive approval within 15 minutes. This makes Loan Expert's service one of the fastest in the country. You can enjoy a loan payout within 24 hours after applying.
Loan Expert – Quick loan
Loan Type

Quick loans

Loan Amount

up to R15,000

Decision

15 minutes
Benefits of Loan Expert
Quick loan comparison site
One simple loan application
Affordable loans
Simple application form and get cash in your pocket immediately
Loan Experts guarantee fast approval on their loans and also have a high approval rate.
The company works with the most prominent credit providers in South Africa to make sure they can provide clients with the most competitive loan deals. Above that, their service is also unique because they don't require paperwork to apply for a loan.
To be eligible to apply for a quick loan, you need to
Be over 18 years and hold a SA ID
Have a mobile number and email address
Be permanently employed and have proof of income.
Applying for quick cash from Loan Expert
First, you need to fill out a short application form for Loan Expert to know more about your needs. You will then receive multiple loan offers, of which you can choose the best deal with the lowest interest rate.
Once your make your choice and the application gets approved, you'll receive your cash within 24 hours.
Making online lending easy and reliable
Loan Expert is considered one of the most innovative service providers for quick loans in South Africa. Instead of visiting a branch and providing paperwork, you can now apply online and upload your documents without leaving your house.
Getting in touch with Loan Expert
Loan Expert operates entirely online, which is where you can apply or get in contact with them. They're also active on social media (Facebook, Twitter, and Instagram) for anyone to get to know them better and give valuable feedback.
Customer Reviews & Testimonials
"
October 2019
I needed to buy my study books before my first test. I did not have money. I saw Loan Expert on the internet while I was browsing. I applied and I got accepted. Because of Loan Expert, I was able...
Garry O
— Pretoria —
June 2020
Loan Expert has the simplest application form. It is to make an application through them.
Lindelo Y
— Bloemfontein —
March 2019
I got an incredible loan deal through Loan Expert. It consisted of low interest rates.
François N
— Johannesburg —
Loan Expert Contact
Contact Number
E-Mail
Website