Quick loans up to R50,000
Low-interest starting from 25%
Repayment up to 60 months
In-page navigation
---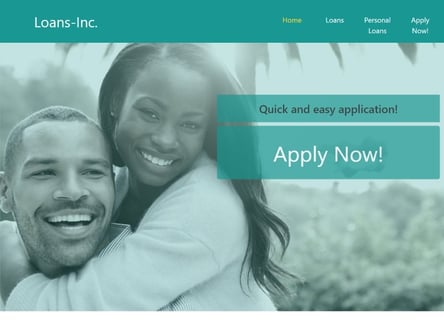 Author Loans-Inc. Screenshot of Loans-Inc website.


[Accessed December 9, 2022]
About Loans-Inc
Loans-Inc realizes that times can get tough – costs are rising and our budgets are constantly under strain.
On top of these pressures, emergencies including your car needing new tires or repairs or perhaps medical or vet bills can wreak even more havoc.
These things cost money that we sometimes don't have readily available. This is where Loans-Inc can help. With them, getting your cash loan approved is easy!
With the internet and advanced technology assuming control, there's no reason not to use fast loan products.
I'm blacklisted... Now what?
Many circumstances can cause you to get into trouble with your creditors and become blacklisted.
If you're in such a position Loans-Inc offers you some assistance with getting away from creditors hounding you for payments on overdue accounts.
You're welcome to apply for an instant cash loan with Loans-Inc and ensure you can meet your commitments.
Loans-Inc Services
Loans-Inc is an expert in delivering quick loans. Even if you're blacklisted, you may still be approved. Fill in the loan application and allow them to find a solution to assist you.
Loans-Inc's quick loans in South Africa are straightforward and you can be assured that you'll receive the best assistance from their financial experts.
Access loans from R3,000
A loan from Loans-Inc could give you access to between R3,000 and R50,000 with repayment periods ranging from 6 to 60 months.
Getting a loan from Loans-Inc is simple
Loans-Inc can have your application approved in minutes, and cash in your account by the next working day.
It's easy to apply and even easier to get the cash you need!
This lender boasts a helpful and experienced team. They're ready to assist you with any questions you may have as well as more information regarding their loan services.
Loans-Inc – Quick loan
Loan Type

Quick loans

Interest Rate

from 25%

Loan Amount

up to R50,000

Repayment

3 months to 60 months
Benefits of Loans-Inc
Quick and easy loan applications
Fast loan approvals
Loans Inc - Quick cash loans at your fingertips
The harsh reality of general day-to-day living costs is scary and there are very few people that can get by on their salaries.
This is why getting a cash loan for times like these ought to be a simple process. With Loans-Inc you can get affordable, quick cash loans through an easy-to-use online application process.
When applying, you'll need the following:
A completed online loan application
South African ID book or Passport
3-Months bank statements
3 of your most recent payslips
Affordability is essential
Take a few minutes of your time and fill in Loans-Inc's online loan application form. Once they've received your application along with the relevant documentation you could have your cash loan in no time at all.
The easiest way to find out if you'll meet all this lender's criteria for a quick cash loan, even if you have bad credit is to fill in their online loan application.
They'll have a response for you within 30 minutes. You'll get cash into your bank account within less than 24 hours of being approved!
Technology has now made life a lot easier
Anyone with access to the internet can now apply for a loan from the comfort of their home, car, or office. You don't even need to visit a bank anymore.
The minimum requirements to apply at Loans-Inc
Be permanently employed for at least six months
South African citizenship
Recieve your salary in your bank account monthly
Have a clean credit record
One, two, three - done!
All you have to do is simply fill in Loans-Inc's online cash loan application, fill in the required information and you can have your cash payout within one working day!
There's no cost for applying, it's free. Once you apply, you'll have a genuine feeling of relief knowing that your cash loan will be paid out in no time.
Loans-inc understands your needs
All information is kept confidential and their team of experienced financial consultants will make you feel quite at ease throughout the process.
Loans-Inc pride itself on quality customer service, always within your best interests and needs. Everyone is different and requires a tailored financial product to suit their budget.
A loan for bad credit is attainable with Loans-inc. They can offer you some help with budget shortages and urgent cash needs. Loans-Inc offers customers basic and brisk quick cash loans and loans for blacklisted customers, all depending on what you can afford to pay back every month.
Once you've completed the application, you'll have a notification within 30 minutes, letting you know whether you've been approved or not.
Customer Reviews & Testimonials
"
May 2019
Loans-Inc has never disappointed when it comes to applying for credit. This is the reason they have become my credit provider of choice.
Brian C
— Sandton —
May 2019
Applying for a Loans-Inc loan was fast, easy and convenient.
Sarah J
— Boksburg —
June 2019
Loans-Inc is the reason why my budget has become so flexible.
Nomasonto M
— Umlazi —
Loans-Inc Contact
Contact Number
E-Mail
Website
Physical Address
4 Briza Rd, 4 Briza Rd

Bloubergstrand

Cape Town

7441

South Africa
Loans-Inc Universal Branch Code
Opening Hours
Monday

09:00 – 16:00

Tuesday

09:00 – 16:00

Wednesday

09:00 – 16:00

Thursday

09:00 – 16:00

Friday

09:00 – 16:00

Saturday

– Closed

Sunday

– Closed