Turn your policy into CASH
Increase your cash flow
GET a better rate
In-page navigation
---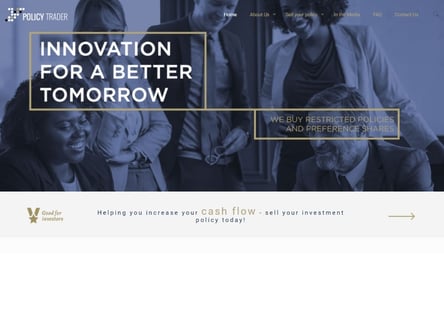 Author Policy Trader. Screenshot of Policy Trader website.


[Accessed December 9, 2022]
About Policy Trader
Policy Trader sees to it that you no longer need to wait for your policies to mature before getting the cash you deserve.
They are in the business of buying restricted policies, which gives you the opportunity to increase your cash flow at a much better rate than what you would get through alternative channels and financial organisations.
Turn your policy into cash
Policy Trader is a financial service provider to Independent Financial Advisors as well as networks like Masthead and Cadiz Financial Services group. Policy Trader can assist clients in South Africa with transforming their restricted policies into cash.
This is a service that many customers make use of, and it offers an alternative to quick loans in SA. In the 25 years of policy trading in South Africa, this lender has helped thousands of clients get cash when they struggle to get it through their policyholders, or through lenders.
Policy Trader Services
Policy Trader's clients need cash for their restricted policies, one that can deliver a cash pay-out immediately.
Policy Trader has made the process simple to afford clients a simple and effective way to receive funds when they need them. When your policy company tells you, you can't, Policy Trader will tell you, you can!
Free no-obligation consultation
Many South African are given little or no options when they need cash from their policies. This is why Policy Trader provides a service with a can-do attitude. They assist with pay-outs of a number of policies including life policies, endowment policies, structured product or preference shares, and term policies.
If you aren't sure if your policy qualifies, give them a call, and they'll give you a free no-obligation consultation on your policy, and let you know if you're eligible to receive cash. They'll also let you know how much your policy is worth, should you decide to cash out.
Policy Trader – Quick loan
Benefits of Policy Trader
Policies for cash
Quick and easy application
Policy Trader gets you access to your policy funds without the hassle
It can be very frustrating when you have a policy but the cash value is restricted and unavailable. What a shocker it is when you're turned down by your life insurance company without a solution.
What you need is a trusted partner, who can help you get cash when you need it, without the complications and hassles that are typical of the industry. Policy Trader has many years of experience in offering its services to clients across the country.
Selling your policy is simple, and by following the easy application process, they can help you get back on track to financial freedom.
An independent financial advisor
Policy Trader can assist you immediately. Many restricted policies offer a lump sum pay-out after a five-year maturity plan. This restricts you from getting a pay-out when you actually need it.
Policy Trader works as an independent financial advisor, working with some of the top policy providers in the country such as Liberty, Absa, and Discovery. This provider's policy pay-outs don't require any repayments or extra interest charges, you simply get out what you're entitled to from your policy.
Policy Trader strives to provide a service that's competitive, to ensure you receive a quality service that meets your needs. If you require instant financing, they might be able to help you. Their online loan products are fast, friendly, and secure.
Policy funds without the hassle
Policy Trader helps you get the cash you need from viable policies when you need to apply for a loan quickly.
With so many dead ends on the road to accessing fast cash these days, Policy Trader knows how hard life can be, and how everyone needs someone to fall back on.
Policy Trader has the capability to offer you cash for your policy in no time, giving you a little extra cash to use as you please.
Get an evaluation
Get an evaluation of your policy by initially completing a consent form for Policy Trader to access your policy.
They'll forward you an offer to purchase on your policy, which is valid for up to 7 days, and if you're happy with the offer to purchase, simply sign the document and return it to them.
They'll then do another check on the document for any changes and errors and create a final document. This document will then be submitted to their processing office.
Once they've received the document, you'll receive a pay-out of the policy amount within a time frame of no longer than 48 hours.
Customer Reviews & Testimonials
"
May 2019
Policy Trader gave me a loan I couldn't refuse.
Landi D
— Klerksdorp —
June 2019
Applying for the loan at Policy Trader gave me a second chance at repairing my bad credit history.
Mandisa K
— Deneysville —
June 2019
I would like to commend the agents at Policy Trader as they have proven time and time again that they have got the customer's best interests at heart.
Peter D
— Pretoria —
Policy Trader Contact
Contact Number
E-Mail
Website
Physical Address
Unit 223, The Quays, Park Lane, Grand Central, Century City

Cape Town

Western Cape

7441

South Africa
---
Postal Address
PO Box 744, Edgemead, 7407, South Africa