Quick loans up to R2,500
Immediate Loan Approval
Repayment up to 30 days
In-page navigation
---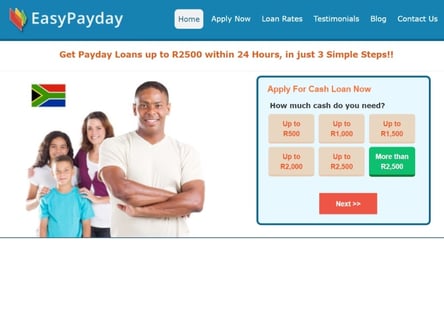 Author Easy Payday. Screenshot of Easy Payday website.


[Accessed December 9, 2022]
About Easy Payday
Easy Payday in South Africa offers quick and simple financial products to tide you over till your next payday.
As one of South Africa's largest payday loan providers, they have extensive experience in assisting clients with their financial requirements.
Above all, they understand your needs, especially when those unexpected bill payments crop up during the mid-to-end of the month. This is usually when we don't have the cash available to cover our financial obligations but Easy Payday can help.
A competitive loan service
By building relationships with clients, Easy Payday has created a different and competitive service in the financial industry.
They believe in you and always look for ways to make life a little easier through competitive pricing, and borrowing options.
Their consultants are equipped with the knowledge they need to keep you happy and answer all the queries you may have in regard to getting an online loan.
Easy online application
With all the tools and resources you could wish for, Easy Payday offers you the world at your fingertips. They offer an easy loan application, no credit checks, a secure online platform, paperless processes, and speedy payouts! Register today and get cash in your bank account instantly!
Easy Payday Services
Smaller loan amounts are offered, to allow you to pay them off by your next payday.
The whole aim of Easy Payday's service is to deliver quick loans in South Africa.
Emergencies come up when we're low on cash, and getting cash in your account can often be challenging. Not with Easy Pay Day!
Apply within minutes
Easy Payday uses online processes which speed up the entire process from application to payment, making life easier.
The amount you can borrow is determined by the amount you can pay back within the stipulated time frames.
Their quick loans offer up to R2,500 with a repayment period of up to 31 days. Easy Payday only needs you to complete a short application form, which takes only a minute of your time.
Once your application is approved, you can have cash in your account within the hour to pay for those accounts, bills, and emergency payments.
Easy Payday is a trusted lender in South Africa
Easy Payday's clients recommend them to family and friends for the impeccable service delivery they receive from their very first encounter with us.
They have the financial capabilities and industry knowledge to assist you with your borrowing requirements.
Easy Payday – Quick loan
Loan Type

Quick loans

Loan Amount

up to R2,500

Repayment

10 days to 30 days
Benefits of Easy Payday
Instant loan approval
No faxing or appointments
Secure online platforms
One short application form
It's quick to get a loan through Easy Payday
Borrow from Easy Payday and enjoy processes that are quicker, and more efficient, and get cash in one hour!
Easy Payday makes getting cash quickly an easy process
This lender delivers immediate decisions on loan applications, and they allow clients instant access to cash when they need it.
Their entire process from beginning to end is paperless, and all done online, to save you time that you could be at home or in the office. They won't ask you to put any collateral down as security on your loan.
They'll simply ask you to repay the loan on time as per your contract, which will be drawn up once your application is approved.
Minimum loan requirements
To qualify for one of Easy Payday's quick loans, you need to be a South African resident over 18 years of age. You need to earn a monthly income, which is deposited into your bank account.
Easy Payday encourages the borrowing of cash only in emergencies where you need to make a payment upfront and don't have cash on hand. From application to paying out of the cash, each step is flowing and fast.
Everything can be managed online
Friendly and knowledgeable consultants are available to assist you should you need any answers to your queries regarding getting a quick loan.
Easy Payday understands how difficult it is to save money each month, with the cost of living taking the bulk of your earnings. Therefore, having a lending firm available to assist during times of need can help you cover those expenses that have you stressed.
Same-day loan transfers
On Easy Payday's website, they have provided a simple online loan application form, where you can complete your personal details, as well as what amount of cash you need to borrow.
Submit the form and they'll contact you directly in fast turnaround times with your approved contract. You can have the cash in your account within the very same day should you be happy with the terms.
Customer Reviews & Testimonials
"
April 2019
The consultants at Easy Payday have been of great assistance with regards to my credit application.
Makhosazane D
— Soweto —
June 2019
I applied for a loan through Easy Payday and got a positive response on the very same day.
Marius S
— Brits —
June 2019
Through Easy Payday, I was able to get a loan that enabled me to pay for all my outstanding credit plans. Thank you!
Piet L
— Carletonville —
June 2019
Easy Payday has always ensured that I get a loan that will suit my budget and serve as easier to pay off.
Tanya M
— Vereeniging —
Easy Payday Contact
Contact Number
E-Mail
Website
Physical Address
39 Carl Cronje Dr, Bellville

Cape Town

Western Cape

7530

South Africa