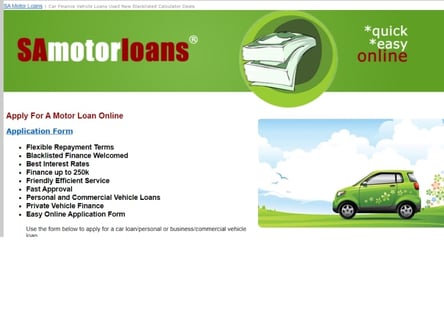 Author Motor Loans. Screenshot of Motor Loans website.


[Accessed December 9, 2022]
About Motor Loans
Motor Loans are experts in car finance with customers rating their services highly because of their simplicity and speed.
You'll find all the information you need when applying for a loan on how to make an informed decision on their website.
To help you make a choice even faster they've compared the different options available for you so that you can compare them and easily make a choice.
Find out exactly which car finance option is best for your and then apply, it's really that simple!
Speedy quote service
Motor Loans' consultants are available to answer all your questions professionally and put any concerns that you have to rest.
With their speedy quote service, you're guaranteed to get the best deal on the market.
Motor Loans' service is based on expertise, experience, and full dedication to their many satisfied clients. Their business is based on integrity and full commitment to helping clients get car finance in South Africa.
Complete the online application form and tell them what you're looking for, their consultants will then verify your details and send you an outcome then contact you to proceed with a car loan application.
Motor Loans Services
You should be fully aware of your options when it comes to vehicle finance. You can select from 2 main types of finance; hire purchase or residual purchase.
Each of these online loan options has its own benefits and drawbacks so you need to compare them carefully to determine which option will best suit your needs.
Compare rate options
Deciding between hire purchase and the residual purchase will depend on what you need from your loan.
You'll need to base your comparison on your individual circumstances at a particular moment to make the right choice. Both of these options can carry an interest rate that is either fixed or linked.
Compare the 2 types of car finance rates to find out which one will be more affordable and cost-efficient for you.
Hire purchase allows you to pay a low deposit on the car as a down payment than hire the car by paying monthly instalments. At the end of the loan term, you'll be given the option to buy the car and own it outright.
A residual purchase loan means that you'll pay a balloon payment at the end of your loan term. The bank will defer between 30 and 35% of the value of the vehicle that you only need to repay at the end of your loan term.
Motor Loans – Car finance
Benefits of Motor Loans
AUTO Financing
PERSONAL Vehicle Loans
CAR Loans
EMERGENCY Loans
Motor Loans will help gather quotes to help you save time and money
There are plenty of different products to select from when it comes to obtaining vehicle finance.
You should compare as many options as possible so that you can make the best choice. Motor Loans is an online service provider that specialises in the provision of car loan quotes from different lenders.
Their service has been around for quite some time and they've proven their reliability. Their site makes it easy for South Africans to do comparison shopping.
Request your quote online
The online loan application process for requesting quotes is simple, easy, and quick to complete. Once you've provided all your details to the specialists, you'll receive quotes within 24 hours. Their service is quite fast but they will still take the time to find you the best deal.
You can be certain that the quotes you'll get from Motor Loans will be reliable, transparent, and easy to understand.
Hire purchase and residual purchase
One of the major benefits of applying for online vehicle finance from Motor Loans is that they come in a great variety with options to suit every budget.
Select between hire purchase and residual purchase finance. These loans come with both fixed and variable rates and flexible loan terms. You can apply for finance of up to 100% of the sales price of the vehicle.
There is no need to place a deposit if you have limited or no savings available. There aren't any restrictions when it comes to the car either. You can obtain finance for buying a vehicle from a dealer or from a private seller.
Make the best choice
Another benefit of using Motor Loans is their expert services. You can use the advice provided directly on their website and get quotes from some of the country's leading providers.
You can talk to one of their experts in person to ask all questions which are important to you. The professional tips and directions on the personal finance website will most certainly help you make the most informed decision.
Motor Loans will help you access versatile and reliable vehicle finance options. You will get expert assistance and help to decide which offer is best for your individual needs.
Customer Reviews & Testimonials
"
May 2019
You have a lifetime customer in me thank you for the great support and for all the effort you put in to find me the best car and the best prices I couldn't be more thankful and we will be back.
Garry M
— Port Elizabeth —
May 2019
Great service and they care for all the customers that come and see them.
Joe Van
— Cape Town —
Motor Loans Contact
Contact Number
E-Mail
Website
Opening Hours
Monday

08:30 – 17:30

Tuesday

08:30 – 17:30

Wednesday

08:30 – 17:30

Thursday

08:30 – 17:30

Friday

09:00 – 17:30

Saturday

09:30 – 13:00

Sunday

– Closed