Private to private finance
Safe and secure
Buy or sell you vehicle
In-page navigation
---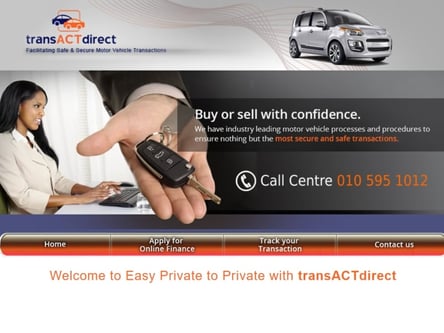 Author transACTdirect. Screenshot of transACTdirect website.


[Accessed December 9, 2022]
About transACTdirect
When you plan to buy a motor vehicle you need a reliable partner that can assist you to secure the best possible car finance deal.
TransACTdirect provides private car finance to all South Africans who are looking to purchase a car, caravan or any other type of vehicle.
Take advantage of TransACTdirect's comprehensive service
TransACTdirect provides a fully comprehensive service that takes care of the entire finance process on your behalf.
Their expert team has the experience and expertise to handle any transaction.
Their vehicle finance products have highly competitive rates and flexible repayment terms.
They're ready and happy to answer questions or help you through the application process.
transACTdirect Services
TransACTdirect has the authorisation of Nedbank's MFC division to provide private car finance and transfers of motor vehicles, different types of bicycles, and caravans.
They work with both the buyer and the seller to offer the best solution and secure a favourable deal for both parties involved.
All their dealerships are approved
An experienced TransACTdirect consultant will take care of all the administrative tasks on your behalf.
All you need to do is visit any Nedbank branch in South Africa and TransACTdirect will process the payment.
Typically, the process is completed within 2 to 8 days. Vehicle exclusions and monthly income requirements may apply.
If you're self-employed or are acting on behalf of your company, you'll need to call TransACTdirect as you may not be able to apply for a loan online.
transACTdirect – Car finance
Benefits of transACTdirect
Safe and secure transactions
Private to private finance
TransACTdirect - Our loans are designed to suit your financial needs
If you plan to buy a vehicle from a private seller, your finance options are limited compared to when you purchase a car from a dealership.
TransACTdirect offer personal loans and services which are specially designed and tailored to your needs. TransACTdirect's car loans are ideal for a wide range of circumstances.
Vehicle finance and related services
TransACTdirect is an independent company specializing in the provision of private to private vehicle finance and related services. The company falls under MFC, which is the car finance division of Nedbank. As a division of Nedbank, they have complete credibility which makes their service is a popular choice with many car buyers. They're trustworthy and will handle your loan application with complete confidence.
100% of the value of the vehicle
TransACTdirect's car loans are designed especially for people buying a car from a private seller. They offer all the standard features of Nedbank loans. Apply and obtain finance from R20 000 up to R120 000. Obtain finance of up to 100% of the value of the vehicle. The repayment term options include 3, 4, and 5 years while the interest rate is fairly low for buyers with good credit history.
Loan requirements
There are certain requirements you must meet in order to qualify for a quick online loan. The vehicle that you purchase must not be older than 10 years. This is a strict requirement compared to the general requirements of a Nedbank vehicle that which state that you can qualify for finance even if the vehicle is 20 years old.
Another major requirement is for you to have a net salary of over R5 500 a month.
You should have a good credit record
A complete solution
TransACTdirect offers a complete solution for buyers working with private sellers. They'll take care of the online loan application, document collection, the signing of the contract with the bank, and the payment to the seller. Their service is completely comprehensive. Simply choose the right vehicle for your needs and they'll take care of the rest for you.
This review concludes that TransACTdirect's car loans are among the best for buyers dealing with a private seller.
Customer Reviews & Testimonials
"
June 2019
Great service and you guys truly care about all of your customers that you for the advice I really recommend them.
Chris M
— Johannesburg —
May 2019
They helped me sell my car so that I could get my new car the best service I have ever received.
Alicia B
— Port Elizabeth —
April 2019
I feel very safe using then to get my car loan because you are able to track your application through its whole process keeping your peace of mind.
John S
— Cape Town —
June 2019
Their service is great and you can communicate with the staff to get all your information if you need any about your application they also go beyond for you.
Kathleen S
— East London —
transACTdirect Contact
Contact Number
E-Mail
Website
Opening Hours
Monday

08:00 – 16:30

Tuesday

08:00 – 16:30

Wednesday

08:00 – 16:30

Thursday

08:00 – 16:30

Friday

08:00 – 16:30

Saturday

08:30 – 11:00

Sunday

– Closed