Car finance up to R150,000
Finance your dream car
Vehicle testing
In-page navigation
---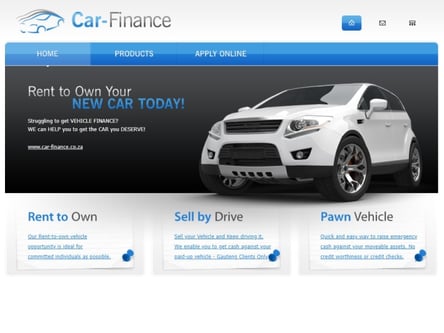 Author Car-Finance.co.za. Screenshot of Car-Finance.co.za website.


[Accessed December 9, 2022]
About Car-Finance.co.za
With Car Finance, you can expect the most affordable car finance for blacklisted clients with competitive rates and convenient repayment terms that can easily be customized.
The company has extensive experience in the industry and many years of experience in the field. Car Finance has helped thousands of blacklisted South Africans purchase their dream car every year.
Simple & straightforward
Car Finance's lenders comply with the rules and regulations as set out by the National Credit Act and offer their products and services to the public with full transparency.
The car finance application can be completed entirely online.
Their experienced customer service specialists will assist the client through the entire process for maximum convenience and peace of mind.
Car-Finance.co.za Services
When you're searching for car finance, but are blacklisted you may find the process problematic as many lenders discriminate against those with bad credit.
Car Finance make it easy for you to obtain car finance, personal finance or rent to own depending on your requirements.
They've special offers available for those with bad credit and options to suit every budget including personal loans of up to R150k.
A second chance
If you find yourself in a bad debt situation, you can rely on Car Finance to provide full assistance by providing a quick loan to buy the car you have your eye on.
You can choose from several options so you have great flexibility. Consider your personal situation to find out which option will be most suitable for you.
Car Finances' rent-to-own option
This option gives you access to a vehicle package with a fixed monthly instalment that's payable over sixty months. The package includes a tracker system and car insurance. On commencement of the contract, you'll pay an R3,500 finders fee which includes admin and registration fees. The vehicle can be purchased at the end of the agreement with an extra instalment.
Car-Finance.co.za – Car finance
Loan Type

Car finance

Loan Amount

up to R150,000
Benefits of Car-Finance.co.za
Finance your dream car
Loans up to R150,000
Vehicle testing
Car Finance - Apply today and get the most affordable vehicle finance
Dreaming of a car that matches all of your needs? Car Finance can help you achieve it by helping you find the right car finance deal.
Car Finance specialise in car finance and offer a reliable brokerage service. The company serves you by finding the most suitable loan from the lenders in South Africa based on your individual requirements.
The service is offered online and you can apply by completing the online application form after which you'll be approved as quickly as possible. Their business has grown because of their expertise and they continue to build a great reputation by delivering on their promises. They're a trustworthy broker and will always put your needs first.
A great variety to choose from
The main benefit of Car Finance's car loans is that there are a variety of options to choose from. There's literally something for everyone, no matter what you're looking for.
With Car Finance you'll gain access to options from all major banks in South Africa as well as all the smaller lenders in their network. They offer loans for financing the purchase of a vehicle of up to R150,000.
If you've been blacklisted you can take advantage of a rent-to-own package. This eliminates the need to apply through a dealer and will help you get your vehicle financing approved.
Qualifying criteria for Car Finance's services
In order to qualify to apply for finance with Car Finance you must be 18 or older, be a South African citizen and earn more than R4,000 per month.
Car Finance compare and source the best options
Car Finance has a large database of vehicle finance deals, so you can expect to get the most affordable interest rate and repayment terms. They'll search and help you find the best deals available so that you can make an informed decision.
This will save you time and money! Another major advantage of working with this brokerage company is that they offer a specially designed service for repairing your credit score and history. With Clear and Repair, you'll be offered a plan for improving your credit record should you need it.
Repair your credit to qualify for better deals
Use Car Finance's services to boost your chances of finding an affordable loan deal from a reputable lender. Their consultants will assist you to improve your credit score in order to qualify for better deals in the future.
You'll be able to take advantage of the lower interest rates offered to people with good credit history. Car Finance offers some of the best vehicle finance option on the market. The company's services are reliable and comprehensive and you can apply for a loan online quickly and easily.
You'll need to supply Car Finance with the following documentation to complete your application:
Proof of your current address
A copy of your SA ID document/Smart card
A copy of your driver's license
The last three months stamped bank statements
Your latest payslip
Customer Reviews & Testimonials
"
October 2021
They have helped me to get the car that I have always wanted and also have helped me as my credit score was very low and they were willing to take a chance on me.
David M
— Cape Town —
June 2021
The application is super easy and you can get your car faster that you have ever gotten anything I highly recommend them.
Andrew S
— Johannesburg —
Car-Finance.co.za Contact
Contact Number
E-Mail
Website
Physical Address
---
Postal Address
PO Box 202, Goodwood, 7459, South Africa
Opening Hours
Monday

08:30 – 17:30

Tuesday

08:30 – 17:30

Wednesday

08:30 – 17:30

Thursday

08:30 – 17:30

Friday

09:00 – 17:00

Saturday

09:30 – 13:00

Sunday

– Closed