Hassle-free Finance
Insurance Services
Warranties
In-page navigation
---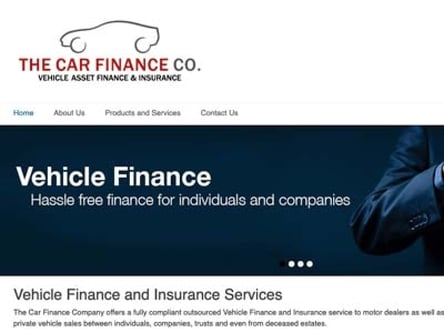 Author The Car Finance Company. Screenshot of The Car Finance Company website.


[Accessed December 9, 2022]
About The Car Finance Company
With over five decades of experience, Car Finance Company is one of South Africa's industry leaders.
They'll provide you with an ideal finance solution irrespective of the car that you've chosen of your budget. If you're looking to purchase a new or used vehicle they're available to help you make your dream a reality with one of their affordable personal loans.
Excellent communication & flexibility
The Car Finance Company started as a small company operating locally, but now offer their services to all South Africans via their modern online platform.
They've simplified the application process to make getting your dream car financed even easier and simpler.
You can expect full personal attention, excellent communication, and flexibility when applying for car finance with this incredibly reliable provider.
The Car Finance Company Services
The Car Finance Company specialises in the provision of outsourced vehicle finance and insurance services to motor dealers.
They offer private-to-private financing solutions and many other financing options. They aim to provide you with the best finance and insurance deals from dealers, sales between individuals, businesses, and other organizations.
Reliable & trusted vehicle finance
CFC works with all types of new and used movable assets from cars and commercial vehicles to caravans. The online car loan application is quick and easy. They provide a complete finance and insurance solution in one place.
Their company has a dedicated and experienced team and boasts over 50 years of experience in the financial field. Their staff provide personalized customer support services and expert advice through the process. This helps them stand out and is why they're becoming more and more popular.
The Car Finance Company – Car finance
Benefits of The Car Finance Company
Hassle-free finance for individuals & companies
Quick and easy loan applications
The Car Finance Company - loans that come with value-added benefits
Purchasing a vehicle is a big decision and you want to make sure that you have the best information available to make the right decision.
Use this review of Car Finance Company loans to decide if this is the solution you've been searching for. The Car Finance Company's service allows you to access the best car loans available for private vehicle purchases.
It can be very challenging to find a loan that meets all your requirements, this process becomes even more difficult when you're given an overwhelming number of products. The best tactic to tackle finding suitable loans is to evaluate the deals that different providers have to offer and compare your options carefully.
Reliable registered provider
The Car Finance Company (CFC) is a registered provider of financial services that aims to provide car finance and car insurance to private buyers. They work as a broker and match borrowers and lenders. Their company has managed to gain a good number of satisfied customers and continues to grow each year because of their trustworthy reputation.
Select the most suitable option
Select from a wide range of CFC car loans including instalment sale finance and lease sale finance. They offer flexibility when it comes to the term of a personal loan. All you need to do is choose the most suitable option for your needs.
The interest rates that they offer are competitive as they offer deals from a wide range of lenders. Choose from loans with fixed and variable rates depending on how much risk you're willing to assume. If you're ready to purchase a car, head on over to the Car Finance Company's site and complete their loan application for individuals or, companies if you're looking to buy a car for your business.
Customer Reviews & Testimonials
"
May 2019
You guys rock keep up the excellent work.
Sarah S
— Uitenhage —
April 2019
Not only did they approve my loan that I required but they also made sure that my car was covered with the correct insurance that I would need to. Apply for the car and then get the insurance at ...
James L
— East London —
May 2019
What is nice about the company is that you do not have to only use the dealership cars and that is great for me because I really wanted my buddies car and with their help I was able to get it.
John S
— Port Elizabeth —
April 2019
My application took less time than I thought It would I was so happy when I had sent the paper work through and Had found out not to long after That I had been approved and could get my car.
Jarred M
— Cape Town —
The Car Finance Company Contact
Contact Number
E-Mail
Website
Physical Address
5 Verbana Road, Glen Park

Pinetown

KwaZulu-Natal

3610

South Africa
The Car Finance Company Universal Branch Code
Opening Hours
Monday

08:00 – 17:30

Tuesday

08:00 – 17:30

Wednesday

08:00 – 17:30

Thursday

08:00 – 17:30

Friday

09:00 – 17:00

Saturday

11:00 – 15:30

Sunday

– Closed