Business loans up to R5,000,000
Low-interest starting from 18.5%
Repayment up to 7 years
In-page navigation
---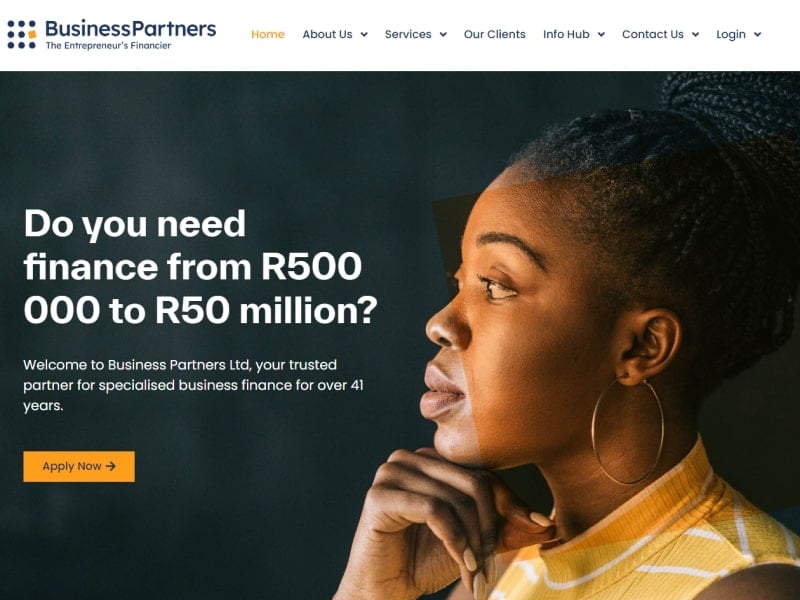 Author Business Partners. Screenshot of Business Partners website.


[Accessed August 31, 2021]
About Business Partners
If you are in need of a business loan then you have come to the right place.
As many great stories go, this one started on a sunny day in downtown Johannesburg. In 1979, at a business conference, the late Dr. Anton Rupert and his son Johan had an idea that would change business loans forever. This idea set the stage for the establishment of the Small Business Development Corporation in 1981.
The name that says it all
Being a partner means that there is a shared interest. No matter the context that the word partner is used in, it means that there is an equal share. This is no different when referring to business loans in South Africa from Business Partners. They are fully committed to helping aspiring entrepreneurs achieve great success.
The inspiration behind the business loans
In 1776 a great man called Thomas Paine wrote an inspiring poem on being an entrepreneur. The poem called 'The Common Man' is a timeless piece of literature that tells a tale. It is the tale of who we are and what we dream to be. Using this piece of writing as the backbone for what they believe, they strive to help people achieve their inner dreams.
Choose the best business loans
Business Partners has been helping entrepreneurs achieve their dreams since 1981. To date, they have granted over 71 000 business loans which came down to more than R20 billion in funding. In 2019 Business Partners won gold in the SME Bank of the Year Award.
Business Partners Services
There are so many challenges that business owners face daily.
At Business Partners they realize this and have taken a different approach to business loans. Business Partners take more risk than mainstream lenders when they see potential. Not only do they offer you a fair deal but they are there with mentorship to help you succeed.
Tailor-made business loans
The business loans offered by Business Partners are tailor-made to specifically suit your business needs. With business loans ranging from R50 000 right up to R50 million, you can be sure that your business potential is ideal. Business Partners go the extra mile in discussing price negotiation end repayment terms with you.
They will help you own your business premises
By providing business owners with commercial property financing of up to 100%, Business Partners go further than most lenders. If you are an established entrepreneur with a viable business then they can assist you in purchasing your business property. Whether it's buying a new business property or adding to your portfolio, they can help.
Get so much more
Obtaining a business loan from a trusted and reliable lender is just one part of the business service offered by Business Partners. They also offer a Mentorship Support Service as well as Technical Assistance. There are many successful, retired business people with mounds of expertise to offer. With the Mentorship Support Service, you can have access to their wisdom.
Business Partners – Business loan
Loan Type

Business loans

Interest Rate

from 18.5%

Loan Amount

up to R5,000,000

Repayment

24 months to 7 years
Benefits of Business Partners
Personalised business finance solutions
Repayment periods that suits you
The pricing of the loan is negotiated
At Business Partners, we will match the perfect loan to your business needs
Like with many other business loans, there is a checklist to complete before you can jump into the application process.
This checklist is available on their website.
Here are the documents that you will need
Your business's annual financial statements.
A cash flow forecast for the next 12 months.
Your balance sheet.
A business plan.
Apply for a business loan today
Below is a step-by-step guide on how the entire business loan application process with Business Partners will work.
Step One
Firstly you will complete the business loan pre-application assessment. Based on the pre-application, Business Partners will do an initial assessment and give you an in-principle response.
Step two
With the in-principal response and your application meeting the minimum business loan requirements, you may now move on to the business loan application section. This process may include additional documentation being needed.
Step three
Following all the information they now have, Business Partners will now work out a tailor-made business loan offer for you.
As soon as you agree with their proposed offer, the agreement is sent to their internal approval committee. After this they will provide you with an answer and their legal team will prepare the business loan documentation to sign.
Step four
You will now receive your business loan funds under the agreement terms. Repayment of your business loan will also be in line with the agreement that you signed.
Get a business loan from a company that cares
Many times mainstream lenders are wary of taking too much risk when it comes to business loans. Business Partners have a strong belief in potential. They look at the viability of your business and take risks per that. Don't get let down by lenders, speak to Business Partners about a business loan today and become part of a winning team.
The benefits of a Business Partners`business loan
They have been in the business industry for over 40 years.
They are one of the leading business loan providers in the world.
Business Partners will offer you a fair
They offer personalized business loans.
Customer Reviews & Testimonials
"
May 2021
Entering the business world is tough. Getting a business loan from mainstream banks is even tougher. I approached Business Partners and I was amazed at how professionally they handled my applicat...
Simon S
— Cape Town —
April 2021
I have been wanting to purchase additional property to expand my operations for a while. When the right property became available I got a business loan from Business Partners in no time. They are...
Conrad W
— Bloemfontein —
June 2021
I had tried to get a business loan from the leading banks to no avail. I was about to give up but then I heard about Business Partners. Getting the business loan I needed from them was easier tha...
Mari S
— Sasolburg —
Business Partners Contact
Contact Number
E-Mail
Website
Physical Address
Durban Rd, Bo Oakdale, Bellville

Cape Town

Western Cape

7530

South Africa
---
Postal Address
PO Box 7780, Johannesburg, 2000, South Africa
Opening Hours
Monday

08:30 – 17:30

Tuesday

08:30 – 17:30

Wednesday

08:30 – 17:30

Thursday

08:30 – 17:30

Friday

09:00 – 17:30

Saturday

– Closed

Sunday

– Closed