Business loans up to R5,000,000
Low-interest starting from 18.5%
Repayment up to 7 years
In-page navigation
---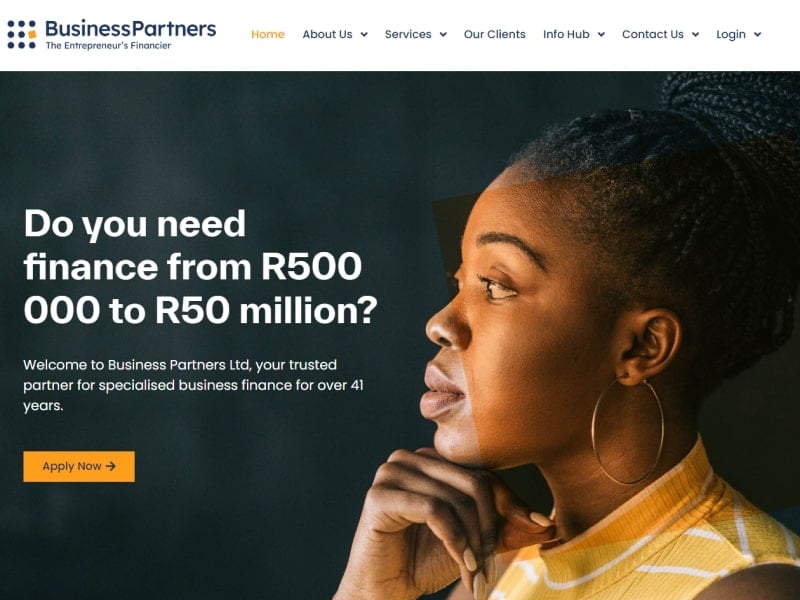 Author Business Partners. Screenshot of Business Partners website.


[Accessed August 31, 2021]
About Business Partners
Business Finance was founded in 1979 at downtown Johannesburg during a business conference.
Johann Rupert the son of late Dr Rupert's Son, encouraged the idea for a joint venture regarding the private and public sectors to fund and support SMEs
During the year 1981 (SBDC) the Small Business Development Corporation Limited was reputable, in cooperation with the private and public sectors having equal shareholding. The sole purpose of SBDC was to offer investment support and funding in support of small to medium businesses as well as micro-enterprises (SMMEs).
Dedicated to supporting business growth
Business Partners Limited is a company with specialisation in risk business finance for small and medium enterprises (SMEs) established and operating in South African and other countries on the continent. Business Partners is dedicated to supporting business growth through the provision of a complete range of finance and advisory services.
Customisable and flexible models for growth
We aim to help businesses exploit all sources of finance and to offer highly customizable and flexible models for growth. We provide expert sector-based information and advice to our clients.
Our services are also aimed at adding value to small and medium businesses and at helping them to overcome various hurdles on their road to success.
Business Partners Services
We consider financing entrepreneurs who have a sustainable business who require backing for growth, equipment, takeovers, working capital or management buy-outs.
Business Partners specialises in the provision of finance to small and medium-sized businesses. Business Partners Limited creates personalised financial solutions for businesses by using various sources of finance. Entrepreneurs can select from various financing models, which are highly flexible. The procedure of application evaluation considers both the business and the entrepreneur.
Financing for up to R25 million
It is based on a set of important factors including product/service, market size, company history, stage of business development and technical aspects and the entrepreneur's drive, experience and integrity. Online applications for loans for up to R25 million are considered. The applying business must have gross assets under R100 million, with annual turnover being lower than R200 million and the staff number being under 500 people. Businesses from most sectors of the economy can apply.
Business loans
If you need cash for developing your business in South Africa, you should certainly consider a Business Partners business loan. Business Partners is a financial company with an excellent reputation. Our core activity is the provision of finance to small and medium enterprises in South Africa.
We specialise in risk finance.
Business Partners – Business loan
Loan Type

Business loans

Interest Rate

from 18.5%

Loan Amount

up to R5,000,000

Repayment

24 months to 7 years
Benefits of Business Partners
Personalised business finance solutions
Repayment periods that suits you
The pricing of the loan is negotiated
At Business Partners, we will match the perfect loan to your business needs
We comply with national and international lending standards.
This means that we provide business loans to companies with small capital and as well as businesses that are just starting out. Our products are much more accessible compared to the personal loans offered by traditional commercial banks. It's a major advantage and you should definitely take it into account. Generally, Business Partners is known for adhering to the highest national and international lending standards. We are a totally trustworthy partner.
Designed for companies in all sectors
The business loans available from Business Partners offer a maximum amount of R25 million. The minimum loan amount is R500 000. The loans are designed for companies in all sectors of the economy with the notable exception of farming and mining businesses.
The loan amounts are sufficiently large for the financing of a new venture. And can be used for the purchase of equipment and for covering administrative, staffing and legal costs. The loans can be used for financing major projects as well. You can readily obtain the full amount required. We offer easy access to finance. The interest rates are competitive and so are the fees for initiation and servicing of the loans. Contact Business Partners to for easy access to the finance.
What you'll need to apply with us
Business Partners has strict lending requirements. You must present a complete business plan and explain its implementation. The plan must be solid and excellently developed. You have to have a venture, project or idea with great profit potential. This is the way to get finance. Business Partners business loans are a great choice for entrepreneurs with profitable ideas and the ability to implement them. We are easily accessible for qualifying applicants.
Each application is carefully considered on merits as well as on the potential success of the business.
Customer Reviews & Testimonials
"
May 2019
We are very happy with the service that we received and now that we have gotten our loan we are able to get the appliances that we need at the company.
Michael W
— Cape Town —
April 2019
They have helped us to grow our business and we are grateful that our business has never been better since.
Johnson M
— Cape Town —
June 2019
The application is a few steps and it doesn't even take as long as others and once you are done they will let you know they communicate with you.
Jimmy B
— Port Elizabeth —
Business Partners Contact
Contact Number
E-Mail
Website
Physical Address
Durban Rd, Bo Oakdale, Bellville

Cape Town

Western Cape

7530

South Africa
---
Postal Address
PO Box 7780, Johannesburg, 2000, South Africa
Opening Hours
Monday

08:30 – 17:30

Tuesday

08:30 – 17:30

Wednesday

08:30 – 17:30

Thursday

08:30 – 17:30

Friday

09:00 – 17:30

Saturday

– Closed

Sunday

– Closed