Bad credit loans up to R150,000
Low-interest starting from 32.1%
Repayment up to 60 months
In-page navigation
---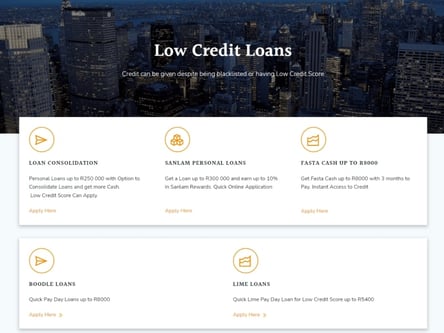 Author Low Credit Loans. Screenshot of Low Credit Loans website.


[Accessed December 9, 2022]
About Low Credit Loans
Loans for blacklisted clients are easy to obtain if you apply through the right lender. You can find a low credit loan you just need to know where to look.
Low Credit Loans should be your first choice when you need a loan in a hurry.
They assist customers all over South Africa, even providing loans for blacklisted people, no matter what your credit score may be - they can help.
100% online application process
Low Credit Loans has a process that helps make life easier for you and saves you time when you have a busy lifestyle. They specialise in helping you - especially if you've been struggling to obtain financing.
Their range of loans will be tailored to your specific needs and affordability. They'll determine what you can afford to repay by taking your salary and then subtracting your expenses to establish what you can afford to pay each month towards debt payment.
Backed by a dynamic team
Low Credit Loans' team of experienced consultants on the other end of the phone lines are ready to assist you with your queries throughout the loan process.
Their team is available to support and guide you through every step. Their main aim is to make getting cash a breeze.
Getting you the cash you need, when you need it
When life throws you a curveball, having cash on hand is usually what is needed to rectify the problem. Low Credit Loans offer a convenient, easy way to get you the cash you need when you need it.
Low Credit Loans Services
Low Credit Loans is an online lending platform, which specialises in loans for clients who are blacklisted.
They know how difficult it is for people when it comes to applying for finance, especially if you have a low credit score. They wanted to solve this problem by assisting blacklisted clients when no one else would.
A range of easy to afford loans, including:
Personal loans ranging from R1 000 to R150 000 which can be paid off over 6 to 60 months
Home loans at affordable terms and impressive rates
Vehicle finance that is pre-approved in minutes
Blacklisted and bad credit loans
Do you earn more than R3 000 per month?
To qualify for a loan, clients need to be over 18 years' old, citizens or permanent residents of South Africa, and must have been permanently employed at the same place for more than 3 months. You'll need to earn over R3 000 per month and receive your salary into a currently active bank account.
Best terms and rates available
Low Credit Loans offer more convenient loan terms than larger banks and lenders. They'll find a way to say yes and won't decline your application because of your bad credit score.
By looking at the bigger picture and what your affordability is they're able to determine if your application will be approved or not.
Low Credit Loans – Bad credit loan
Loan Type

Bad credit loans

Interest Rate

32.1 – 60% p/a

Loan Amount

up to R150,000

Repayment

6 months to 60 months

Decision

24 hours
Benefits of Low Credit Loans
100% free service
Fast, secure finance
Wide panel of responsible lenders
Blacklisted loans available
Up to R150 000 available for loan
Bad credit loan calculator
If you're blacklisted Low Credit Loans is just what you need!
As a proudly South African lender that helps applicants get personal loans of up to R150 000 in the quickest time with the least effort - they've become a market favourite.
They not only help clients with all kinds of loan options, but they assist those who are blacklisted. Blacklisted clients find it difficult to access finance from lenders and banks.
The word bad credit has become taboo in the finance industry and most lenders are reluctant to help. This is not the case with Low Credit Loans. They'll assist everyone; the only clients they can't help are those who are under debt review or debt administration.
Why Low Credit Loans should be your preferred lender
By simply completing their online loan application, they can help you get the cash you need.
Their services are completely free.
Clients can register online to activate their subscription.
They offer clients legal options through assistance and advice that will open a whole new world.
Minimal fees with competitive rates
There's a minimal subscription fee; however, the benefits and value-added services you receive far outweigh the cost.
All applicants need to be over the age of 18 years, be South African citizens or permanent residents, and earning a regular monthly salary of no less than R3 000. Your salary must have been paid into a valid bank account for at least the previous 3 months.
Manage your repayment terms
It's that simple. Let Low Credit Loans do the searching for you, and they'll find a suitable lender from their preferred lending list to match your specific loan requirements. You'll have the option to choose repayment terms ranging from 6 to 60 months.
Affordable loans that give you options
Their easy online loans are highly affordable because of the competitive interest rates that they charge. A debit order process will enable them to deduct the instalment from your bank account to align with your payday.
The amount that you qualify for will depend on your affordability and the amount that you earn each month. This will minimize hassle when you need to pay your loan and each time it gets paid automatically, you avoid further problems.
Customer Reviews & Testimonials
"
May 2019
Low Credit Loans is a convenient credit provider. I wasn't asked a number of unnecessary questions. Everything was directed to getting my loan application approved.
Simlindile F
— Umlazi —
May 2019
There is always something you going to benefit from taking a Low Credit Loans credit plan. Their charges are massively lower than most providers.
Stella K
— Germiston —
Low Credit Loans Contact
Contact Number
E-Mail
Website
Physical Address
106 Adderley St, Cape Town City Centre

Cape Town

Western Cape

8000

South Africa