Competitive interest rates.
Bad credit loans up to R200,000
Flexible repayment plans.
In-page navigation
---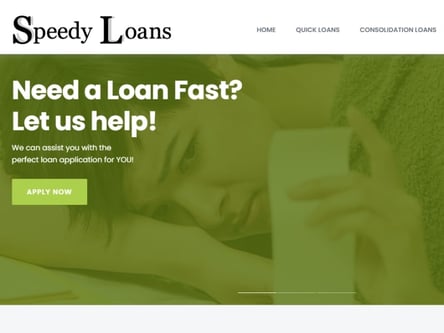 Author Speedy Loans . Screenshot of Speedy Loans website.


[Accessed December 9, 2022]
About Speedy Loans
Well, the name says it all.
The greatest part is that with their bad credit loans, you can access a great loan deal even if you have a bad credit score or no credit history at all. Enjoy a quick application process that requires minimal credit checks.
The second chance you have been waiting for
Speedy Loans understand that accessing the money you need fast, is crucial. That's why they have worked extremely hard to streamline their online processes, so you can get approval for a bad credit loan in a matter of minutes.
Avoid getting stuck
Let's say your car just broke down, and without it, you are not able to get to and from work. Maybe your loved one just passed away and you need money to give them the burial they deserve. Whatever it is you need money for, they will be able to assist you with a personal loan if you have a good credit score or a loan for bad credit if you have a bad credit score.
A fast and reliable bad credit loan lender
Borrowing money from them is easy and you can rest assured that the application is fast, secure, and simple for optimal convenience.
Speedy Loans Services
Speedy Loans offer quick loans online for amounts of as little as R1,000 and up as much as R200,000.
These loans have affordable repayment terms and can be accessed on the same day of your application. What if you have a bad credit score? Well, Speedy Loans also specialize in quick loans for bad credit that will help you out when you need it the most.
Debt consolidation loans for bad credit
Have you been feeling overwhelmed by your monthly debt repayments, or have you been missing payments? Get a perfectly designed debt consolidation loan even if your credit score has been damaged due to the missed payments and overdue bills.
Speedy Loans is always ready to assist you as they truly believe in second chances when it comes to finances. Combining all your debt into one loan will help you to pay off your debt faster and improve your credit score in no time.
Minimal credit checks required
They have a variety of designed loans for bad credit to help you out when you need an instant cash solution for your immediate circumstances. Unexpected bills, a planned holiday, a business venture, buying clothes or furniture, or even a splash of paint for your bathroom can all be taken care of with a bad credit loan from Speedy Loans.
Speedy Loans – Bad credit loan
Loan Type

Bad credit loans

Loan Amount

up to R200,000
Benefits of Speedy Loans
Same-day cash payouts
Apply in less than 2 minutes
Competitive interest rates
Bad credit loan calculator
Speedy Loans - get your loans quickly
The great part of applying with Speedy Loans is that they are extremely fast with their processes and they have a very reliable network of only the best bad credit loan lenders in the country.
So, when you find yourself in a tough situation, they are the ones to turn to as they can help you even if no one else can.
Details you'll need to provide
Your full name.
Email and cell phone number.
Your take-home pay (nett income).
The loan amount you are opting for.
The reason for the loan.
If it is a debt consolidation loan, you'll need to confirm your total outstanding amount of debt.
If you have any ITC problems preventing you from getting a loan.
And a few other questions relating to your finances.
Easy steps to follow
Step 1
It will take less than 2 minutes to fill out their application form and select the bad credit loan type you need, whether it is to consolidate your debt or just a normal quick loan.
Step 2
They will then swiftly process your information and find you the best bad credit loan specialist for your specific circumstances.
Step 3
In most cases, you can receive the cash you need on the same day of approval.
Getting a bad credit loan
If you've been declined a loan before, you know how hopeless the feeling is. This is exactly where Speedy Loans comes in. Their sole purpose is to give new hope to people that have no other way out due to their debt and bad credit. They will assist by finding you the most suitable solution available in South Africa. Apply today and discover your possibilities.
Benefits of a Speedy Loans bad credit loan
Fast loan approval and processing.
Great service delivery.
Loans for South Africans with bad credit.
Competitive rates, terms, and fees.
You can apply in less than 2 minutes.
Fast same-day cash payouts.
Customer Reviews & Testimonials
"
September 2021
I have been refused a much-needed loan from a couple of banks and institutions, but with Speedy Loans, I was able to find a lender that approved me in almost no time.
Plaaitjies J
— Durban —
November 2021
They offer such a great service and everything with them is easy and hassle-free.
Jan N
— Pretoria —
September 2021
Speedy Loans came to my rescue when I had no way out of my situation. They also helped me to improve my credit score and lower my debt repayment amount.
Maledi S
— Soweto —
Speedy Loans Contact
Contact Number
E-Mail
Website
Physical Address
Pinewalk Centre, 30 Kings Rd, Pinetown

Durban

KwaZulu Natal

3620

South Africa
Opening Hours
Monday

09:00 – 17:00

Tuesday

09:00 – 17:00

Wednesday

09:00 – 17:00

Thursday

09:00 – 17:00

Friday

09:00 – 17:00

Saturday

09:00 – 17:00

Sunday

09:00 – 17:00