Bad credit loans up to R20,000
Low-interest starting from 28%
Repayment up to 3 years
In-page navigation
---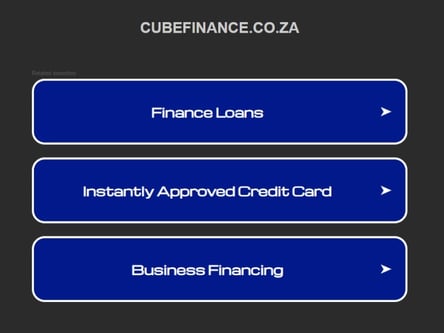 Author Cube Finance. Screenshot of Cube Finance website.


[Accessed December 9, 2022]
About Cube Finance
There are a number of reasons why you might be looking for credit.
You may want to pay for an upcoming holiday, a medical bill, or attend to a few household needs before payday. Whatever the reason, Cube Finance will help with one of their bad credit loans.
Fast loan turnaround times
At the end of the day, it doesn't matter what you need the loan for, this lender more concerned about helping you get the credit best suited to your budget.
The only time they won't be able to assist you is when you can't afford another personal loan based on your current budget. However, they'll inform you of the outcome. Furthermore, they'll tell you what you need to do better next time in order to be considered for a loan.
The money is yours and yours alone
Cube Finance's job is to ensure that you get an affordable payday loan online. How you decide to use the money is solely up to you.
Cube Finance won't bother you with endless questions about what you intend on using the money for. For clients that have a bad credit history, the last thing you need is to add more financial burdens to your credit profile - so if you can't afford it you won't be approved..
Cube Finance Services
Cube Finance will go out of its way to help you find a suitable loan option for your specific needs.
The lenders that they have on their database are competent lenders who will always ensure that you're comfortable with your long or short-term loan online. This means they'll give you a loan based on your budget and monthly expenses.
Cube Finance support responsible lending
If you still feel that the loan offered will cause you any financial pressure, you can always give your broker a call and discuss the best way forward.
At the end of the day, Cube Finance wants to ensure that you're happy with the bad credit loan that you've been given. There's no point in making you sign for a credit plan you're not happy with.
Adhering to the privacy policy
The reason that Cube Finance has a Private Policy is so that customers are at ease when it comes to their information. They'll never share your private and confidential information with anybody.
The confidential information that you give them will never be shared with third parties.
You can relax knowing that their information is kept safe and will only be used should they require information or contact Cube Finance.
Cube Finance – Bad credit loan
Loan Type

Bad credit loans

Interest Rate

from 28%

Loan Amount

up to R20,000

Repayment

6 months to 3 years
Benefits of Cube Finance
Focused on financial wellbeing
Easy cash loans
Flexible repayments
Professional advice available
Bad credit loan calculator
Cube Finance will find you a loan that suits your financial circumstances
When your credit report is positive, it makes it much easier for you to access credit at great rates but, for those with bad credit, using a broker like Cube Finance is a must.
When you have a negative report, you'll have to consider a bad credit loan option. For this reason, you must only take up a blacklisted loan if you're in need and can wait until payday.
The only time you need to take a bad credit loan is when you're experiencing an emergency and don't have any other choice.
This is so that you don't find yourself in a situation where you're paying for credit plans that were not really necessary. Protecting your credit profile is important because when you need a loan in the future, your spending habits and history will be taken into account.
Where can I apply for a Cube Finance loan?
Customers who would like to apply for a Cube Finance loan can complete the online application on their website. The online loan application compromises personal details, employment information as well as expenses.
Customers need to fill in this document as honestly as possible. Failure to provide Cube Finance with truthful information will have their credit applications rejected.
Cube Finance will need your bank statements and recent payslips so that they can verify whether you've given accurate information or not. Once verified they'll proceed to the next step of collecting ad presenting offers to you.
Once approved, the money will be deposited into your bank account and you'll be free to use the money for all your urgent financial affairs. On the other hand, if your quick online loan application is declined, they'll give you valid reasons as to why this was the case.
Help is literally an email away
If you'd like financial advice about how you can improve your finances, you can send Cube Finance an email and they'll call you. They'll tell you what you're doing wrong and what you have to change so that things can improve.
Cube Finance has assisted a number of clients with poor credit and is ready to help you find a suitable bad credit loan from one of the many leading lenders on their panel.
Customer Reviews & Testimonials
"
May 2019
Applying for a Cube Finance loan took me literally 7 minutes to complete!
Frank V
— Parys —
May 2019
The agents at Cube Finance always go above and beyond to ensure that customers get their loans on the same day of application.
Gregory C
— Rustenburg —
June 2019
After I submitted my loan application, I only had to wait a few minutes before getting feedback.
Richard P
— Randfontein —
Cube Finance Contact
Contact Number
E-Mail
Website
Physical Address
3 Crozier Street

Stellenbosch

Western Cape

7600

South Africa
Opening Hours
Monday

09:00 – 17:00

Tuesday

09:00 – 17:00

Wednesday

09:00 – 17:00

Thursday

09:00 – 17:00

Friday

09:00 – 17:00

Saturday

– Closed

Sunday

– Closed