Low interest rates
Bad credit loans up to R500,000
Affordable loan options
In-page navigation
---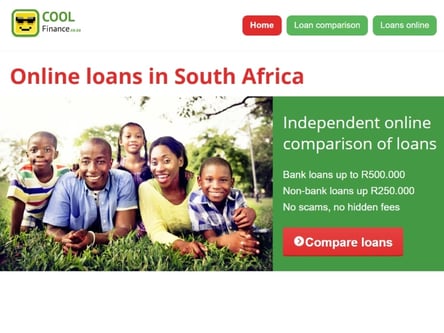 Author Cool Finance. Screenshot of Cool Finance website.


[Accessed December 9, 2022]
About Cool Finance
Cool Finance is your knight in shining armor with the easiest way to apply for a loan when you have poor credit in South Africa.
Since they started in 2010, they have grown to become one of the most global companies available in over 30 countries. They have sophisticated comparison platforms to assist customers with finding the most suited loans for bad credit.
Access bad credit loans
With Cool Finance you will not only be able to access the best loans for bad credit, but you can also rest assured that every result they provide is from trusted and 100% verified providers. Their team of analysts will scrutinize each provider fully to ensure that the product they offer is completely up to standard and comply with the FSCA.
Perfectly designed bad credit loans for you
Cool Finance provides a secure and user-friendly site for you to easily find and compare bad credit loans online from the comfort of your home, office, or car. No matter what financial situation you might find yourself in, Cool Finance has the right answer for you. With a selection of different loan offers, you will be able to obtain a 100% tailored bad credit loan, secured or unsecured. The great part is that you can even secure a loan without providing any collateral.
Cool Finance Services
Cool Finance has a different approach in the way they provide you access to a loan if you have poor credit.
The great part is that they are an independent company that has your best interest at heart. Bad credit loans in South Africa ranging between R1000 and R150,000 are available with some companies offering even higher amounts, Cool Finance will find the loan that matches your budget and circumstances. To make your bad credit loan search easier they've included all the needed information such as the interest rates, loan terms, and amounts available.
Personal Loans for everyone in South Africa
Get a small amount of cash in an instant for any kind of emergency you are facing, or a larger amount to settle some debts. These personal loans are available in different forms including bad credit loans, payday loans, and even loans for blacklisted people.
Loans for poor credit online, fast and easy
They have arranged all the loan options available into three categories
Loan types – a great variety of business, home, student, and poor credit loans, you can just select the loan type you are looking for.
Loan amounts – you can borrow from R100 up to R500,000 for your convenience.
Loan companies – listed by name to refine your options.
Cool Finance – Bad credit loan
Loan Type

Bad credit loans

Loan Amount

up to R500,000
Benefits of Cool Finance
Bank loans up to R500,000
Non-bank loans up to R250,000
No scams, no hidden fees
Bad credit loan calculator
Cool Finance - loans that will fit any circumstance
More South Africans find themselves in these positions than you think, but it is not the end of the road, Cool Finance will get you a loan that will fit your circumstances.
Requirements for applying
South African Citizenship
Be 18 years or older
Provide your national ID
Earn an income of at least R 3,000
Recent payslips
Proof of your current address
If you meet the criteria, you can select the loan from the compared list and the link will redirect you to the chosen lender's website. Follow the instructions step-by-step and apply for your bad credit loan in no time.
Qualifying for a bad credit loan
Bad credit loans are suited for people in the following situations:
You have a poor credit history or have been blacklisted.
Applied for a loan and got rejected.
Does not own collateral like a home or a car.
Your income does not meet your expenses.
You don't have security to offer for a loan application.
Benefits of applying with Cool Finance
Services are 100% free – No fees will be charged when you use their service.
Obligation-free quotes – You won't have to take the loan if you don't want to.
Independent – They are not owned by any lending company.
Best reviewed and compared results – Loan results with all the needed information.
No registration quotes – Just compare the loan quotes from different lenders without the need to register.
Bad credit without the hassle
With Cool Finance, you will find the bad credit loan you deserve from a trusted lender with the best possible rates for you. Realistically compare a list of suitable loans from a panel of reputable lenders in just a few seconds without any obligation, registration or costs involved. You can also utilize their very helpful guidelines, tools, and articles to educate yourself in the process. What's more is that you can truly make an informed decision while saving time, money, and effort.
Customer Reviews & Testimonials
"
August 2021
It feels so good to finally find a bad credit loan with the help of Cool Finance, they are the best.
Charles E
— Welkom —
September 2021
Being declined for a loan was hard but I got a loan to help me fix my financial life with a very acceptable interest rate, Thank You.
Kemp R
— Nelspruit —
September 2021
Searching for hours to find a bad credit loan and then found Cool Finance, they sorted me out in minutes with a good lender.
Thomas S
— Benoni —
Cool Finance Contact
Contact Number
E-Mail
Website