Bad credit loans up to R150,000
Low-interest starting from 21%
Repayment up to 59 months
In-page navigation
---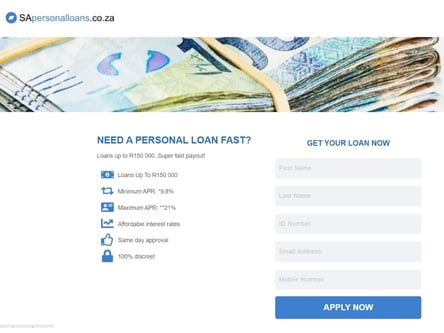 Author SA Personal Loans. Screenshot of SA Personal Loans website.


[Accessed December 9, 2022]
About SA Personal Loans
The last thing you need when you're paying a bad credit loan is to end up paying your loans late.
This doesn't only ruin your credit profile, it inconveniences your budget too. In order to ensure that your payments are always to par, you have to stick to your realistic financial limits. SA Personal Loans will help you get there with their quick loans.
Assisting you is what they do best
They meet a number of customers that are always looking for a credit option that's slightly easier to pay for. This is because no client would like to be feeling overwhelmed with too much credit. When you apply for a bad credit loan online, you have to be certain that you'll be able to afford the loan that you're applying for. It's crucial that you maintain your word and stick to the agreed repayment periods. If you do this, you'll make it easier for yourself should you need money at a later stage in your life.
Let them help you
Seeing that life is unpredictable and you might never know when you'll need financial assistance again, it's better to always ensure that your credit profile is praised instead of criticised. What you couldn't do before due to poor financial planning or little guidance won't be a factor with them because they'll help you all the way. They'll equip you with sufficient skills to handle your monthly budget without any hassle.
SA Personal Loans Services
Seeing that you'll want to make use of the money right away, they'll never delay the online loan application process.
It's mandatory that there are certain credit requirements you'll have to abide by before any other processes can materialise. These include the submission of additional pay slips, bank statements and proof of identity.
The sooner you get the loan, the better
The loan repayments that you set have to be repayments that you're able to maintain. Failure to do this will result in creating more interest in your financial plan. However, you also need to make sure that you can actually pay for the credit. If you feel that everything is too costly, you might have to reconsider the whole idea of applying for one of their bad credit loans.
Get a loan today
They also want you to be able to live life stress-free and enjoy everything that you used to do before while paying other expenses without any hesitation. At the end of the day, they want to ensure that you indeed have the money to afford the personal online loan that you're looking into getting. What's even better is the fact that there are no application charges that are incurred from applying for credit. Everything you'll be doing is free of charge.
Offering you competitive rates
A loan from SA Personal Loans could give you access to loan amounts between R500 and R150 000 with repayment terms of a minimum of 6 months and a maximum of 59 months. Interest rates range between 9.8% and 21%.
SA Personal Loans – Bad credit loan
Loan Type

Bad credit loans

Interest Rate

from 21%

Loan Amount

up to R150,000

Repayment

6 months to 59 months
Benefits of SA Personal Loans
Bad credit friendly
Speedy service
Easy repayment terms
You can lend up to R150 000
Repayment terms between 6 and 59 months
Bad credit loan calculator
SA Personal Loans help you make the best credit choices
It's important to understand that there's no quantifiable time of applying for an online loan.
As long as you feel that you're well and financially liable to take up a loan, you can. However, they normally encourage you to only apply for credit when you've been hit with a crisis. If you're going through a minor challenge that can wait until you get paid, there's no point.
Always look at the criteria of why you looking for a loan and nothing else. The fact that you can get up to R150 000 credit sounds tempting but you should only apply for the exact amount that you're looking for. This way, it'll be easier to pay off.
Adhering to the terms and conditions
You'll be given a contract to read and sign. Signing the contract means that you agree to all the terms and conditions stipulated in the set contract. If you have any queries on the personal or payday loan agreement, you can always give them a call and they'll see if they can't assist you. However, you have to give them a call or send an email before you sign the loan.
The rules and regulations that they stipulate on the credit agreement are economically feasible and done to ensure that you can pay back the loan. As soon as you are finished with your current loan, you can always apply for another bad credit loan. They'll still look into a few things as this is part and parcel of their credit policies and procedures.
SA Personal Loans won't lead you astray in terms of your finances
They have qualified and competent consultants who'll ensure that you make the best credit choices not only today but whenever you embark on an instant cash loan application process.
Customer Reviews & Testimonials
"
February 2019
SA Personal Loans offers affordable that suit any household's financial background.
Sylvester B
— Witbank —
May 2019
Applying for a SA Personal Loans was the best financial decision I took for my budget.
Patricia B
— Boksburg —
SA Personal Loans Contact
Contact Number
E-Mail
Website
Physical Address
Century Pl Blvd Century City

Cape Town

7446

South Africa