Bad credit loans up to R200,000
Low-interest up to 28%
Repayment up to 60 months
In-page navigation
---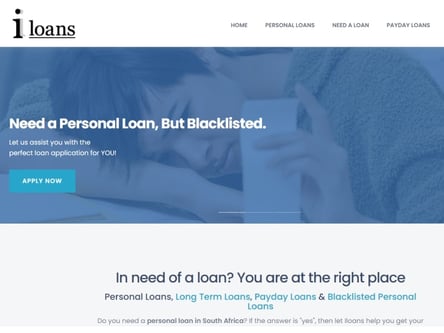 Author iLoans. Screenshot of iLoans website.


[Accessed December 9, 2022]
About iLoans
When you need to find a loan and you struggle to get approved by banks and lenders because you are blacklisted, don't despair, they have the lending solutions designed to meet your needs.
iLoans in South Africa, offer an online lending solution that's suitable for everyone, even those with a not-so-perfect credit score.
There is no need to wait for your loan
They've helped thousands of clients to get their finances back on track each month. They have some unique technology which drives application and approval processes to the next level and allows them to process your application and give you an outcome as quickly as possible.
Their applications are handled with speed so that they can get you the cash that you require without needing to wait around for hours to hear your outcome.
Flexible terms for every budget
They offer easy repayment terms over months or even years to suit your budget. You need to be able to afford your loan comfortably, without struggling with your bills at the end of each month after your payments are made.
Their loans are affordable
Getting cash is now so much easier and even those clients who get turned away often because of their bad credit can make use of their impeccable service delivery. They offer cash loans ranging between R1 000 to R200 000, over repayment terms that are affordable and that fit into your budget. Get the loan that you need to improve your financial situation, they'll ensure that your cash is in your bank account within 24 to 48 hours.
iLoans Services
iLoans in South Africa will assist you with personal loans, cash loans and loans for clients who are blacklisted.
They provide all their services through their website which saves you time and helps you get your cash quickly.
Specialists in finding you the perfect loan
Their interest rates are highly competitive and the repayment terms are very flexible. Their service delivery is of the highest quality. Their processes that streamlined and fast, so you won't be disappointed when using their service. When you apply for a loan, the process won't be a stressful one.
Bad credit loans to assist all financially
At iLoans they understand that if you have bad credit, you may get the cold shoulder and have your application declined without the lender even knowing the circumstances of your situation.
Equal opportunities for all
If you can afford the repayment terms, you may qualify for a loan. Clients who are not eligible for a loan are those who are under debt review or debt administration. They offer loan amounts ranging between R1 000 to R200 000.
Get approved and receive your cash
Simply apply through their online platform, get approved and wait for the cash to show up in your bank account by the very next day.
iLoans – Bad credit loan
Loan Type

Bad credit loans

Interest Rate

28%

Loan Amount

up to R200,000

Repayment

3 months to 60 months

Decision

24 hours
Benefits of iLoans
Up to R200 000
Bad credit friendly
Affordable repayments
Bad credit loan calculator
iLoans offer blacklisted loans and much more
They help blacklisted clients receive personal loans when no one else will.
Their streamlined application process makes getting a loan so simple and fast. Apply online, receive your outcome, sign the contract and wait for your cash to appear.
They're different from other lenders
They understand how hard and frustrating it can be, to be in a situation where you may have one slight judgement from a late payment on your name, and you get labelled as blacklisted.
Lenders often see the word "blacklisted" and immediately decline your application without a second glance. They work in line with the rules set out by the National Credit Act. These rules are in place to protect you and make sure that you're able to afford the loan without getting yourself into worse debt.
Will your loan application be approved?
Your credit score will not be a deciding factor when it comes to the approval of your loan, instead, they'll look at your ability to repay a personal loan by subtracting your expenses from your monthly salary. What is left over is known as your affordability rating and this rate will determine if your loan is granted.
To get started, simply go to their website and complete the online application form. This takes just a few minutes of your time, then click submit. Now sit back and relax while they do the rest!
Borrow between R1 000 and R200 000
Their repayment terms are so easy to afford, with the option of paying off your loan over periods ranging between 6 and 60 months. Their loan opportunities include online personal loans, long-term loans, consolidation loans, blacklisted loans and unsecured loans.
To be eligible to apply
To be eligible to apply, you need to be over 18 years old, live permanently in South Africa and earn a monthly salary that's paid into your valid bank account. You could be well on your way to having your cash loan approved. You may be required to provide supporting documents depending on the loan amount and the loan option that you chose.
Customer Reviews & Testimonials
"
March 2019
I am so grateful to iLoans for helping when I really needed financial assistance.
Penelope Parks
Penelope P
— Randfontein —
May 2019
The agents at iLoans are always available to assist customers should they need any clarity on their credit offers.
Luther G
— Westonaria —
iLoans Contact
Contact Number
E-Mail
Website
Physical Address
Hartebeesfontein

Hopefield

Western Cape

7355

South Africa