Personal loans bad credit up to R4,000
Transparent online loans
APPLY online
In-page navigation
---
About Blink Finance
We've been helping clients achieve the financial freedom they deserve for many years.
Blink Finance provides South Africans with instant and same-day, flexible short-term loans. We help you take control of your finances.
Our range of flexible services
At Blink Finance we offer a range of services to support you throughout your financial journey. Our highly trained staff will guide you towards making a smart financial decision.
We're a responsible lender who'll never lend you more than what you can afford. We aim to help people improve their financial status.
We offer excellent customer service
We're committed to our customers and it's their needs that drive our company.
We know that when you apply, you need money as soon as possible and we want to make sure you get it.
We have simplified our application process to suit everyone. We also enable you to invest time in improving your personal and financial situation while determining which loan best suits your needs.
Why you should apply with us
We're one of the few transparent lenders that have no hidden costs and fees. You can apply for a personal bad credit loan within minutes.
Blink Finance Services
Unlike other lenders, we offer financial products regardless of your financial situation. '
We'll only reject your application if you'll be able to meet your monthly installment. Blink Finance services can take you from a bad credit rating to a healthy one.
Our personal loans for bad credit are designed around your financial circumstances. We ensure you get an installment that you'll be able to afford.
If your loan is approved, it'll be paid directly into your bank account within 24 hours. But we can also make an instant payment for a service fee of R57.
Apply for a bad credit loan at Blink Finance
Although bad credit often paints you as someone who's failing to be responsible with finances, we look beyond that.
You may have a low credit score because you've never had credit or you may have a low credit score because you missed payments. Whatever the reason, Blink Finance is guaranteed to get you a personal loan for bad credit.
Blink Finance has incredible personal loan deals
Blink Finance's personal loans are accessible to both old and new customers. However, when you're a new customer you're only able to borrow R2 500 for up to one month.
An existing customer can borrow up to R4 000. You can use a personal loan to cover all your personal needs including paying for your wedding.
Blink Finance – Personal loan bad credit
Loan Type

Personal loans bad credit

Loan Amount

up to R4,000

Decision

Same day
Benefits of Blink Finance
Flexible short-term loans
Transparent online loans
A dedicated support team
Personal loan bad credit calculator
---
There's no need to wait, apply for a bad credit loan today
Applying for a Blink Finance loan requires no paperwork. You can apply anytime, even from the comfort of your own home.
Everyone needs a loan occasionally. So, you don't have to be ashamed. A loan will help you boost your credit score. In addition to offering excellent customer service, we have a quick online loan application too.
It's easy and quick to apply for a Blink Finance loan
Choose the amount you need
You can make use of our online loan calculator to calculate the total cost of the loan you want. All interest and fees are shown upfront and made clear.
Telling us about yourself means, providing us with your contact information, physical address, postal address, employer details, and income and expenses.
Before we approve your application, we'll perform a credit check, verify your income, and ensure that all details and provided information are accurate. Once you're approved, your funds will be transferred into your bank account.
Consequences of failing to repay your loan
A bad credit loan can either help you boost your credit score or lead you straight into more trouble. When you fail to repay a Blink Finance loan, we'll charge a monthly R50 service fee and a 3% interest charge. If you dismally fail to make repayments for two months, we'll send your application to an external debt collection company.
Personal information needed at Blink Finance to process your loan
When you fill in the online application form, you'll be asked to provide us with all your details and tell us how much you want to borrow and for how long.
Contacting Blink Finance
Although we focus on online loans, you can also visit our offices to make a loan application. For more details about Blink Finance's financial products, you can call us.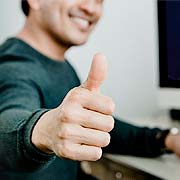 Blink Finance is a trusted & reliable provider of personal loans bad credit
In our review, Blink Finance adheres to the compliance criteria in accordance with the National Credit Act, where the granting the loan will not cause financial distress to the consumer.
Blink Finance is a registered credit provider in South Africa: NCRCP12599
Customer Reviews & Testimonials
"
It is so hard to get a loan while having bad credit. I thank Blink Finance for believing in us. It is incredible to be given a chance in the loan world.
Mark N
— Durban —
Many credit providers promise us heaven and earth. But once you are one of them you started noticing hidden rates. I thank Blink Finance for being transparent.
Khaya B
— Limpopo —
I can proudly say, Blink Finance does not only offer excellent customer services on the web only. Even when you visit their offices. You will be treated with love and care.
Owen K
— Mpumalanga —
Blink Finance Contact
Contact Number
E-Mail
Website
Physical Address
Erf 1217 Kungwini Bay

Bronkhorstspruit

1020

South Africa
Opening Hours
Monday

09:00 – 17:00

Tuesday

09:00 – 17:00

Wednesday

09:00 – 17:00

Thursday

09:00 – 17:00

Friday

09:00 – 17:00

Saturday

– Closed

Sunday

– Closed