Apply in 2 minutes
Low-interest starting from 16%
Repayment up to 72 months
In-page navigation
---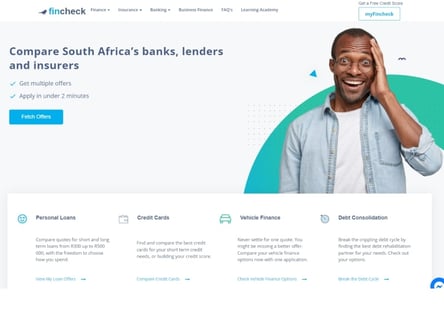 Author Fincheck. Screenshot of Fincheck website.


[Accessed December 9, 2022]
About Fincheck
Fincheck is 100% free and can help you find the ideal loan or product online in just minutes.
With top innovative technology systems in place, South Africans can easily find quick loans online through the Fincheck portal.
Get a free quote!
This platform offers a free quote comparison service that compares options from all the partaking banks and lenders and shows you all the best loan options available. This saves you the hassle of having to browse hundreds of sites to find the loan that best suits you.
Convenient and easy loan applications
Look out for Fincheck's top offers and select exclusive options that come along with money-saving tips. Fincheck will take care of the entire loan search process for you, making life a lot easier when you need cash in a hurry.
Apply online with their fast and simple-to-use interface after comparing a range of the country's leading options.
All your requirements as far as cash loans are concerned can be located on Fincheck's website. Login and create a profile so that each time you use Fincheck, the system will remember who you are and what online loans and financing options are of interest to you.
Fincheck Services
Fincheck sources the loan that suits you best in just seconds.
Pick between a personal loan, a payday loan or a student loan and allow Fincheck to help you select the best financial options for you.
If you're uncertain as to which loan you qualify for or can afford, let Fincheck know the amount of cash you are searching for and over what period. They can then help by identifying the best choice for you.
Affordable loans at your fingertips
Fincheck has a wide range of loan amounts of up to R175,000 on offer. They do investigations into these products and find the best solutions as well as the best interest rates.
Select one of Fincheck's available options and apply for a loan. They list the top lenders in the country, offering a variety of solutions and options which means you can easily find a loan with little or no work on your side.
Let Fincheck do the hard work
It's not often you get something for free! However, Fincheck offers a free service and they take a look at all banks and find the best possible alternatives, sparing you the bother of comparing several sites to discover the loan that best suits you.
Fincheck – Quick loan
Loan Type

Quick loans

Interest Rate

16 – 28% p/a

Repayment

30 days to 72 months
Benefits of Fincheck
Affordable instalments
24/7 access
Easy online application
Bad credit loans available
Choose Fincheck as your quick cash provider
Fincheck's offers are remarkable and are delivered within a quick turnaround time, saving you time and effort.
Fincheck will pay attention to your needs, offering not only unsecured loan products but also tips and advice on saving money. They do the whole loan hunting process for you, making life a ton simpler when you've had a difficult month and need cash quickly.
Fincheck finds a quick loan that suits your needs
If you're uncertain as to which loan meets all your requirements, or what you'll be able to manage, let Fincheck know what amount of money you need and over what period.
They'll assist in finding you the best personal loan suited to your needs. Fincheck has an extensive variety of cash loans to choose from.
Fincheck will take a look at your needs, the rates and fees, and what you can afford to pay back. They'll locate the best loans and best-case scenarios based on all the information you've provided as well as on their extensive database of information.
Documents required when you apply
Your South African ID/Smart ID card/driver's license
Proof of address in the form of a utility bill, rates and taxes account, or a bank statement
Payslips
3 months' bank statements
Fincheck is a transparent lender
Deal directly with Fincheck and get the information you need in minutes. This informative platform was created to assist individuals to make good financial decisions.
Fincheck has spent a lot of time and effort in using the best technology to build an online allocation system to give you the best assistance possible. Enjoy these state-of-the-art systems and use them to benefit your pocket and give you peace of mind when you need it most.
You simply pick the right loan for you & apply
Fincheck prides itself on being one of the top microlenders in South Africa, offering an assortment of loan arrangements and financial help. It's hard to try to find the best place to get a loan that suits your needs; this can take up a lot of time, and leave you feeling unmotivated.
Should you be uncertain about how to apply for a loan or which lender is secure and safe, Fincheck is ready to assist you.
Customer Reviews & Testimonials
"
May 2019
Fincheck has never disappointed me when it comes to their turnaround times. I apply for a loan in the morning and I got my money on the very same day.
Hilda R
— Bedworth Park —
May 2015
I would recommend Fincheck to customers that are looking for ideal credit plans that wouldn't cause too much strain on their budget.
Oratile M
— East Rand —
June 2019
The loan application system that Fincheck uses is easy to follow through.
Steve K
— Krugersdorp —
June 2019
I am so happy Fincheck decided to give me a loan. I was at the verge of giving up.
Nokwanda M
— Nelspruit —
Fincheck Contact
Contact Number
E-Mail
Website
Physical Address
8 Melville Road, Illovo

Sandton

Gauteng

2196

South Africa
Opening Hours
Monday

08:00 – 18:00

Tuesday

08:00 – 18:00

Wednesday

08:00 – 18:00

Thursday

08:00 – 18:00

Friday

08:30 – 16:30

Saturday

– Closed

Sunday

– Closed