Quick loans up to R250,000
Low-interest starting from 20%
Repayment up to 60 months
In-page navigation
---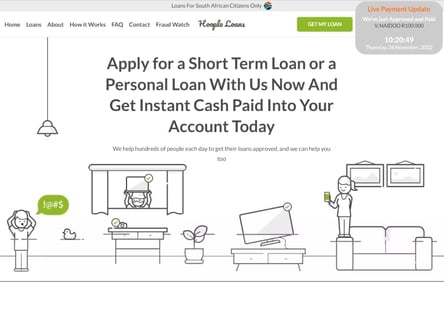 Author Hoopla Loans. Screenshot of Hoopla Loans website.


[Accessed December 9, 2022]
About Hoopla Loans
When your funds are running low, don't stress, instead, visit Hoopla's website and complete their simple online application form.
You'll find out in seconds if your online loan application is approved. There are no call centres, no paperwork and no invasive questions, just a simple quick cash loan to help you in your time of need.
A straightforward loan process
Complete one simple application form and Hoopla's expert technology will find you the perfect loan to meet your needs.
Hoopla knows exactly how to find the best deals to suit your wallet. Although they don't offer quick loans directly they match you to your perfect lender from their vast network of providers.
One application, a handful of offers
Complete one online application form and Hoopla will apply to all their leading lenders on your behalf. Because they apply simultaneously, there's no risk of damaging your credit score.
This will improve your chances of being approved and allow you to properly compare lenders' offers, fees, and added benefits.
Compare offers to save big
Hoopla's service allows you to compare lenders side by side to select the option that's right for you.
Save money by comparing offers and choosing the lowest interest rate or select a lender that allows more flexible repayment options on their low-rate personal loans.
Hoopla Loans Services
Finding a loan when you have bad credit can be tricky.
Not many banks are willing to lend money to those with bad credit and will decline your application without much thought. This is a huge problem for those that need a loan. Hoopla's bad credit loans were designed especially for those with a bad credit score, so you'll be in good hands.
Quick cash loans to suit your budget
Hoopla's quick online loans allow you to borrow between R100 and R 8 000 depending on how much you can afford to repay. Your loan will need to be repaid in full by your next payday.
If you need a larger amount of cash then apply for one of Hoopla's personal loans that allow you to borrow between R8 000 and R20 000 with flexible repayment terms. Long-term loans for very large expenses allow you to borrow between R20 00 and R250 000.
No matter how small your budget is, Hoopla's quick loans are perfect when you need cash in a flash. You'll pay back the loan in one easy repayment by your next payday - no need to sign a long-term loan contract or affect your credit score.
Apply, receive your outcome and if your loan is approved get your cash paid into your bank account in seconds.
It's all about speed
Hoopla's online short-term loans are all about the speed at which they process your application, receive an outcome and the speed at which the money is deposited into your account. Their aim is to get you the cash you need as quickly as possible.
Paying back the loan is just as quick and easy. A direct debit will be set up to run automatically on your account to deduct the amount in full. Once you've repaid the loan, the contract is finished and you'll be eligible to apply for another loan.
Hoopla Loans – Quick loan
Loan Type

Quick loans

Interest Rate

20 – 112% p/a

Loan Amount

up to R250,000

Repayment

2 months to 60 months
Benefits of Hoopla Loans
Same day response to applications
100% free to apply
Flexible loans
Hoopla will deliver your loan quickly and easily
Apply for an online bad credit loan and access your cash today, whether you need the money to catch up on overdue bills or to make repairs to your car, this flexible lender can help you get it sorted.
Choose one of their loan options that allow you to repay over a longer term or those that allow you more flexible loan terms.
Cash paid into your account instantly
Hoopla is the fastest in the business when it comes to quick cash loan payouts. The entire process only takes 4 minutes to complete and once your loan application has been approved you can have the cash paid into your account within an hour. Hoopla uses the latest technology to process your application and match you to the perfect lender.
Apply for free
You have nothing to lose when you apply for one of Hoopla's instant loans. It's completely free to apply and there's no obligation to accept any of the offers if you don't want to.
Receive an outcome almost instantly to see what types of offers you qualify for, and if you find one that suits you, simply accept the offer to receive your cash.
Your bad credit history won't hold you back
There's no need to worry if you have a bad credit score. Hoopla has lenders in their network that offer bad credit loans and that won't let your past credit issues affect your application.
Simple lending requirements
There are only a few simple requirements to apply for a loan with Hoopla. If you're over the age of 18, a citizen of South Africa and have a stable job then you'll be able to apply.
Loans are granted on your ability to repay them in your current financial situation and you're not judged based on your past financial mistakes.
No need to perform a credit check
Quick loans and even bad credit loans will require a credit check but this will not be the only thing that Hoopla looks at.
They'll consider your budget and approve your application if they can determine affordability. If you have poor credit and do not meet the affordability requirements you'll likely be rejected.
Customer Reviews & Testimonials
"
April 2019
Applying for a Hoopa Loan certainly did me a whole lot of good!
Peter C
— Lichtenburg —
May 2019
The online loan application system that Hoopa Loans uses is so simple and straight forward.
Vanessa P
— Lenasia —
June 2019
Hoopa Loans offers some of the lowest interest rates on their credit plans.
William T
— Kimberly —
Hoopla Loans Contact
Contact Number
E-Mail
Website
Physical Address
Office 2 Manhattan Corner, Century Way, Century City, Milnerton

Cape Town

Western Cape

7441

South Africa
Opening Hours
Monday

08:00 – 17:00

Tuesday

08:00 – 17:00

Wednesday

08:00 – 17:00

Thursday

08:00 – 17:00

Friday

08:00 – 17:00

Saturday

09:00 – 13:00

Sunday

– Closed