Save on monthy instalments
Low-interest starting from 6%
Repayment up to 72 months
In-page navigation
---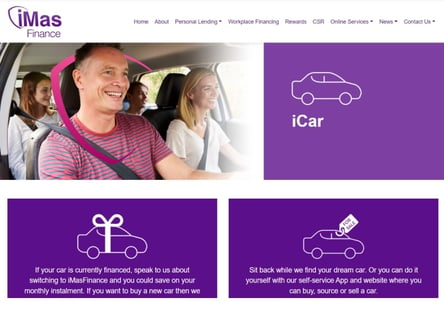 Author iMas Finance. Screenshot of iMas Finance website.


[Accessed December 15, 2022]
About iMas Finance
Founded in 1937, iMas Finance is a leading financial services company situated in Centurion, Gauteng.
They're a public company specialising in credit and insurance products tailored to typically underserved segments of the market.
iMas Finance insurance and finance products
Vehicle finance
Short-term and life insurance
Unsecured loans
Educational loans
Pension backed loans
Business insurance
Meet the people in charge
iMas Finance boasts the best in the business. Banie van Vollenhoven is the group CEO. At the head of information security, you'll find Hendrik Wiese. Lize Jansen van Vuuren is the product manager in the unsecured lending department.
Their website has a neat breakdown of each member of executive management and the board of directors. Together, this group makes sure that iMas Finance stays true to its founding principles and lives up to the values and visions set out during the company's establishment.
What does iMas Finance do?
iMas Finance was founded to offer companies financial services and training to advance their employees.
These services and training include:
Short-term financial advisory services
Housing solutions
Purchase cards
Vehicle Finance
iMas Finance Services
Together with all the above-mentioned services and products on offer at iMas Finance, they offer outstanding customer service. Delivering top-class products and financial advice is a top priority.
Vehicle finance the iMas Finance way
iMas Finance has various options available in the vehicle finance department. They can assist you if you want to refinance your current vehicle, buy a new one, or sell it.
When you decide to get vehicle finance from iMas Finance, various factors affect the monthly instalment.
Factors that affect car finance instalments
Vehicle price
Deposit
Whether you offer a trade-in
An interest rate of between 6% and 15%
Payment term of between 6 and 72 months
Compulsory once-off initiation fee of R1,207.50
A monthly admin fee of R69.00
An example of what you can expect
When you finance a vehicle through Imas Finance for R150,000 it'll bring your vehicle finance amount to R151 207.50. Your monthly instalments will thus be R2 665,13. Over 72 months of repayment you'll be paying R40,681.86 in total interest and admin fees which brings your total repayment amount at the end of the contract to R191,889.36.
Vehicle finance calculator
Knowing what you can afford before you apply is useful to help you manage your budget better. iMas Finance has put a finance calculator on the website to help you calculate what you can afford.
Access your credit record on their website
They've made it possible for you to access your credit record from NaTis directly on their website. Simply complete a few questions about yourself and hit the request button.
iMas Finance – Car finance
Loan Type

Car finance

Interest Rate

6 – 15% p/a

Repayment

6 months to 72 months
Benefits of iMas Finance
Rewards Programs
Affordable vehicle finance interest rates
A variety of finance options
How to access financing for your dream car
When you navigate to the iMas Finance website you'll see a dropdown menu next to the personal lending tab at the top of the page. By dropping the menu you'll click on the iCar tab.
This will take you to the page concerning car finance. You'll then click on the apply now button in the vehicle finance category.
A consent page with tick boxes will appear. Make sure you read through the content carefully before ticking the boxes. Answering the questions accurately and honestly will simplify the application process.
Documents that you'll need to complete your application:
ID document/smartcard
Proof of address
3 months' bank statements
3 months' Salary slips
What happens next?
Once you've read the consent form and ticked all the boxes you may click next. You're directed to the application form. There you'll have to provide the following details:
ID number
Full names and Surname
Nationality and ethnic group
Gender
Residential and postal address
Number of years you've lived there
Type of residence
Number of dependants that live with you
Preferred language
Educational level
Once completed, click on next. You'll now enter your contact details. When you're done, click next. The following page will require information about your employment. Next are the details of a relative.
On completion of all the above fields, you're required to complete the method of payment section.
You can submit all of the documents with your application for review. As soon as your vehicle finance is approved you'll be notified and the final stages will be discussed.
Why choose iMas Finance?
They offer a huge range of financing
Trustworthy and well-established group
Numerous rewards
The goal is a shared value
The main goal at iMas Finance is shared value. This means that you become a member and share in the profits through the iMasRewards program. The system is simple and works on three core principles, namely:
Purpose – They empower you to live better financially and so doing, create shared value for their members.
Vision – To be a financial services provider for the workplace that offers the most rewards.
Mission – Through innovative financial solutions, they enable members to benefit from shared value.
The iMas Finance promise to you
Teamwork – They believe that working well together benefits everyone involved.
Innovation – By growing and learning every day, they strive to bring you innovative and up-to-date products and services.
Trust – They're a trusted brand that cares about the financial well-being of their clients.
Ownership – They take responsibility for what they do and own up to every decision they make.
Get rewarded for choosing wisely
It's not every day that a lender rewards you for choosing the right financing. iMas Financing has a comprehensive rewards program that gives back to you.
Choosing to approach iMas Finance for all your financial needs is convenient and easy with all the financial products and services you need in one place.
Customer Reviews & Testimonials
"
August 2022
I was in search of a company to refinance my vehicle in the hope of saving on interest. A search brought me to iMas Finance and they helped me switch my vehicle finance to them and I saved so muc...
Braam O
— Gariep —
July 2022
Much to my surprise, iMas Finance was able to not only assist me with vehicle finance but also helped me find my dream car. The website is so easy to navigate and well put together.
Simpiwe T
— Nelspruit —
iMas Finance Contact
Contact Number
E-Mail
Website
Physical Address
iMasFinance Park, C/O Embankment Road &, Kwikkie Cres, Zwartkop

Centurion

0157

South Africa
Opening Hours
Monday

07:45 – 16:30

Tuesday

07:45 – 16:30

Wednesday

07:45 – 16:30

Thursday

07:45 – 16:30

Friday

07:45 – 16:30

Saturday

– Closed

Sunday

– Closed