Private Vehicle Finance
Buy or sell a vehicle
Comprehensive vehicle insurance
In-page navigation
---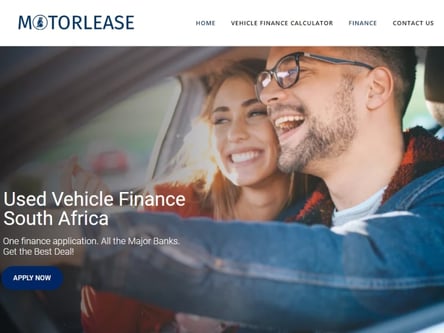 Author Motorlease Loans. Screenshot of Motorlease Loans website.


[Accessed December 9, 2022]
About Motorlease Loans
Motorlease has been around for a long time. They've seen the many ups and downs of the vehicle finance market, and they've learned from the mistakes of others.
They stand out among so many others because aside from their sterling service and their gold standard operating procedures, they care about you deeply.
They do what they can to assist you in obtaining credit whenever possible.
Who they are, and what they do
Motorlease has always set itself above other finance companies in the industry.
They do this by remaining professional, courteous and well-informed of industry current affairs.
Their commitment to top-class, private service has helped them to help the people that need it most, you, the client.
Their range of services
Motorlease offers you the finest services, and these include a number of online vehicle finance options. Primarily, they deal with the buying and selling of new and used motor vehicles, in their various forms.
They also provide finance, refinancing, transactional assistance, and advice when it comes to acquiring finance.
This is all available to you free of charge, as they merely have the aforementioned concern of assisting you to the best of their abilities.
Motorlease Loans Services
Motorlease has a strict code of conduct when it comes to supplying finance.
While they're always striving to help you accomplish your financial goals of vehicle purchase, they require a few things from you first.
To process your online loan application they require a valid copy of your South African ID, preferably notarised, your contact details in the form of your cell phone number and email address, and your full name.
With this information, they can proceed to the most critical step of the procedure, finding you a suitable lender.
How they find the lender that suits you best
Here's how the process works, first, you'll need to find a vehicle you like, preferably within your budget. Next, go through their brief registration and application, which should take you no longer than 20 minutes.
With this completed, they can use your details to initiate the process of finding suitable car finance for you.
They do this by transferring the funds to the seller, after which they complete a change of ownership and have the pickup point arranged.
It's as easy as that?
Well, yes, it's that easy. They even arrange to have the car assessed to ensure you aren't being fed a bad deal. They also have it serviced at one of their Motorlease-approved establishments before handing it over.
Motorlease Loans – Car finance
Benefits of Motorlease Loans
Affordable car loans
Leisure finance
Finance arranged through leading banks
Get quick vehicle finance options with Motorlease Loans
They do everything by the book when it comes to ensuring that you get the best of the best, in all aspects of the process.
Go on over to the Motorlease website and look through their wonderful reviews from the hundreds of delighted customers. This should be more than enough to set any doubts you have at ease if by some chance their already impressive history doesn't.
They talk specifics
Aside from payment and delivery of vehicles, assessing and servicing, along with sourcing the best vehicles they can for you, they have yet to talk about the types of vehicles they finance. They use the term loosely, as you'll come to realise. To understand what they mean, take a look at what they provide.
Their financial assistance includes a variety of vehicles, namely:
Cars
Trucks
Motorcycles
Boats
Trailers
Jet-skis
Scooters
With such a comprehensive selection, you're sure to find what you need with them.
Refinancing with Motorlease
Often they're asked about car finance and what it means. It can be difficult to keep up with all the responsibilities one has on one's shoulders. Between paying rent and bills, school fees and loan repayments, it can often get tough paying off an expensive loan on your vehicle too.
Refinancing can be a saving grace. This is the process whereby you arrange another loan with your lender that covers the initial loan you took out on your vehicle. The repayments get smaller, and the loan term extends to give you a bit of a breather when it comes to your bills.
To find out more about vehicle refinance and all of the other wonderful finance options they offer, go to the Motorlease website and see how they can help you today.
A qualifying vehicle should consist of the following:
Proof of ownership and payment in full
A vehicle not older than 10 years
The vehicle should have a valid license disc
The vehicle should be in a financeable condition as per assessment requirements
A valid roadworthy certificate
When applying for vehicle finance from Motorlease, ensure you have the following documents:
A completed application form
South African ID document/Smart card
Valid South African driver's license
Proof of current residence not older than 3 months
Proof of income in the form of 3 month's stamped bank statements/3 months' payslips

Motorlease Loans is a trusted & reliable provider of car finance
In our review, Motorlease Loans adheres to the compliance criteria in accordance with the National Credit Act, where the granting the loan will not cause financial distress to the consumer.
✅ Motorlease Loans is a registered credit provider in South Africa: FSP8846
Customer Reviews & Testimonials
"
September 2019
Motorlease had me behind the wheel in a day! I didn't think that was possible, and with a good deal on top of that. Couldn't be more grateful.
James M
— Johannesburg —
March 2020
Motorlease handled my vehicle loan and the loan my son took out to refinance his own car. They've done wonders for my family.
Bernadette L
— Nelspruit —
Motorlease Loans Contact
Contact Number
E-Mail
Website
Physical Address
242 Main Rd, Diep River

Cape Town

Western Cape

7800

South Africa
Opening Hours
Monday

08:00 – 17:00

Tuesday

08:00 – 17:00

Wednesday

08:00 – 17:00

Thursday

08:00 – 17:00

Friday

08:00 – 17:00

Saturday

09:00 – 13:00

Sunday

– Closed