No deposit car finance
Low-interest starting from 7.25%
Repayment up to 96 months
In-page navigation
---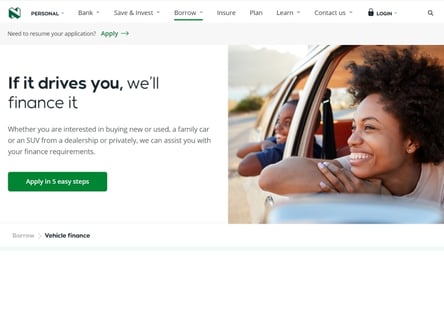 Author Nedbank. Screenshot of Nedbank website.


[Accessed December 9, 2022]
About Nedbank
As one of the leaders in the South African banking industry, Nedbank is a responsible financial services provider that's big on sustainability and take their corporate social responsibility efforts very seriously.
Recognition for the bank began over a decade ago when it won the Grand Raptor Award in 2001. Through sponsorship, they aim to achieve effective brand strategy alignment, greater ability for meeting business objectives, wider networking, community involvement, and broader appeal.
Sponsorships that Nedbank awards
The sponsorship categories are diverse and highly strategic. They range from gold, road running and soccer to sports for people with disabilities. Sponsorship restrictions apply for organizations and activities which are religious, political, non-environmentally friendly, non-sustainable or unethical.
Whether you're looking for home loans online to purchase the property of your dreams, refinance your car loan or simply find a bank that goes the extra mile, Nedbank's an excellent choice!
Nedbank Services
We all need a reliable banking partner who can provide the right products and services for lowering our financial risk and boosting our credit to ensure we get on the road to success.
Nedbank strives to ensure you enjoy today while still planning for a better tomorrow. In terms of vehicle finance, Nedbank has a range of options that can be tailored to suit your needs.
Vehicle finance solutions
Nedbank Corporate Banking is known for its complete commitment to its customers, for its advanced and comprehensive banking and lending services.
We take you to where you want to be
Whether you're looking to purchase a new or used vehicle, Nedbank's MFC is ready to provide you with the vehicle finance that you need.
MFC offers instalment agreements, balloon payment options, and linked rate and fixed-rate options and more options designed to help you finance your next vehicle!
Nedbank – Car finance
Loan Type

Car finance

Interest Rate

from 7.25%

Repayment

12 months to 96 months
Benefits of Nedbank
Leading vehicle finance
No deposit car finance
Affordable rates
Nedbank loans will get you into the driving seat of your dream car
The purchase of a vehicle is an important step for any individual or family.
It's important to shop around to find the best option and to choose the best finance deal available on the market. Nedbank's vehicle finance division MFC is ready to deliver the ideal car finance option for you - no matter what your budget or needs.
Nedbank's MFC is a well-established financial institution with a long history. They're a reliable provider of vehicle finance for South African citizens and have become a household name for all things related to car finance. They offer a wide variety of vehicle financing options to suit a wide range of needs.
No deposit, no problem
Nedbank car loans are available without you needing to put down a deposit, subject to meeting MFC's criteria. This means that you can get finance of up to 100%. This is a superb benefit that many other lenders don't offer. You don't have to have any savings in order to finance a car!
The loan size range based on income but the maximum loan term is 96 months. Their loan range matches the needs of most vehicle buyers in South Africa. The ammount you qualify for will depend on your personal affordability. You can acquire sufficient financing to buy a family sedan or a powerful SUV.
The interest rates are highly competitive and are among the best you'll find on the market. To take advantage of MFC's top deals you'll need to have a good credit history.
Repayment flexibility
Nedbank car loans offer a great level of flexibility and can be customized to suit your requirements. You can repay the loan in 72 months (or up to 96 months in certain cases). A shorter term will help you save on the total amount of interest which you have to pay, while a longer term will make your monthly payments smaller. You can determine which option would suit you best by using Nedbank's car finance calculator.
Nedbank's flexible when it comes to the range of vehicles eligible for finance as they finance new and pre-owned cars. They can finance vehicles up to 10 years old (subject to meeting their specific criteria).
What you'll need to apply for Nedbank vehicle finance:
A front and bank copy of your Smart ID card/South African ID document
A front and back copy of your driver's license
Proof of your current address not older than 3 months
The last 3 month's payslips
Your 3 recent stamped bank statements
The eligibility criteria for Nedbank vehicle finance

Nedbank is a trusted & reliable provider of car finance
In our review, Nedbank adheres to the compliance criteria in accordance with the National Credit Act, where the granting the loan will not cause financial distress to the consumer.
✅ Nedbank is a registered credit provider in South Africa: NCRCP16
Customer Reviews & Testimonials
"
June 2019
I love my nedbank app it shows you how much you owe on your loan and also helps you to save with your greenbacks I am a very happy customer to have gotten my car loan through them.
Glen S
— Port Elizabeth —
May 2019
I got my car loan and then with a bonus they helped me to get my car insured I have to say I am very happy with Ned bank.
Steph B
— Cape Town —
April 2019
Great service when we went to the branch. I would recommend them to anyone.
Jonathan S
— Johannesburg —
Nedbank Contact
Contact Number
E-Mail
Website
Physical Address
Cnr Rivonia Rd & Maude St Shop L05, Block I Lower Ground, Sandown

Sandton

Gauteng

2196

South Africa
Nedbank Universal Branch Code
Opening Hours
Monday

08:30 – 16:00

Tuesday

09:00 – 16:00

Wednesday

09:00 – 16:00

Thursday

09:00 – 16:00

Friday

08:30 – 16:00

Saturday

08:30 – 12:00

Sunday

– Closed