Quality banking solutions
More than just banking
The best loan deals
In-page navigation
---
Author ABSA Bank. Screenshot of ABSA Bank website.


[Accessed September 1, 2021]
About ABSA Bank
A new and improved online banking platform that is designed to make your banking easy, quick, and efficient.
The Rapid option on your online banking will be combined into a single seamless experience. Online banking is improved to create a top banking experience, so you can spend less time navigating and more time banking with ease.
Years of expertise in the banking field
In line with their technology, you can get the best banking services around the country. Clients get offered perks and banking products while accessing one of the largest banking giants globally. They also allow their employees to develop themselves through several career-building programs to ensure that you get excellent service.
A smart and safe way to bank
What's even more awesome about online banking is you don't even need data or Wi-Fi to use it. It is super safe with the protection of free Digital Fraud Warranty. All you need is your smartphone, and you can bank wherever and whenever it suits you. With Absa online banking it keeps getting better.
Interesting facts of Absa bank
When it comes to banking or internet banking the sky's the limit to what you can gain through partnering with Absa bank. Absa bank is owned by Barclays Africa Group. Absa reinvented the brand in 1998, after careful consideration to change and grow for the good of their clients. Covering every aspect, they offer a simplified solution when it comes to banking.
ABSA Bank Services
Do your online banking with great benefits and value from a top-rated bank.
They offer simplified solutions for your internet banking needs. Delivering brilliant online banking support through their energy, experience, and passion is a priority for them to make sure you have the most amazing banking experience possible.
Get rewarded with Absa's online banking
You can get instant rewards for banking smarter with your Absa bank account. The only requirement is you need to be above the age of 18.
You can take part in challenges, there will be a new one every three weeks. Check your phone for a notification, complete it within two weeks to receive your instant reward.
Effortless banking with your smartphone
With life being busy we always want to find the most effortless way to do things. This is where internet banking comes in; it is easy to use and secure. You will be able to do numerous transactions and conveniently manage your money in the comfort of your own home.
Abby the virtual assistant will guide you
Struggling with banking online? Download the Absa internet banking app and ask Abby your question. You will receive an instant response. Powered by artificial intelligence, Abby learns from your connections on the internet banking app and can guide you grounded on your habits, so your experience will develop as Abby gets to know you.
ABSA Bank – Online banking
Benefits of ABSA Bank
Competitive

interest rates
The

best loan

deal for your needs
Easy process
---
ABSA makes banking simple & easily accessible to clients
Save a lot of time without going to the bank, and rather spend your life doing the things that are important to you.
Absa is transparent so there will be no hidden cost waiting for you. You will get what you pay for, and Absa does everything they can to make your banking affordable. Internet banking with ABSA is Improved, simpler, and reasonable.
Apply using these easy steps
Step 1
Go on to the ABSA website home page click on "Login" in the top right of the screen.
Step 2
On the registration page, enter your personal details and the code on the screen.
Step 3
Enter your ATM card number and PIN and select the account to be charged.
Step 4
Enter your email address and select your title.
Step 5
Read and accept the Terms and Conditions.
Step 6
Under the Security Information section, choose a strong 5-digit PIN and confirm.
You are now registered to use Absa online banking.
Benefits of online banking with Absa
Make payments anytime.
"Tap" option.
Online banking is quick.
It saves you time, money, and unnecessary trips to the bank.
Safe and convenient.
You can do anything banking-related on the Absa app.
Online banking is available 24/7.
A bank that cares for you
Join a bank that is highly recommended today, with the newest technology at your fingertips. Modern banking is faster and more convenient with internet banking in just a few minutes. You deserve the best, start banking with ABSA today.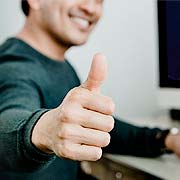 ABSA Bank is a trusted & reliable provider of online banking
In our review, ABSA Bank adheres to the compliance criteria in accordance with the National Credit Act, where the granting the loan will not cause financial distress to the consumer.
ABSA Bank is a registered credit provider in South Africa: NCRCP7
Customer Reviews & Testimonials
"
January 2021
When you bank with ABSA you can rest assured that you will get the best and fastest service. They know what you need and give it to you without delay.
Inge L
— Durbanville —
April 2021
Absa is passionate about its customers. They send their employees for constant training to ensure that they are fully equipped to deal with your needs. Very pleased with their service.
Themba B
— King Williams Town —
June 2021
I have been banking with ABSA since I opened my first bank account. They are amazing!
Denise R
— Port Elizabeth —
ABSA Bank Contact
Contact Number
E-Mail
Website
Physical Address
Century Blvd

Century City

Cape Town

7441

South Africa
ABSA Bank Universal Branch Code
---
Postal Address
PO Box 7735 , Johannesburg, 2000, South Africa
Opening Hours
Monday

08:30 – 16:00

Tuesday

08:30 – 16:00

Wednesday

08:30 – 16:00

Thursday

08:30 – 16:00

Friday

08:30 – 16:00

Saturday

09:00 – 14:00

Sunday

10:00 – 13:00