Private bank accounts
Cash investments
Foreign exchange
In-page navigation
---
Author Investec. Screenshot of Investec website.


[Accessed September 1, 2021]
About Investec
Do your online banking with ease.
Investec bank wants to exceed the expectations of their clients. To achieve their goal, they will provide a partnership with their clients, shareholders and their team. They want to provide a unique work environment for their team so that they can provide excellent service. They promise to have a stable and committed relationship with their clients who invest in their bank.
Investec believes in success
Investec bank believes if they treat their clients well, then they will achieve success. They encourage their team to achieve their goals daily by keeping them motivated. Investec is a trusted & reliable provider online bank, and they are also recognized internationally. They make sure that their team delivers in every task that is done and that is up to their client's standards.
The background of Investec
Investec Bank started in South Africa offering local systems in a developing business sector. Years of development later they became a worldwide business overseeing customers based everywhere in the world. Investec offers potential income generation and capital growth. They are a dependent organization, that lives up to their promises and morals.
Investec's people are experts
Offering nothing but the best guidance and advice to clients. New or existing clients can enjoy being assisted in a helpful manner when it comes to financial investments. Investec Bank offers investment excellent financial opportunities to clients through their online banking platforms. They are experts when it comes to the financial part of life.
Investec Services
You can access a range of products and services without leaving your home.
They understand the challenges in today's financial life. That's why they have developed great online banking solutions to assist in a range of needs. You can easily set up your financial plans and be in control of your financial future. Their teams of professional consultants are skilled and experienced to get you through the financial and investment requirements you have.
An online investment bank you can trust
Investec Bank Investment Management Services (IMS) began in 1994 with a vision of being the best online investment bank in the country. Offering growth through capital and income generation they have grown to be one of the largest investment online banking firms in South Africa
Get 24/7 support from Investec
Investec Bank offers you the best of both worlds. Their world-class online banking option is available 24/7. Their global Client Support Centre and a specialist Private Banker wants to offer you the high tech and high touch experience. Get secure access to your online banking and investment account today.
Clients are offered a rewards program
With Investec Bank clients are automatically registered for the Investec bank rewards program. No minimum qualifying criteria apply and there are no hidden fees. There is no limit on the number of rewards points you can earn. Be rewarded one point when you spend R5 on your Investec Visa card or R10 on your Investec Business Visa card, at any retail store.
Investec – Online banking
Benefits of Investec
Cash investments and savings accounts
Business deposit accounts
Foreign exchange
---
Investec offers entrepreneurs & business professionals the best services
Investec puts you in charge of your money.
Stay in control on the go with Investec's online banking app. The Investec online banking app is a quick and easy way to manage your money. You can easily check your balance, send money, pay bills and you can even do queries about transactions.
Easy online banking
Easily access your PIN from your online banking app using your phone. You can also reset your online banking account password if you have forgotten it. You will be able to log in with a fingerprint ID or Face to unlock your blocked account. Change your password using the online banking app at any time.
What you can do with Investec online
Day-to-day
View bank
Make international payments.
Access to electronic copies of your important documents.
Easy steps to get started
Step 1
Go online to activate your banking account, they will send you a temporary password by text to the mobile number you provided in your application.
Step 2
if you have received your temporary password, you can log in to Investec Online by visiting the website. Log in and choose Investec online. You will need to change your password and set up your online banking security details.
Step 3
You will now be able to use your Investec banking app, each time you log in to Investec Online you'll need your Investec ID and password.
Your security is a priority
You can be assured that when you are using your online banking application, all your personal information will be secured. You can change your password at any time. To increase the strength of your online banking password, you need to have more than eight characters and a combination of letters and numbers.
Benefits of using Investec online banking
All your bank accounts can be accessed through the banking app 24/7.
Rewards offered.
Safe, hassle-free, and easy to use.
Accounts and balances can be checked anytime.
Transfer funds between accounts.
High level of security and one-time pin.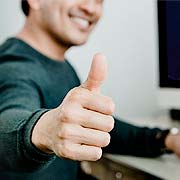 Investec is a trusted & reliable provider of online banking
In our review, Investec adheres to the compliance criteria in accordance with the National Credit Act, where the granting the loan will not cause financial distress to the consumer.
Investec is a registered credit provider in South Africa: NCRCP9
Customer Reviews & Testimonials
"
May 2021
When you need finance in no time, Investec is your answer. I found myself in a tight situation and they were able to help get me out of it. Thanks for the quick service.
Luke R
— Durban —
May 2021
Applying with Investec is child's play! They simplified the entire process so you can get your finances sorted within a few minutes. Take that coffee break and do what is best for you choose Inve...
Jennifer B
— Port Elizabeth —
June 2021
The staff at Investec is trustworthy, friendly, and professional. They know their way around finance. You will be in good hands.
Jennifer L
— Pretoria —
Investec Contact
Contact Number
E-Mail
Website
Physical Address
100 Grayston Drive, Sandton

Johannesburg

Gauteng

South Africa
Investec Universal Branch Code
---
Postal Address
PO Box 785700, Sandton, Johannesburg, 2146, South Africa
Opening Hours
Monday

08:00 – 17:00

Tuesday

08:00 – 17:00

Wednesday

08:00 – 17:00

Thursday

08:00 – 17:00

Friday

08:00 – 17:00

Saturday

– Closed

Sunday

– Closed