Financial planning
Zero monthly charges
Explore saving options
In-page navigation
---
Author African Bank. Screenshot of African Bank website.


[Accessed September 1, 2021]
About African Bank
African Bank has the solutions you are looking for.
Online banking that continuously evolves
They are constantly developing financial solutions that are both more beneficial and more easily available to their clients and partners, as well as to the general public.
They understand that things are constantly evolving. As the world changes their banking solutions change as well. They aim to keep their online banking solutions relevant to your online banking needs.
Honesty in online banking
When communicating with you, they commit to being open and honest in all of their contacts, whether written or verbal. They build their banking relationship with you on a basis of honesty and transparency.
They are willing to listen to and consider the ideas of others, and they are committed to expressing their own viewpoints in a polite manner. Mutual respect is a baseline of their business.
Responsible online banking
African Banks promise to take full responsibility for their actions and to hold themselves accountable for their choices and decisions. When you bank with them you can rest assured knowing that they are putting your best interest first.
Trusted online banking partners
Put your trust in a forthright and honest company as they say clearly what they mean and then follow through on their promises and obligations.
Building a relationship with your bank that is built on trust will help you be confident with your financial needs. With African Bank, you will get exactly what they promised. You can rest assured that your online banking is placed in trustworthy hands.
African Bank Services
With their easy-to-use internet banking portal, you will be able to manage your money from the comfort of your own home.
Once you are registered you will receive your login details and you will be set to start your internet banking journey.
On your internet banking portal, you can
view your credit report,
see any applications that are still pending,
see all of your accounts, check your balances,
view all of your transactions,
manage your debit orders,
process all debit order disputes,
and see all of your interaction histories.
African Bank online banking app
African Bank has a readily available online banking app. After you have installed the banking app on your device you can access your money from anywhere you are. This banking app allows you to manage your finances on the go.
Get your credit report, view your pending applications, view all of your accounts and their balances, see your transaction list, and manage your debit order disputes on the go from your African bank online banking app.
Cellphone online banking
The most convenient way to bank is from the comfort of your own cell phone. With their cellphone banking options, you can view your accounts and their balances from anywhere in the world. Where your cellphone goes, there your online banking experience will follow.
Whatsapp online banking
As the world progresses so do your online banking needs. You already spend a large portion of your time on your mobile devices, be it for work or social. African Bank is using its whats app banking as a means to simplify your online banking experience.
With WhatsApp banking, you can request your balances and statements from your whats app chat. You will also be able to do settlement quotes and upload your documents on their WhatsApp line.
African Bank – Online banking
Benefits of African Bank
Lower

Repayments
Flexible

Terms
Easy

Process
---
African Bank offers credit card solutions & financial tips on managing your bank account
They have made online banking a breeze for you to learn and use.
It's easy to save money and time by using their free online banking services. They know your life is busy and you live on the go. With their online banking options, you are able to manage your money wherever you go. Apply for their online banking today and enjoy the freedom that African Bank will give you.
Steps to Apply
Click on the Register Now button on the African Bank website. This button is located in the top right corner.
Complete the application form by filling out all of the required information.
Create a username, pin, and password for your online banking portal.
After you receive the registration pop-up, a message will be sent to your mobile device. You need to confirm your registration on that message.
You will enter the one-time pin that was sent via SMS to your mobile device.
Read and accept all of the Terms and Conditions they provide you with.
Online banking criteria
You will need to have your green bared ID document or card.
To register you need to have an email address that you can access.
You need to have a cell phone number where you can receive your messages.
Benefits of Online Banking
Connect via online banking at any time and from any location. Self-service features are available around the clock, so you can get help even when they're closed.
You can choose when and how African Bank interacts with you.
You can interact without fear of losing control of your private data thanks to their service.
No monthly fees or transaction costs are associated with using the online banking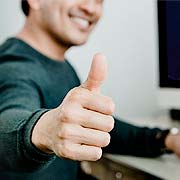 African Bank is a trusted & reliable provider of online banking
In our review, African Bank adheres to the compliance criteria in accordance with the National Credit Act, where the granting the loan will not cause financial distress to the consumer.
African Bank is a registered credit provider in South Africa: NCRCP5
Customer Reviews & Testimonials
"
April 2021
My lack of computer knowledge necessitated a trip to African Banks' how-to section on their website when I needed to do two tasks. For the first time in my life, I have access to online banking, ...
Martin S
— Evander —
May 2021
I have only experienced amazing service from African Bank and the African Bank team. Thank you for your incredible work.
Tatiana L
— Nelspruit —
September 2021
African Bank went over and above to help me with a challenging task. I also loved being able to talk to a live person on their whatsapp line instead of getting stuck in a phone tree every time I ...
Mohamed F
— Durban —
African Bank Contact
Contact Number
E-Mail
Website
Physical Address
126 De La Rey Rd, Shop 126, Parow Centre Cnr De La Rey & Voortrekker Rd

Parow

Cape Town

7500

South Africa
---
Postal Address
Private Bag x170, Midrand, 1685, South Africa
Opening Hours
Monday

08:30 – 17:00

Tuesday

08:30 – 17:00

Wednesday

08:30 – 17:00

Thursday

08:30 – 17:00

Friday

08:30 – 17:00

Saturday

08:00 – 12:00

Sunday

– Closed