Free Connect allocations
Salary Switching
Private Wealth
In-page navigation
---
Author FNB. Screenshot of FNB website.


[Accessed September 1, 2021]
About FNB
When you think of online banking you think of convenience.
That is exactly what FNB offers its clients. Their easy-to-use online banking takes you to a world of comfort, safety, usability, and quality. You can now do anything banking-related from anywhere you are. This is just another way that FNB makes banking simpler and better.
The story of FNB bank
Being the oldest bank in South Africa, FNB's roots stretch back to 1838 in Grahamstown. What is known today as FNB was established in those years as the Eastern Province Bank. Surviving through all the hardships of the years that followed has made FNB Bank the preferred bank for many.
A bank with a strong environmental focus
Everything these days is strongly focused on the environment and creating a sustainable future for everyone. By offering their clients more innovative ways to bank through the internet, FNB is minimizing the use of paper. FNB also has a strong focus on things like water and energy conservation.
A bank that invests in the community
FNB donates a large portion of funds towards projects that create a sustainable future. Some branches of FNB have an ongoing contract with Mondi Paper for recycling.
These funds then go back into Mondi's CSI Initiatives that lend financial aid to Hospice as well as SPCA. These are only a few of the community initiatives by FNB.
FNB Services
Traditional banking as we know it is confined to office hours.
With FNB's online banking platform any time is a good time for the bank. No longer will you be time-strapped to get your banking done. From the comfort of your own home, you can get all your banking needs covered in one place. It's safe, easy, and super convenient.
Online banking has no limits
When online banking became the way of banking, things were much different. There were many limits to what you could do.
As time went on and technology got more advanced, so did online banking. You now have the advantage of seldom going into a branch because nearly everything banking-related has been made available with online banking.
Online banking, the new way to transact
Imagine having a rough day at work, taking your lunch hour to stand in a queue to get your banking done, and not getting to the front in time. With FNB you can stay where you are and do all your banking online. No more standing in a queue anymore. By registering for online banking you have convenience at your fingertips.
Get your home loan done online
When it is a new home you need you can contact FNB for your home loan. Applying online is easy and convenient. You simply go onto the FNB website and complete a call me back form. A friendly and highly trained consultant will then contact you to get your home loan application on track.
Benefits of FNB
Get a bank account to suit your lifestyle
Apply quickly and easily
Save time
---
FNB has quick and efficient banking options
Deciding to switch from traditional banking to online banking is not only a wise decision but also a time-saving one.
You will have the freedom to get your banking done on time and in your own time, 24/7. It is a safer and more secure way of getting all your banking done conveniently.
If you are already a customer of FNB you can simply register for the online banking service online. If you are banking with a different bank currently, that is no problem. You can switch from your current bank to FNB online in no time at all.
Online banking made easy
Step one
On the FNB website, you can click on the register button at the top right corner. Now select the option stating that you have a card and a PIN. This will be under personal internet banking registrations.
Step two
You will now be directed to the application form where you will complete all the fields. After you are done you can tick the box stating that you have read and understood the terms and conditions. Click on the continue button.
Step three
You will now be required to review your personal details and set up a user ID and password. Keep this information safe as you will need it to log into your online banking profile in the future. Also, note the rules for setting up a strong password. Click on the register button.
Step four
You will now be directed to a review page. Go through your information once more and if it is correct, you can click on the confirm button.
A results screen will now appear where you are required to log in using your chosen credentials. To use your online banking profile, please visit your nearest branch or ATM to validate your online banking profile.
Choose FNB today
FNB has continued to give its customers outstanding service and innovative products since its establishment. They have been keeping up with evolving technology to bring their customers the latest trends.
Security will always be their number one priority when it comes to online banking. Make the move to safety and convenience by contacting FNB for your online banking needs today.
Benefits of FNB's Online Banking
Viewing of detailed statements and account history online.
Making online payments.
Transferring of money between accounts.
Buy prepaid electricity as well as airtime online.
You can add and delete recipients.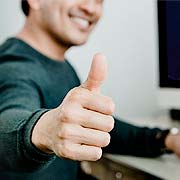 FNB is a trusted & reliable provider of online banking
In our review, FNB adheres to the compliance criteria in accordance with the National Credit Act, where the granting the loan will not cause financial distress to the consumer.
FNB is a registered credit provider in South Africa: NCRCP3377
Customer Reviews & Testimonials
"
April 2021
There are never enough hours in a day when it comes to doing the banking. I am so glad that I decided to switch to FNB's online banking. It has made my life so much easier. I can now do my bankin...
Sandy S
— Sandton —
June 2021
I never imagined convenience in the way that FNB offers with their online banking. Being able to do my banking anytime I choose was such a blessing. I can't remember the last time I had to go to ...
Johan P
— Humansdorp —
May 2021
FNB's online banking is the next best thing to sliced bread. Everything I need is right at my fingertips 24/7. I am so glad that I registered for this service. FNB has made their online banking a...
Chandré C
— Baberton —
FNB Contact
Contact Number
E-Mail
Website
Physical Address
3 First Place, FNB Bank City, Simmonds Street

Johannesburg

Gauteng

2001

South Africa
FNB Universal Branch Code
---
Postal Address
PO Box 1153, Johannesburg, 2000, South Africa
Opening Hours
Monday

08:00 – 17:30

Tuesday

08:00 – 17:30

Wednesday

08:00 – 09:00

Thursday

08:00 – 17:30

Friday

08:00 – 17:30

Saturday

08:00 – 13:00

Sunday

– Closed