Repayment up to 60 months
In-page navigation
---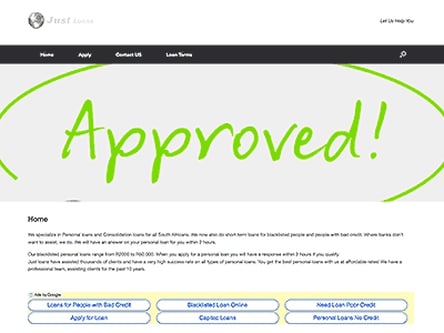 Author Just Loans. Screenshot of Just Loans website.


[Accessed December 9, 2022]
About Just Loans
Just Loans specialize in personal and debt consolidation loans for South Africans across the country.
Your bad credit does not have to continue to haunt you, Just Loans will help you obtain financing even if you're currently blacklisted.
Pay off your loan quickly
With these short-term loans, you'll benefit from being able to pay off your loan in a shorter time frame. You also won't have to pay exorbitant interest rates on a loan that takes years to pay off.
This provider offers convenient ways to access cash, without even leaving your home or office. Once your loan application has been approved they'll deposit the cash directly into your bank account so that there's no unnecessary waiting around.
Thousands of satisfied clients
Times can be tough. Expenses come up when we really can't afford them and if you're blacklisted, getting a loan can be very stressful. Many lenders decline your application for having bad credit without even giving you a fair chance.
This is not the case with Just Loans. They aim to provide their lending services to everyone and not to judge people on their past mistakes. They'll give you a chance based on your affordability.
Everyone, who can afford to pay back their instalments will be able to qualify. You need to provide proof that you can repay the loan. You won't get a loan quicker anywhere else.
Just Loans Services
With this provider's turnaround times being no longer than two hours, you can have cash in your account before you've finished logging out of your computer.
Just Loans pride themselves on their service delivery and getting you the cash you need - fast. For over 10 years they've been providing services of the highest degree to clients.
Discover a range of beneficial products that will suit your needs. Their lending options are diverse and work for all clients, including those who are blacklisted.
Loans for people with bad credit
If you're blacklisted, there is hope in getting a loan. Just Loans offer loans for blacklisted people ranging between R2 000 and R50 000 to use to cover your expenses and bills that have been piling up, taking your family on vacation, or renovating your home.
Simply apply online
To apply for a loan simply go onto their website and follow the easy steps. Everything is processed online for your convenience. If you're over 18, earning a regular monthly income, and are a citizen of South Africa, you shouldn't have any problems getting finance easily.
Just Loans look at your ability to pay off your loan and whether or not you can afford the monthly instalments, in order to approve your loan application.
Apply now and have cash directly paid into your bank account in only two hours once your application has been approved. It's as simple as that!
Just Loans – Bad credit loan
Loan Type

Bad credit loans

Repayment

3 months to 60 months

Decision

2 hours
Benefits of Just Loans
Bad credit loans
Debt consolidation and advice
Fast application response
Safe and secure finance
Comprehensive service
Bad credit loan calculator
Just Loans is ready to deliver a reliable bad credit loan
Just Loans are as simple and effective as can be!
Why should life be more complicated than it already is? Getting a loan should be one of those processes that are smooth, fast, and hassle-free.
Getting a loan is quick, easy, and affordable
You can complete the application provided on Just Loans' website with your personal details and supporting documents. They'll store these details so if you apply for finance down the line your application can be approved even quicker the second time around.
The personal details you provide this lender with will allow them to verify your credibility and see whether or not you can afford to repay a loan.
Solid security measures
This is a key qualification in their loan process. All information provided on their website is treated with the utmost confidentiality, so your personal details will remain private and secure.
Just Loans' blacklisted loan option has extended loan terms of between 3 and 60 months. These simple terms are most affordable to customers, making the total sum they pay back less demanding on their pockets.
Variety of loan alternatives
Just Loans offer a scope of loan alternatives, such as secured and unsecured loans, personal loans, vehicle finance, and debt consolidation.
In addition, they offer loans for customers who are blacklisted. To meet the requirements of this provider's lenders, customers need a good credit score, as this will be the defining factor.
Can you easily afford the instalments?
Just Loans will confirm your application to perceive what your costs are as per your monthly instalments, and check whether there is sufficient cash left over after your monthly expenses to pay your instalments every month.
The whole procedure only takes a couple of minutes of your time and you can expect a quick pay-out on your loan once the lender has verified your details and approved your loan. You have nothing to lose and everything to gain by applying with Just Loans today!
Get your application completed and expect a boost in your bank account by tomorrow. It's simple, it's fast, and it's all available online!
Customer Reviews & Testimonials
"
April 2019
Just Loans is a fast financial services provider especially if you are looking for emergency cash.
Keneiloe M
— Krugersdorp —
May 2019
Just Loans has a very user friendly system when it comes to applying for credit.
Cynthia B
— Klerksdorp —
Just Loans Contact
Contact Number
E-Mail
Website
Physical Address
377 Govan Mbeki Ave, Port Elizabeth Central

Port Elizabeth

Eastern Cape

6001

South Africa