Bad credit loans up to R180,000
Competitive interest rates
Repayment up to 72 months
In-page navigation
---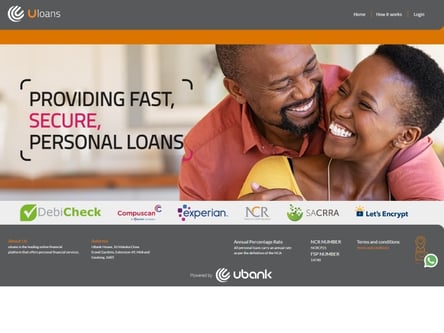 Author uBank. Screenshot of uBank website.


[Accessed December 9, 2022]
About uBank
uBank has been providing financial services to mineworkers and their families for decades.
uBank is a registered and authorized financial service provider which follows the terms of the NCA regulations. Ever since UBank has been established, they have managed to work themself up within the mining community as they focus their service and support in providing financial assistance to these communities within South Africa.
Even though they have been in the financial business for almost 40 years, they have been keeping up with the latest security to protect their clients and their finances. It also allows them to provide you with the quickest and most excellent service.
The amounts you can borrow
By using uBank for your bad credit loans you will be able to lend anything up to R180,000 which needs to be paid back between 1 month and 72 months. These loans give you financial flexibility and help in time of need. uBank has made an online calculator available to you to determine the repayment terms to make the process as easy and quick as possible.
uBank has been helping the miners connect with their families for the last 4 decades. From using them as a normal bank to transfer money to their loved ones to apply for bad credit loans, uBank has been assisting them without hesitation.
uBank Services
You must be above the age of 18 and a South African citizen before any applications can be filed.
In the case, of a non-South African citizen, you will be required to submit a valid passport and work permit along with your documents.
You will also need to have a bank account and all relevant documents that will be needed for the application. You will be required to have proof of income and a 3-month bank statement which will be used to determine the amount of loan you can receive.
Effects of credit score
Credit can improve your life only if you use it responsibly. When applying for credit it is important that you only choose the repayment term and instalment amount you can afford and not any extra cost. It is also important that you pay the instalments rather early to avoid any complications.
Paying off your bad credit loan can
Improve your chances of getting a loan in the future
No additional fees and interest
uBank – Bad credit loan
Loan Type

Bad credit loans

Loan Amount

up to R180,000

Repayment

1 month to 72 months
Benefits of uBank
Bad credit loans for up to R180 000
Online calculator - determine repayment and terms
All applications can be submitted online
Competitive interest rates
Repayment period from 1 month to 72 months
Bad credit loan calculator
uBank is here to help the mining community in need
Since they started the banking service 40 years ago, they have been providing affordable banking services to the miners in South Africa.
Improving the lives and finance of the miners by
Maintaining partnerships with the communities.
Empowering and educating these communities to help them achieve financial success.
Building relationships upon listening, action, and communication.
Working with the principle of Ubuntu in all that they do.
How to apply for a uBank loan
When you require a loan, you can apply by visiting any of our branches or by completing the steps on the online loan application. It consists of a pre-application with a declaration that requires you to specify your employment status as well as identifying if you are under a debt review. If their consultants are pleased with the answers to the application form they will contact you with further instructions and indications.
Documents needed when applying
A recent original payslip.
Proof of physical address, not less than 3 months old.
A South African ID or valid passport, with a valid work permit.
A 3-month bank statement, to identify who is banking with uBank.

uBank is a trusted & reliable provider of bad credit loans
In our review, uBank adheres to the compliance criteria in accordance with the National Credit Act, where the granting the loan will not cause financial distress to the consumer.
✅ uBank is a registered credit provider in South Africa: NCRCP21
Customer Reviews & Testimonials
"
May 2020
I am a married woman. My husband works in one of the Mpumalanga mines. He always deposits the money to feed my family at UBank. I am still happy with their low interest.
Sethu M
— Mpumalanga —
November 2019
At first, I was not using UBank but when I heard about their affordable loans, I had to visit them. And that was the best decision I made. They have amazing loans.
Marry K
— Durban —
July 2020
I had an emergency that I needed to take care of. I applied for a UBank loan. Their application process was so fast, and I received my payout in no time.
Kristin B
— Cape town —
uBank Contact
Contact Number
E-Mail
Website
Physical Address
10 Matuka Cl, Carlswald,

Midrand

1684

South Africa