Quick loans up to R120,000
Low-interest up to 28%
Repayment up to 84 months
In-page navigation
---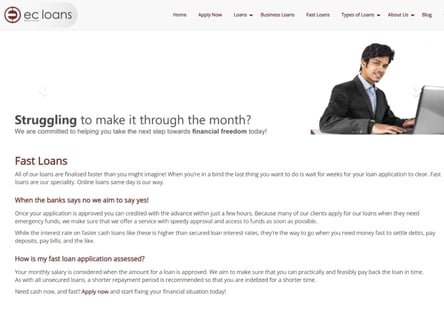 Author EC Loans. Screenshot of EC Loans website.


[Accessed December 9, 2022]
About EC Loans
EC Loans understand the demands of today's world.
They've been assisting clients with quick loans for years. They use their experience in the financial world to better process and create loan products for clients, with the aim to make life a lot easier and more affordable.
EC Loans is in the business of providing the fastest online quick loans available.
Their up-to-date technology allows them to process and approve loans in record time for your convenience.
Quick approvals with EC Loans
Too many debts to pay off? Perhaps you have bad credit and you need a little extra cash to make it through the rest of the month.
Apply for a bad credit loan with EC Loans and get the best and most affordable loan options available to South Africans.
EC Loans is committed to finding you the loan solution that'll suit your needs. They pride themself on a 90% approval rate and quick approval time to ensure that you get the cash you need when you need it.
They're focused on finding a loan that will get you what you want when you need it. EC Loans is all about convenience and know that when the need for financing arises, time is of the essence.
Therefore they've digitised the entire process so you don't have to waste time standing in long queues. Discover more about EC Loans and how their loan application process works by visiting their website.
Competitive interest rates
EC Loans deliver instant loan approvals and products that are affordable and offer competitive rates and repayment terms.
They aim to encourage responsible lending and ensure that they carefully assess affordability before approving a loan.
Their solutions can help you to get rid of debt build-ups and cash shortages with ease. You'll have a handful of experienced consultants and top-quality products on your side.
EC Loans Services
EC Loans unsecured online loan options are intended to give you a chance to get the cash you require urgently.
It's also important to pay your credit off over reasonable terms. This allows you to quickly and easily resolve your cash emergency. EC Loans offer a choice of personal loans for bad credit to get you out of troublesome financial circumstances.
Get a loan when you need it with EC Loans
In the event that you have a bad FICO rating or no credit record, a bad credit advance is the perfect online loan option for you.
This sort of loan is intended for individuals keen on contributing or buying something they can't manage the cost of immediately, yet can't get financing from larger banking firms in light of their bad credit record.
EC Loans quick loans explained
This loan option can give you fast access to cash amounts between R1,000 and R120,000 with tailored and flexible repayment terms of between 12 months and 84 months. The annual interest rate ranges from a minimum of 32.10% and a maximum of 60%.
Cost of an EC Loans credit agreement
Insurance of 1.25% of the monthly opening balance
R57 monthly service fee
Depending on affordability, a once-off service fee of approximately 2.00%
An example of a R30,000 quick loan from EC Loans
Depending on your credit rating and affordability, a loan of R30,000 over 24-month repayment term will have a minimum instalment amount of R1,749.34 and a maximum instalment of R2,006.88.
The same loan amount over a repayment term of 60 months will have a minimum instalment of R1,043.07 and a maximum instalment of R1,257.51.
Need a cash injection to make ends meet?
This alternative is perfect for those looking for an advance or to increase their bank balance. You may be having an intense month and need a cash injection to keep you afloat before your next payday.
EC Loans have amazing short-term loan options to help you during these financially challenging times. Their vision is to help and guide you as much as possible to reduce bad credit.
EC Loans – Quick loan
Loan Type

Quick loans

Interest Rate

up to 28%

Loan Amount

up to R120,000

Repayment

160 days to 84 months
Benefits of EC Loans
Bad credit loan options
Same day loan approval
Instant online cash loans
Get a simple, affordable quick loan online
When you need a little extra cash you can feel confident that EC Loans will assist.
If you need some extra cash this month, apply for a loan with EC Loans and get the best and most affordable loan.
EC Loans don't judge you on your financial situation; their decisions are centred on finding a loan that will get you the advance you need in the quickest possible time.
EC Loans understand the financial needs of people; cash doesn't always stretch to the end of the month and your bank account looks somewhat grim on occasions.
The loan application is clear, simple, and fast
EC Loans has been helping customers with quick loans for a considerable length of time, utilizing their experience to make life less stressful and less demanding for all.
At EC Loans you can get a short-term loan with fast approval and reasonable rates and terms simply by completing an online application.
Documents to have on hand when applying
South African ID/Smart card
Any proof of current residence not older than three months
Your latest salary slips
Most recent bank statements
For a quick loan from EC Loans, this criterion includes:
Agee to an affordability check
Must be a South African citizen or have permanent South African residency
You need to be 18 years or older
Earn a minimum income of R1,500 monthly
Advice for improving bad credit
EC Loans intend to continue supporting customers through the support of their experienced advisors and top-quality products.
Should you have a poor FICO rating or no record as a customer, a blacklisted loan is a good alternative. You can quickly and effortlessly resolve your emergency or cash shortage with a quick cash injection and pick a repayment period that suits your financial plan.
Not only do they offer great rates and flexible repayment terms but their turnaround time is impressive.
EC Loans has a product and solution for everyone, give them a call today or fill in their online application and get your life back under control.
Your step-by-step application process
When you have all the documents ready and reach the qualifying criteria, you're ready to apply for your loan. The following step will guide you through the process:
At the top of the EC loans homepage, you'll locate the fast loans button and click on it. At the bottom of the next page, you'll find the apply now button at the bottom of the page and click on it.
The application page will open and you're required to complete each section of the form. The form consists of 5 sections that include:

Required loan amount
Personal information
Employment details
Bank details
Salary details

You'll finish the application by digitally signing at the bottom, agreeing to the terms and conditions, and submitting it along with the required documents.
Your application is reviewed and the necessary checks and verifications are done. You're presented with a quick loan quote.
If you accept the quote, EC Loan will send you documentation to sign and your loan is paid into your bank account within hours.
Customer Reviews & Testimonials
"
April 2019
EC Loans gave me a credit plan that I couldn't refuse.
Nomasonto K
— Durban —
April 2019
Applying for the EC Loans was fast, effective and convenient.
Mary Ann J
— Benoni —
EC Loans Contact
Contact Number
E-Mail
Website
Physical Address
14 Bloem Street, Kraaifontein

Cape Town

Western Cape

7560

South Africa
Opening Hours
Monday

09:00 – 17:00

Tuesday

09:00 – 17:00

Wednesday

09:00 – 17:00

Thursday

09:00 – 17:00

Friday

09:00 – 17:00

Saturday

– Closed

Sunday

– Closed