Secured Loans
Low-interest starting from 36%
Repayment up to 24 months
In-page navigation
---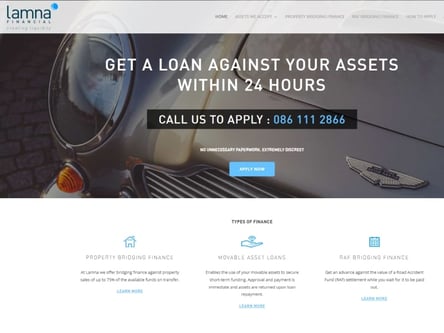 Author Lamna Financial. Screenshot of Lamna Financial website.


[Accessed December 9, 2022]
About Lamna Financial
Whether you require a short-term loan or immediate finance, Lamna Financial provides speedy services to assist you during an emergency.
Specialising in quick finance
Lamna Financial is aware of your needs. They're dedicated to providing you with the best possible financial solutions.
It's their creative ideas and profitable solutions that allow them to supply you with quick finance. They specialise in quick, short-term loans against assets, which lighten the burden of unnecessary paperwork and unbearable waiting periods.
Financial solutions for your banking problems
When going through a financial crisis, you tend to need cash immediately. Therefore, Lamna has made it possible for you to receive assistance with finances the easy way.
Instead of supplying them with a list of documents and waiting for approval of your application, you get to use your assets as collateral to receive immediate cash.
When you take out a loan against assets, you receive the benefit of a quick and transparent lending process that's completely discreet and trustworthy.
Why wait, when you can use your assets to secure yourself a short-term loan?
A safe haven for your valuables
When looking at loans against assets, you can be assured that Lamna Financial will see that your assets are secured and well looked after.
Even though Lamna provides top security for your valuables while they're in their possession, it is advisable to insure all assets for extra security.
Once your assets are stored safely, you can request a certificate that shows the security and safety of the premises they're stored at.
Lamna Financial Services
At Lamna, you receive only the best financial services.
They give you prompt guidance and support all the way through, including anything from property bridging finance to bridging loans for RAF claims.
Not only do they provide you with quick loans, but they go the extra mile to provide you with loans against assets. These types of loans use potential assets as a security to guarantee the repayment of your loan which will be returned upon the completion of the contract.
Property and RAF bridging loans
Whether you're looking for a quick loan or something more complicated, Lamna provides various products, which include property and Road Accident Fund bridging finance. These products allow you to apply for up to 75% of your available funds on either the sale of your asset or successful RAF claim.
When considering property bridging finance, you'll get access to some of your finances before the actual payout date. It's a simple step toward bridging the gap and avoiding waiting months before receiving your cash. Why wait when you can bridge and get cash quickly?
Perhaps you're sick of waiting for compensation and are in desperate need of money. You don't need to worry since Lamna Financial has your bridge finances covered. You simply need to apply for RAF bridge financing, and they'll do the rest for you.
Get quick cash the easy way
Lamna Financial provides you with an easy solution for quick cash. It's not always easy to build a great credit score or get access to quick cash; therefore, Lamna Finance has made provisions for you.
By applying for a quick loan against assets, you not only receive the benefit of instant money, but you can also secure a decent loan. No more waiting periods or unnecessary delays when you can secure your loan and start benefiting immediately.
Lamna Financial – Quick loan
Loan Type

Quick loans

Interest Rate

36 – 60% p/a

Repayment

3 months to 24 months
Benefits of Lamna Financial
No credit checks
Your asset will be stored safely
Quick and easy assistance
Immediate cash loans
Quick and easy payout and application process with Lamna
Get started on your application now and enjoy your money on the same day.
Your privacy and security are Lamna Financial's top priorities. As a result, they offer you a straightforward application process that's practical and private.
When applying, you'll notice that all the information is on the application form, which allows you to make sure your asset is up to standard before applying for finance.
Requirements when applying for a quick loan
Applying for a loan hasn't been this easy in a long time. At Lamna, you can apply using one of the quickest methods possible. Simply fill out their application form and email it to them, including as much information as you can about your assets.
You must send a few fundamental documents with your application form, which include:
Proof of your identity and residence
An active bank account
Registration form of assets where applicable.
Upon receiving your application and valuing your assets, they'll work out the best possible loan amount for you and get back to you immediately.
Get started on your application process
At Lamna, there are only three simple steps that need to be taken for you to walk away with your quick loan.
Firstly, you have the option of applying online, or you can give them a call, and they'll walk you through the application process step by step. Once you've accessed their application form and filled in the required details, you can take your valuables to them to be assessed and approved.
Once your valuables have been approved, the agreement will be concluded after you sign the loan contract. You'll then be able to receive your funds within a few hours.
Swift payout periods and flexible amounts
Lamna provides you with a fixed rate on your loan amount. You can be assured that no additional fees will be added aside from your monthly fees (R560) and the initiation fee (R1197).
Should you require additional insurance, you can add it to your application, and they'll make adjustments to your monthly repayments.
Once your application has been completed, you can expect your money to be paid out within 12 to 24 hours after approval. Should you need any further details or advice, you are free to contact Lamna Financial for assistance or visit their website for online inquiries.
Acceptable assets when securing your loan
Are you unsure about your assets or whether they will be accepted as collateral? You can sit back and relax since Lamna Financial will accept a variety of assets in exchange for a speedy loan.
Assets accepted by Lamna Financial
Luxury watches
Cars
Jewellery, Gold and Diamonds
Artworks and Antiques
Yachts and Boats
Trucks
Motorbikes

Lamna Financial is a trusted & reliable provider of quick loans
In our review, Lamna Financial adheres to the compliance criteria in accordance with the National Credit Act, where the granting the loan will not cause financial distress to the consumer.
✅ Lamna Financial is a registered credit provider in South Africa: NCRCP 7428
Customer Reviews & Testimonials
"
August 2020
Great service! Very trustworthy when it comes to storing assets securely.
John S
— Queenstown —
November 2019
Fast and reliable! I received the funds into my account within the same day.
Jackie M
— Athlone —
March 2020
They gave me such a great loan offer for my car and I will recommend them to anyone.
Johanna M
— Bellville —
Lamna Financial Contact
Contact Number
E-Mail
Website
Physical Address
Office 201A, Soho On Strand Building, 128 Strand St,

Cape Town

8000

South Africa
---
Postal Address
PO Box 50798, , Waterfront, 8002, South Africa
Opening Hours
Monday

08:30 – 17:00

Tuesday

08:30 – 17:00

Wednesday

08:30 – 17:00

Thursday

08:30 – 17:00

Friday

08:30 – 17:00

Saturday

– Closed

Sunday

– Closed