Student loans up to R80,000
Low-interest starting from 6.5%
Repayment up to 7 years
In-page navigation
---
Author FNB. Screenshot of FNB website.


[Accessed September 15, 2021]
About FNB
Let FNB help you to grow with a student loan you can afford.
With an FNB student loan, you can pay for all things study-related. Whether it is study material, devices needed for studying, tuition fees, or accommodation. With an FNB student loan, you will be able to cover all of these and more.
Student loans from a bank you can trust
A while back, in 1838, in a small town in South Africa called Grahamstown, the oldest bank was born. Then known as the Eastern Province Bank, they came from humble beginnings to become the FNB we know, love and trust today. Getting a student loan from an institution you can trust always puts people at ease.
FNB will always put you first
There is no debating that being in the business for so long did not happen without challenges. The FNB story is one of overcoming great challenges and still standing firm and getting stronger. The important aspect of the success at FNB is most definitely the part where their customers always come first. They don't only assist with student loans but with so much more.
A bank with zero tolerance for crime
At FNB they have a zero-tolerance policy when it comes to crime. By making use of their in-bank television advertising system, they broadcast images of perpetrators who have made FNB their target for criminal activity. By doing this FNB broadens the possibility for these criminals being identified and possibly caught.
FNB Services
FNB knows that in South Africa today, getting the help you need is not always easy.
They have put together a student loan with a personalized interest rate. For 12 months of your student loan period, you will only need to pay back your interest. FNB understands that when you are studying you don't need extra financial stress.
What a student loan from FNB offers you
First of all, you should know that FNB can offer you a personalized student loan that gives you access to up to R300,000 to finance your studies. With a very competitive personalized interest rate, you know you can get the best deal according to your current credit score. As mentioned previously, by only paying interest in the first year, a student loan from FNB is flexible.
With FNB, you are looked after
Many students opt for studies that exceed a year of studying. At FNB you can apply for additional funding if that should be the case. You can apply for this additional funding annually.
FNB also offers you Credit Life Insurance on your student loan amount. They make sure that if the unforeseen happens, you are covered.
Vehicle finance from FNB is great
At FNB they know that not having a car in today's life can not only be a major hassle but also cost a fortune in public transport payment. Why not get yourself a small, fuel-efficient, and reliable vehicle with vehicle finance from FNB.
FNB – Student loan
Loan Type

Student loans

Interest Rate

from 6.5%

Loan Amount

up to R80,000

Repayment

3 months to 7 years
Benefits of FNB
Get personalised interest rates
Credit life insurance
Funding for further education
First National Bank has tailor-made student loans
When you decide on your journey in life and that includes furthering your studies, don't be put off by not having the money.
FNB has been making it their business to help the people of South Africa to achieve their maximum potential. To be able to help the youth of today with student loans means a great deal to FNB. They help to build a better future, one student loan at a time.
Documents needed from FNB customers
You need to provide proof of enrollment from the study institution.
You will need your student ID.
Documents needed from non-FNB customers
First, you will have to have your green ID booklet or your ID card.
The last 3 months' pay sheets or bank statements.
You need proof of your current address not older than 3 months.
The proof that you are enrolled at an institution.
Your student ID card.
FNB student loan application criteria
You need to be at least 18 years or older.
The person taking the student loan needs to be permanently employed.
You have to be a permanent resident of South Africa.
The person responsible for the student loan needs to have their salary paid into their bank account.
You have to be enrolled with a recognized tertiary learning institution.
You can now apply if you meet the requirements
On the FNB website under the student loans division, you will see a call me back form. You need to complete this form with details of who you are and how they can get hold of you. As soon as you have completed this form and submitted it, a friendly and helpful consultant from FNB will be in touch with you within 3 days.
Make sure that all your paperwork is ready when they call you. This will ensure that your student loan application process goes as quickly and smoothly as possible.
Benefits of an FNB student loan
FNB offers a personalized student loan
You can use your student loan for anything study-related.
The interest rate is also personalized based on your credit score.
FNB offers flexible payment options on their student loans.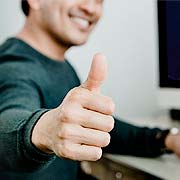 FNB is a trusted & reliable provider of student loans
In our review, FNB adheres to the compliance criteria in accordance with the National Credit Act, where the granting the loan will not cause financial distress to the consumer.
FNB is a registered credit provider in South Africa: NCRCP20
Customer Reviews & Testimonials
"
June 2021
I was so stressed when I realized that I wanted to further my studies but had no finances to do that. The student loan from FNB has helped me to achieve my dream. The benefit of only paying the i...
Sharon V
— Boksburg —
February 2021
The student loan from FNB was the best choice I could ever make. I was so delighted to know that there was an answer to my financial problem. I could pay for my accommodation upfront for the whol...
Johannes B
— George —
February 2021
My first year after matric was the year I took to explore and decide what I wanted to do with my life. I decided to further my studies and my friend told me about the personalized student loan fr...
Musa M
— Alberton —
FNB Contact
Contact Number
E-Mail
Website
Physical Address
3, First Place, Pritchard St & Simmonds St, Bank City

Johannesburg

Gauteng

2000

South Africa
FNB Universal Branch Code
---
Postal Address
PO Box 1153, Johannesburg, 2000, South Africa
Opening Hours
Monday

08:00 – 17:30

Tuesday

08:00 – 17:30

Wednesday

09:00 – 17:30

Thursday

08:00 – 17:30

Friday

08:00 – 17:30

Saturday

08:00 – 13:00

Sunday

– Closed