EFFECTIVE Debt Solutions
Become Debt Free
Remortgaging
In-page navigation
---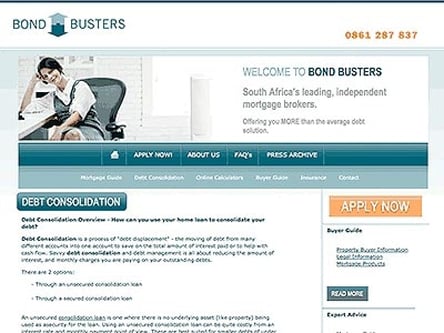 Author Bond Busters. Screenshot of Bond Busters website.


[Accessed December 12, 2022]
About Bond Busters
We strive to assist South African's consolidate their debt and we do this by pulling out equity from their home.
Debt Busters is our debt management and debt counselling division, we offer debt counselling and adhere to the National Credit Act, Debt Management are for those who are not over-indebted but are finding it hard to manage their finances.
Insurance
Insurance Busters is our insurance division, we offer both life insurance and short term insurance. Which is controlled by the Financial Services Board. Bond Busters offers a comprehensive range of mortgage brokerage services to homeowners in South Africa. We will give you a more affordable interest rate on your bond. We can help you exploit the equity which you have built-in your property fully.
Debt consolidation
If your debt is mounting and you are struggling to repay it, you have to find an effective solution as soon as possible. Bond Busters is a very useful debt consolidation provider and can be used to your advantage.
Bond Busters Services
Bond Busters are specialists in consolidation loans, home loans and re-mortgaging.
Whenever you need assistance with consolidating your debt or home equity, we can assist. We eliminate the administrative hassle and carry out effective research and comparison to deliver the best interest rate and terms and conditions. You are guaranteed to get the best deal that matches your needs and requirements perfectly.
We're here to help you consolidate your debt
We have enjoyed leadership in the independent brokerage industry of South Africa thanks to our personalised approach and our vast network of lenders. We will find the perfect debt consolidation loan for you quickly.
You are guaranteed to get rid of debt instantly and to get a new loan whose repayment is highly affordable. Keep your finances in order and maintain your lifestyle with perfect peace of mind by using our professional service based on years of experience.
Bond Busters – Consolidation loan
Loan Type

Debt consolidation
Benefits of Bond Busters
Effective debt solutions
Get advice on remortgaging
High-quality services from expert consultants
---
Bond Busters will stabilise your debt by consolidating into a single repayment
The Bond Busters online debt consolidation loans are strictly individual credit programs.
Bond Busters is not actually a lender but we play the role of a debt counsellor and we find the most suitable loan from a reputable lender. Our service works very simply, but nonetheless, highly effective.
You will work together with a financial expert who will analyse the size of your current debt, the interest rates on the different credit products and the total amount of your monthly payments.
Loan finding service
Our experts will identify the perfect financial product from a variety of lenders to find one which will enable you to pay a single smaller monthly instalment and to save money as well. You can expect our expert to find the ideal combination between interest rate, loan term and monthly instalment. This is challenging and requires precise calculations and analysis.
You will benefit from using professional service
With Bond Busters, you can obtain both unsecured and secured debt consolidation loans. If your current debt is smaller than R50, 000, the company will be able to arrange an unsecured loan for you. In this case, you will not have to play collateral.
A secured loan, on the other hand, will come with a much lower interest rate, but in case of default, you will risk losing your property which is used as collateral. Bond Busters works with a large number of lenders so no matter which option you choose; you will certainly get a highly competitive rate.
We can arrange some of the best online debt consolidation loans for customers that feel they are pulled down by the amount of debt they have, we understand that this is very stressful; however, you can be assured that we will provide you with a way to become debt-free and start living.
Customer Reviews & Testimonials
"
August 2018
Bond Busters ensured that I get a loan that I can afford to pay on a monthly basis.
Richard E
— Johannesburg —
May 2019
I applied for a loan with Bond Busters and got the money deposited on my bank account the very same day.
Eric V
— Mpumalanga —
Bond Busters Contact
Contact Number
E-Mail
Website
Physical Address
144 Buitengracht St

Cape Town

Western Cape

8001

South Africa
Opening Hours
Monday

08:30 – 17:30

Tuesday

08:30 – 17:30

Wednesday

08:30 – 17:30

Thursday

08:30 – 17:30

Friday

09:00 – 17:30

Saturday

09:30 – 13:00

Sunday

– Closed