The BOND experts
Professional Services
Reliable debt consolidation
In-page navigation
---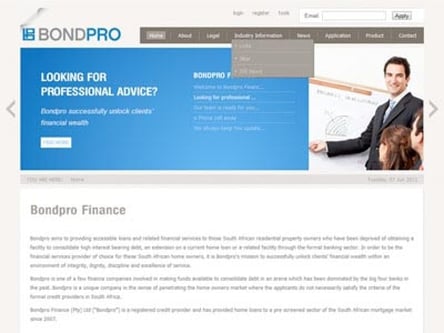 Author BondPro. Screenshot of BondPro website.


[Accessed December 12, 2022]
About BondPro
We live in a beautiful, extraordinary country, we are loved all over the world, and we have some of the most beautiful landmarks in South Africa.
But, it is unfortunate that millions of people in South Africa are heavily indebted. Thus the reason for credit providers introducing debt consolidation as a means for "debt solution". There are countless people in South Africans that are using a great part of their salary to cover debt obligations. This is where we come in!
Debt consolidation
BondPro is a leader in the provision of specialist debt consolidation services. They understand the difficulty of being unable to tap into the equity of your property while you are stuck with large debt and high-interest rates.
That is why we offer the most effective solutions to South Africans who are in this situation. BondPro will assess your financial position and provide you with the best solution to financial relief. We have the expertise to offer you a tailor-made debt consolidation program that will match your needs and budget.
Our experts have a world of experience and are the best in what they do, ensuring that you are more than satisfied with our service.
BondPro Services
BondPro offers debt consolidation solutions and home loan extensions to South African property owners who have been rejected access to the credit facilities of major banks.
If you are struggling to make it through the month because all your hard-earned money is being paid towards debt, then you should consider a debt consolidation loan where you only have one loan repayment to worry about.
You can become debt-free
We know how difficult it can be to sit on a major wealth without utilizing it while struggling with debt. This is where we come in because we have the drive and the know-how.
We have the key required for unlocking the equity you have in your property. With our professional solution, you will be able to repay existing debt instantly and get an easy online loan with a competitive interest rate and comfortable repayment terms and conditions. Take advantage of our expert service based on integrity and excellence.
BondPro – Consolidation loan
Loan Type

Debt consolidation
Benefits of BondPro
Professional Services
The bond experts
---
BondPro will help get you on top of your debt
Your debt is mounting and your income is not sufficient for repaying the loans and for paying the monthly bills. This situation requires immediate action on your part.
BondPro online debt consolidation will assist you to get rid of debt and start enjoying the little things life has to offer, there's no reason to live in a pool of debt when we can offer you a way out.
BondPro is small & operates entirely online
BondPro is a financial service provider with small, but extensive experience. That way, it is able to serve customers from all over South Africa directly. The service is professional and friendly at the same time. The company's experts will work with you until they find the most appropriate solution available.
Online debt consolidation loans
We have a group of experts who analyse your financial situation focusing on your debt and its structure and on your gross, net and disposable income. We will contact various lenders to identify a consolidation loan that comes with a lower interest rate and lower monthly payment, which is best, suited for you.
We try to minimise the extra cost associated with consolidation. Our service is comprehensive and based on a high level of expertise at the same time. You can expect a result that matches your needs and requirements.
The debt consolidation loans are secured
This means that you will have to place collateral in order to obtain the funds. The collateral is usually property. Other assets are rarely accepted. The placement of collateral will automatically give you a lower interest rate from any lender. This makes these consolidation loans suitable even for people with bad credit.
You should know that once you are granted the loan, BondPro will use the funds to repay all of your existing debt. You will not be able to use the cash for other purposes unless you borrow a larger amount. This option is attractive, but you have to be extremely disciplined if you decide to use it.
BondPro's debt consolidation loans are extremely helpful as long as the loan is used in an effective and disciplined manner.
Contact BondPro today and take back your life!
Customer Reviews & Testimonials
"
May 2019
BondPro has the most amazing consultants; they always go out of their way to ensure that a customer gets the best credit deal.
Gerald W
— Sandton —
February 2019
There is always something you going to benefit from getting a BondPro loan!
Frank K
— Glen Vista —
BondPro Contact
Contact Number
E-Mail
Website
Physical Address
6 Quantum St

Stellenbosch

7600

South Africa
Opening Hours
Monday

08:30 – 17:30

Tuesday

08:30 – 17:30

Wednesday

08:30 – 17:30

Thursday

08:30 – 17:30

Friday

09:00 – 17:30

Saturday

09:30 – 13:00

Sunday

– Closed