Get expert advice
Free online applications
Apply TODAY
In-page navigation
---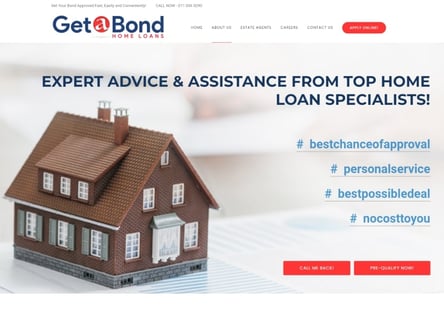 Author Getabond. Screenshot of Getabond website.


[Accessed December 12, 2022]
About Getabond
Getabond is a financial service provider with many years of experience in the industry.
They specialise in home loans and home equity loans. Another one of their areas of expertise is debt consolidation.
You can become debt-free
They understand that in present times finances are tough and the economy does not make it easy. When you have more on your plate than you can chew and you're not able or struggling to meet your obligations it does not mean there's no way out. Getabond is there to assist you with a consolidation of debt. If you don't completely understand they have experts that will gladly assist and will do their best to put your mind at ease.
Their service is highly comprehensive and you can rely on them from start to finish. Getabond has a team of experts who take your loan application and submit it to all their financial partners in the country.
They ensure that you're approved for the best loan available in the market. Getabond will help you generate great savings in the long term and have complete peace of mind about your financial well-being.
Getabond Services
Getabond has simplified the process of acquiring a bond. They've got you covered and handle the entire process on your behalf.
Not only will they submit your loan application but they'll also ensure they do everything possible to assist you. They rely totally on their expertise, great bargaining power and their partnership with all major banking institutions in South Africa including SA Home Loans to provide the best quality service that you can find.
Getabond offers fast and hassle-free approval
Getabond offers personalised service and they're an attention-to-detail sort of firm, which makes them unparalleled in the industry. Your Getabond consultant will work relentlessly to get your application approved and will keep you up to date on all the latest developments.
An effective debt consolidation program
Your debt is piling up and it's becoming ever more difficult to repay. You don't want this to continue since you can get into serious financial trouble and your credit rating will be affected. Getabond online consolidation loans will work with you and can help you resolve the challenging situation in which you find yourself. They're there to assist you and give you the best possible advice!
Getabond – Consolidation loan
Loan Type

Debt consolidation
Benefits of Getabond
Efficient and affordable loans
The applications are free
Get expert advice
They handle the paperwork
---
Getabond is a financial service provider with a great reputation.
Their company serves people from all over South Africa and has assisted many happy customers.
Their core activity is the provision of professional assistance with the obtaining of bonds. They provide a wide range of products and solutions and will assist you to be debt-free in the quickest possible time.
You can expect a speedy service
The Getabond online debt consolidation loans work fairly simply. You'll need to complete the loan application, this can be done online and they'll contact the major lenders in the country to find out which of their loans will suit your needs best.
Their service is impeccable and they offer fast turn-around times, this means you can expect a reply instantly, confirming if you have qualified or not.
It is worth pointing out that consolidation loans are generally accessible to everyone who is legally allowed to use credit products, however, blacklisted people will have much lesser chances of qualifying.
Getabond debt consolidation loans are affordable
Getabond also offers secured loans via their lenders. This means that you'll have to place your house as collateral. The size of the loan will depend on the amount of equity that you own in your home. The greater it is the more you'll be able to borrow.
Generally, it's best if you take as much money as you need for repaying your debt and not more. Since the loan is secured, the interest rate will be lower. Furthermore, since they work with various lenders, you can expect to get the most competitive rate of all. The lower interest rate will make your monthly instalments much smaller and give you room to breathe.
Loan term
If it's much longer than the terms of your existing loans, it'll be more expensive. They will advise and give you assistance to find the right balance between affordability and cost.
Getabond online debt consolidation bonds can resolve your debt problem, but they have to be used with care, meaning you should only borrow what's needed making sure that you can afford the repayments with ease.
Customer Reviews & Testimonials
"
March 2019
Getabond has been my preferred credit provider for a number of years due to the affordable and reliable loans they offer to customers.
Kenneth T
— Carletonville —
Getabond Contact
Contact Number
E-Mail
Website
Physical Address
907 Tulbagh Street

Pretoria

Daspoort, Gauteng

0082

South Africa
Opening Hours
Monday

08:30 – 17:30

Tuesday

08:30 – 17:30

Wednesday

08:30 – 17:30

Thursday

08:30 – 17:30

Friday

09:00 – 17:30

Saturday

09:30 – 13:00

Sunday

– Closed