Full maintenance leasing
Flexible investment options
Finance your fleet
In-page navigation
---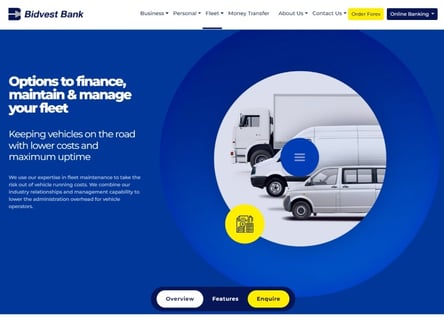 Author Bidvest Bank. Screenshot of Bidvest Bank website.


[Accessed December 9, 2022]
About Bidvest Bank
Bidvest Bank is one of the most influential and beneficial financial services companies in the world.
They provide the best service delivery throughout all their branches across the country and around the world, keeping their ethical and business standards the same across all markets. Bidvest offers you the dynamic personal care that you deserve. Their staff is highly qualified to assist with all your financial requirements, from car and home loans to personal loans.
What makes Bidvest unique?
Bidvest's team will form a real understanding of your business and personal unique culture. Using global technology to integrate processes they will get your online loan application processed quicker and safer than many of their competitors. Bidvest's people all have exceptional qualities, which makes their business so strong and why they continue to grow stronger each year.
Bidvest's strengths include:
Exceptional customer service
Ability to turnaround requests quickly
Professional phone and email manners
A clear understanding of standard Bidvest's systems
Ability to build and maintain strong relationships with customers at all levels within an organization
They'll provide added value for your business through local-level financial advice
Bidvest Bank Services
Bidvest's vehicle finance can be obtained through their safe and secure platform where their online loans allow convenient and speedy outcomes when your business needs them most.
Expect personal service from their consultants who will work with you to help guide you through every process via telephone or e-mail.
With Bidvest you have a choice; they ensure that everyone gets what they want when they need it. If you're looking for vehicle finance, they can assist you with the amount of financial support you need for your company.
Pre-approved car loans
Use Bidvest's handy loan calculators to assist you in figuring out how much you can afford to borrow before submitting your application. If you qualify for pre-approval on a vehicle loan you'll be empowered you to make a sound financial decision.
Repayment terms
Bidvest offer convenient terms of up to 72 months, with car loans in a variety of categories to choose from, including refinancing and vehicle auctioning assistance.
With Bidvest, you'll receive professional assistance from a global brand. Their company has taken the world by storm with their ability to deliver fast and tailored fleet finance that their clients need quickly and easily.
Bidvest Bank – Car finance
Benefits of Bidvest Bank
Full maintenance leasing
Finance your fleet
Bidvest Bank the most trusted name in the financial industry
Bidvest's main aim is to provide a simple solution to vehicle and fleet finance in South Africa.
They can help you finance your purchase of both new or used vehicles. Your consultant will assist you through the process every step of the way.
Online car loan application
The online car loan application allows you to apply for vehicle financing online; you will need to provide your personal details, your income and expense details, and a few declarations. They need this in order to remain compliant with the National Credit Act.
There are areas marked with a * that are compulsory and need to be completed in order to get your application approved. Bidvest offers approved applicants a world of benefits when it comes to their fleet or car finance options.
Get value-added benefits, including:
Tax-effective solutions
Roadside assistance
Comprehensive insurance with the insurance company of your choice
Sourcing of new vehicles at best prices
Ability to auction your current car / or the vehicle you are purchasing once your contract is paid in full
New or used cars financed
Bidvest allow you to get finance for a new or used vehicle. You can make use of their vehicle options including a vehicle lease agreement up to 72 months.
Get the best rates available
Once your vehicle finance has been approved, they'll help and guide you to the next stage of your application process. They'll then assist you in finding the best vehicle at the best price. They have a number of dealerships that work hand in hand with them to ensure that you receive better rates and special deals.
Global footprint
While their global presence continues to grow from strength to strength they continue to expand through new strategic partnerships.
Customer Reviews & Testimonials
"
May 2019
What Can I say but a giant thank you when we moved back to South Africa they helped us convert our pounds to be able to put our first down payment for our car loan.
Amy B
— Johannesburg —
June 2019
They have helped me get the vans I needed for my company to be able to do the deliverys I Honestly can say you should take a loan with them.
Paige B
— Cape Town —
June 2019
I got my car and I couldn't be more grateful for the help that they gave me to get my loan accepted.
John H
— Port Elizabeth —
Bidvest Bank Contact
Contact Number
E-Mail
Website
Physical Address
2, 1 Doncaster Rd, Claremont

Cape Town

Western Cape

7700

South Africa
---
Postal Address
P O Box 185, Johannesburg, 2000, South Africa
Opening Hours
Monday

09:00 – 17:00

Tuesday

09:00 – 17:00

Wednesday

09:00 – 17:00

Thursday

09:00 – 17:00

Friday

09:00 – 17:00

Saturday

09:00 – 17:00

Sunday

09:00 – 17:00