Blacklisted Car Finance
Debt management
Quick and easy funding
In-page navigation
---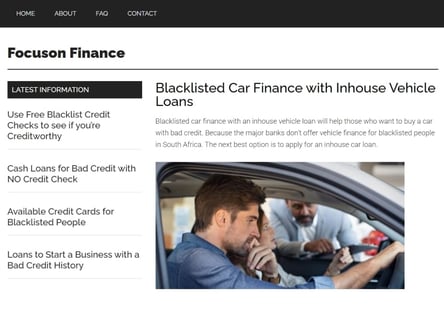 Author Focus on Finance. Screenshot of Focus on Finance website.


[Accessed December 9, 2022]
About Focus on Finance
Focus on Finance proudly assists South Africans with the vehicle finance they need to buy a car!
They aim to help you find the best deals available and save you money. Clients who are working or are unemployed both have the opportunity to apply for vehicle finance. They also have options available for people who are retired. Their aim is to assist everyone with the cash they need to buy a new or used vehicle.
Keeping you informed
Focus on Finance knows that their South African clients need easily available information to be able to make important decisions. This is why they've taken the time to create a user-friendly service on their website. Their staff are focused on clients and strive to provide them with the finances that they require with speed and efficacy.
What makes Focus on Finance different?
They focus on education and keeping their clients informed. This will help you make better decisions with your finances. Their site provides informative blogs and useful information to help you get out of debt, and advise you on how to borrow responsibly and get the most out of your loan.
How they'll help you
Focus on Finance help educate clients through a series of publications and well thought out and written documents. This information will help prevent clients from becoming blacklisted and assist them in managing any current debts and help combat any existing debt problems.
Focus on Finance Services
With a comprehensive website that contains a wealth of information, you can enjoy the latest leading data and news to help you make the most informed financial decisions.
Focus on Finance understand that their useful information can benefit everyone. Their consultants are available to offer advice to help people get back on their feet and find the road to financial freedom.
Blacklisted? Focus on Finance can help!
If you have bad credit and are looking for vehicle finance simply apply for financial support via this leading lender.
A wide variety of car loans available
Even those people with bad credit may apply for vehicle financing. It is difficult to navigate life without a vehicle but buying a vehicle can cost a lot.
Luckily there are vehicle financing options available for those that have bad credit and may have had their loan application declined in the past. Focus on Finance can assist by offering affordable options and the cash flow that you need to finance a vehicle.
Buy the vehicle of your dreams!
Their website is user-friendly and makes applying for a loan very simple. Focus on Finance don't particularly provide online loans for clients, but simply offer advice on how to get them.
Focus on Finance – Car finance
Benefits of Focus on Finance
Vehicle finance for blacklisted clients
A user-friendly website
Debt management and counselling
Focus on Finance strives to get you the best deals on vehicle finance
If you have questions regarding your financial situation Focus on Finance have the answers you're searching for.
Access information on the following financial categories:
Blacklisted assistance
Company financing
General finance
Loans and borrowing
Blacklisted loan options available
If you're blacklisted Focus on Finance have special options available and they'll help you find a loan or obtain vehicle finance. They provide a free to use credit check to see if you qualify for vehicle finance.
You deserve your own vehicle
Owning your own vehicle is a dream that many people share. This lender will help you afford a vehicle and depending on your credit rating may allow you to borrow additional money.
They have all the information you need to educate yourself, in addition, they advise you on which banks in SA will assist you. They also provide other important financial information. If you have any questions you can contact them directly and they'll provide you with the answers you're looking for.
Customer Reviews & Testimonials
"
June 2019
I was kept in the loop once I had applied for my car loan and that gave me peace of mind knowing that they care for their customers.
Ntombi J
— Port Elizabeth —
June 2019
I recommend them because they will get you the loan that suits you the best and will not break your pocket.
Juan S
— Cape Town —
Focus on Finance Contact
Contact Number
E-Mail
Website
Physical Address
Athol Cres, Helena Heights

Cape Town

Western Cape

7130

South Africa