Bad credit loans up to R150,000
Low-interest starting from 27%
In-page navigation
---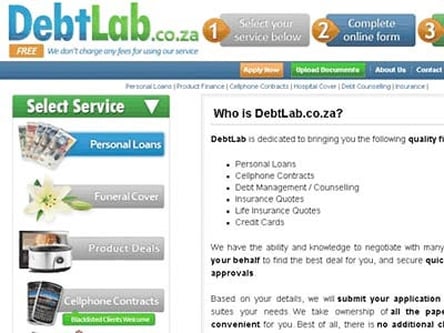 Author Debt Lab. Screenshot of Debt Lab website.


[Accessed December 9, 2022]
About Debt Lab
Looking for credit is a lot of work. Apart from the fact that you might not be familiar with the processes, you might be a little confused because there are just so many credit providers.
When you make use of our services, Debt Lab will not only help you get a bad credit loan, we will ensure that you are able to pay it off without any hassles too.
A lender with your best interests at heart
We work as the middle man who will go through extensive lengths to ensure that you find a loan that is well within your budget limitations. Lenders also want to ensure that you are comfortable with the payment that you are given so that you don't encounter any problems when you have to start paying for the instant loan. Brokers will also request your documents so that they will be able to afford you a credit plan that is financially realistic.
Debt Lab Services
What is even better about Debt Lab is the fact that clients are not limited to one online loan.
This means if you find that one credit plan doesn't work for you, you can always explore other alternatives. We don't perform any miracle work, we simply do what we do best, going out of the ordinary to provide the client with a bad credit loan that looks close to perfection.
Qualified team of experts
We trust our agents to work with you throughout the entire online loan application process. Should you need further clarity on a few things, they will happily assist. Don't be afraid to ask if you are not certain about something because that is what we are here for.
The last thing we want is to see our customers end up making wrong decisions due to poor guidance and coaching. If you would like us to assist you via email or phone call, we would be more than happy to do so.
Debt Lab – Bad credit loan
Loan Type

Bad credit loans

Interest Rate

from 27%

Loan Amount

up to R150,000

Decision

24 hours
Benefits of Debt Lab
A wide panel of successful lenders
Safe, secure service provision
Discreet with your information
Bad credit loan calculator
Debt Lab guides you in your decision making
If you would like to apply for a bad credit loan, you need to apply online through our website.
After you have provided us with all your personal details, you will then need to wait until we revert back to you with a response. However, we will not take too much time because we ensure that by the end of a business day, a client should know of their loan application outcome. If we reject your loan, we will notify you of the reasons that resulted in us having to turn down your bad credit loan application.
We have good credit plans
If a customer finds a reasonable credit plan that includes affordable interest rates that are quantifiable to being a perfect loan. This is because when you are looking for a credit plan, it is rare that you would find charges that seem reasonably priced and actually payable. Debt Lab understands all the pressures that come with being an adult and constantly facing challenges.
There is always a valid reason and we will welcome your personal finance applications in the future. The fact that we might have declined your credit request before doesn't mean we will never accept your applications. At the end of the day, we want our customers to be in good terms with the law in terms of their credibility.
All information is private and confidential
The personal details that you provide during your application will never be distributed to third parties. They will be kept safe and protected at all times. Our objective is ensuring that you find a loan that is affordable
Meeting the terms and conditions of the National Credit Act
It is crucial that the client meets the standards that are stipulated in the NCA. If you feel that you are looking for a loan but have very limited resources to pay for it, rather seek other alternatives to get money. This is because once your credit profile is tainted; it will take a lot of efforts to get it back on track. Always do your noble best to protect your credit profile against all types of unnecessary expenses.
Financial maturity
It is also important to maintain a sense of financial maturity so that you are able to differentiate what a priority is and what is not as important. This way, you will be able to determine what needs to be sorted out now and what can wait until your next salary date.
If you busted a pipe at home and there is water all over the rooms, you have to get a plumber immediately. On the other hand, if you want a new cellphone, that is not as important as getting a technician to fix the pipes at home. It is vital to know what a need and a want are.
Give us a call and we will give you all the information that you need
If you are interested in a quick cash loan with Debt Lab, contact us today and we will see how we can help you get ahead as far as your loan application is concerned.
Customer Reviews & Testimonials
"
April 2019
Debt Lab has such a convenient loan application system.
Theresa K
— Carletonville —
June 2019
I was happy my Debt Lab loan was approved within minutes after applying!
Bennett H
— Meyerton —
Debt Lab Contact
Contact Number
E-Mail
Website
Physical Address
19 Loop Street

Cape Town

Western Cape

8001

South Africa
Opening Hours
Monday

08:30 – 17:30

Tuesday

08:30 – 17:30

Wednesday

08:30 – 17:30

Thursday

08:30 – 17:30

Friday

09:00 – 17:30

Saturday

09:30 – 13:00

Sunday

– Closed