Bad credit loans up to R200,000
In-page navigation
---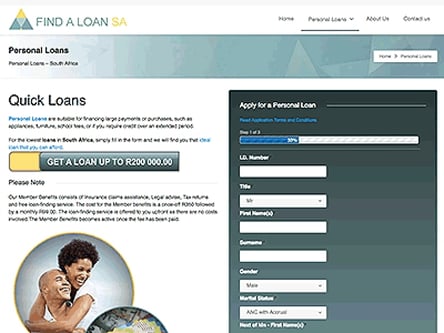 Author Find a Loan SA. Screenshot of Find a Loan SA website.


[Accessed December 9, 2022]
About Find a Loan SA
Find-a-Loan-SA provides financial assistance to South Africans who need a lender that offers cash loans to blacklisted applicants.
Loan amounts of up to R200 000
Find a Loan SA has the upper hand in the financial market, with a large partner list of lenders under their wing. Their panel of lenders is eager to help you by providing the best interest rates, repayment terms, and benefits in the market.
Make getting a loan possible
Being blacklisted can put a damper on your financial growth, especially when you're declined by banks and other lenders due to your bad credit record. Being blacklisted can be the result of a simple late payment or even missing multiple instalments on an account.
Find a Loan SA doesn't judge you based on these criteria alone and instead looks at your entire financial situation before they decide to approve your application. If you can afford the repayments your loan will be granted regardless of your credit score.
Find a Loan SA approve loans differently
They look at what you can afford to pay back and whether you can afford to repay the loan instalments. As long as you're not under debt review or debt administration, the rest of the qualifying criteria are pretty simple, just like their processes.
It's not all doom and gloom when it comes to getting a loan. Find a Loan SA will assist you quickly and offer you the best possible value-added benefits. Their lending solutions are available to you in your time of need.
Find a Loan SA Services
Find a Loan SA offer a wide range of loan services to meet everyone's needs.
They offer personal loans, consolidation loans, and payday loans. These products are affordable, simple, and can be obtained online.
Bad credit loan specialists
Blacklisted clients are welcome to apply for online bad credit loans by completing the lender's online application.
Clients can easily meet the criteria
You'll need to be over 18 years old, earning a salary of at least R1 500 per month, and employed by the same employer for over 3 months.
You must be a permanent resident of South Africa and hold an active bank account in your own name for Find a Loan SA to deposit your cash into.
To make repayment easy they'll set up a debit order to deduct your instalments over the stipulated time frames. Don't worry, this will be aligned with your pay cycle.
Fast short term loans
Find a Loan SA's online loans are offered on a short-term basis so that you don't spend years paying off a loan. Payday loans are popular because they can be paid off by your next pay date and gather very little interest.
This prevents you from acquiring any extra debt along the way and covers those little financial emergencies that may come up when you don't have the cash to cover them.
Find a Loan SA – Bad credit loan
Loan Type

Bad credit loans

Loan Amount

up to R200,000
Benefits of Find a Loan SA
Affordable lending solutions
A simple approach to lending
No hidden costs
Secure and transparent process
Loans of up to R200 000
Bad credit loan calculator
Find a loan SA will find the perfect loan for you!
Find A Loan is an online loan service, which will find you the perfect loan to meet your needs at the price that you can afford.
Everyone is different. You may need a loan to pay off an overdue account, or to take a holiday. You may have a perfect credit score, or you may have a bad credit history. Whatever your situation and reasons, they won't judge you and won't discriminate - they'll simply find you a loan!
Find out if you qualify
If you're over 18 years old, live permanently in South Africa, and hold a steady job with a monthly salary being paid into your bank account, you can apply for finance.
If you're blacklisted or don't have security to put down on a loan you may also apply.
A simple approach to applying for credit
Find a Loan SA is totally paper-free in its effort to ensure a greener future. Every step of the process is completed online which means, no matter how busy you are at work, you don't even need to leave your desk to apply.
Visit their website and click on the "apply" prompt. Complete the form with your personal details and the loan information requirements and hit send!
Short term loans suitable for everyone
Find a Loan SA doesn't do credit checks and invasive verifications. Unfortunately, they won't be able to help you if you're under debt review or debt counselling.
For those who can afford to pay back a loan without being cash strapped each month, this service provider will find you the perfect financial solution.
An innovative platform
Find a Loan SA's platform allows clients to search through hundreds of preferred lenders in the industry quickly and easily.
Each lender may offer a valuable benefit or a simple offer; it's up to you to choose what you prefer. Once they've narrowed down the search according to your criteria, they'll take the next step in confirming your agreement and getting your contract signed.
Get the money you need in no time!
The fees charged are listed on your contract and are completely transparent. There are no hidden costs. The cash will be deposited in your bank account within 24 hours of your application being approved. It's that simple!
Customer Reviews & Testimonials
"
May 2019
If you looking for a financial services provider that goes out of its way to ensure that customers get the best loan offers, Find a Loan SA is the way to go.
Hamid P
— Pretoria —
May 2019
I was given a response regarding my loan application on the very same of applying for a loan.
Robert H
— Cape Town —
Find a Loan SA Contact
Contact Number
E-Mail
Website
Physical Address
5 Tiptol Cl, Vermont

Cape Town

Western Cape

7201

South Africa
Opening Hours
Monday

08:30 – 16:30

Tuesday

08:30 – 16:30

Wednesday

08:30 – 16:30

Thursday

08:30 – 16:30

Friday

08:30 – 16:30

Saturday

– Closed

Sunday

– Closed