Bad credit loans up to R3,000
Quick cash in your account
Repayment up to 90 days
In-page navigation
---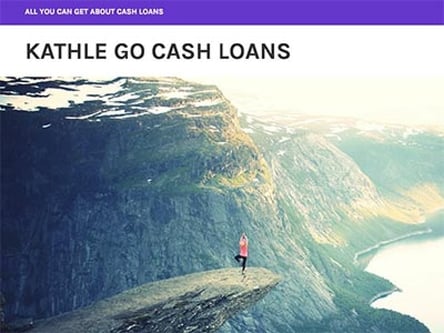 Author Kathlego Cash Loans. Screenshot of Kathlego Cash Loans website.


[Accessed December 9, 2022]
About Kathlego Cash Loans
Kathlego Cash Loans has the most technologically advanced credit system and a team of experienced dedicated employees whose main aim is to find you the financing that you need in as little time as possible.
These factors make us one of the top lenders in South Africa despite our young age we add more and more clients to our family everyday.
Easy and completely affordable
We are able to offer loans for bad credit with comfortable repayment terms and maximum flexibility. On average our customers receive their funds within an hour after making their application. This makes our service one of the speediest that you can find.
We have a proven track record of success and numerous satisfied customers. First-time clients are offered loans up to R3,000 for a term of 3 months and the option of taking out an additional loan after the payment of the second instalment. This will help you budget better and if you still aren't coping yet then the second loan is a very handy benefit to have.
Kathlego Cash Loans Services
The most important thing about our payday loans is that they are effective solutions in the case of a cash emergency.
When it is the middle of the month and you are left without money to cover your living expenses or you have to pay for a broken car repair or your kids' school fees, you can rely on fast and easy credit to fix the problem. Pay your bills so that you can get on with your life.
It is super easy to apply
Now you can do it without even visiting the lender's office. You will get approval quickly, simply because we only need to verify a few things and do not run a complete credit check. Instead, we verify your details and then decide if your online payday loan should be granted based on your level of affordability and current expenses that you have.
Quick cash in your account
You can call us to get your loan today. If your loan application is approved the money will be paid into your account within 2 hours of your application being approved. That's quick cash paid directly into your account now! Get your cash as soon as you need it by applying today.
Kathlego Cash Loans – Bad credit loan
Loan Type

Bad credit loans

Loan Amount

up to R3,000

Repayment

7 days to 90 days
Benefits of Kathlego Cash Loans
Instant service
Bad credit friendly
Small, short-term loans
Small loans of R3,000 on offer
Bad credit loan calculator
At Kathlego, you have reliable bad credit loans at your fingertips
The fact that you have a bad credit record lowers your chances of securing a loan, but there are some loan options which are specially designed especially for you
Consider your options and choose the one that matches your needs perfectly. Our blacklisted loans have very flexible loan repayment terms. A debit order is set to run automatically that is aligned with your salary payment. This will make it easier to never miss a payment or pay late penalty charges.
Online loans
Kathlego is a service provider specialising in matching clients to our credit products. Our company has been operating since 2010 and our customer base is growing every day.
Our services are available entirely online and this makes us accessible to South Africans nationwide. You simply need to complete an easy online loan application and you will know your outcome in a matter of hours. We have speedy service and friendly consultants that are there to answer any questions. We are very professional and our contracts are very transparent and easy to understand.
Kathlego's loans are provided by a panel of lenders. We will find you the most suitable credit products and process your application very quickly to get you the cash you need as soon as possible.
Save time & effort
Don't risk damaging your credit score by applying to lenders separately, each enquiry will cost you points on your credit score and this will make it even easier for your loan to be declined as your credit score plummets.
Borrow up to R3000
The loan products that we offer were designed especially for meeting your short-term loan needs. You can use them to pay for late bills or pay for your car's repair. Returning customers may be able to borrow more the next time they apply.
Chances of approval?
Some lenders that work with us do not work with blacklisted people or have overdue accounts. However, some are more flexible options that may be able to help you find a solution.
The chance of approval will depend on how bad your credit record is and on how long ago you were in financial trouble. The interest rate you are charged will certainly reflect the fact that you are a high-risk borrower, you may be subjected to stricter loan terms.
The verdict of this review is that the Kathlego bad credit loans are suitable for covering small unexpected expenses which occur during the month.
When you need a loan in a hurry apply with us.
Customer Reviews & Testimonials
"
April 2021
Apply for a Kathlego loan today and see the amount in interest rates you would end up saving.
Richard B
— Cape Town —
June 2019
Kathlego has always ensured that I get a loan that wouldn't prove to be difficult for me to pay.
Emily V
— Germiston —
June 2019
I was informed literally an hour later that my loan application was approved!
Peter O
— Benoni —
Kathlego Cash Loans Contact
Contact Number
E-Mail
Website
Physical Address
11 Union Street

Virginia

Free State

9430

South Africa
Opening Hours
Monday

08:00 – 17:30

Tuesday

08:00 – 17:30

Wednesday

08:00 – 17:30

Thursday

08:00 – 17:30

Friday

09:00 – 17:30

Saturday

– Closed

Sunday

– Closed