Professional Financial Advice
Low-interest starting from 10.71%
Repayment up to 60 months
In-page navigation
---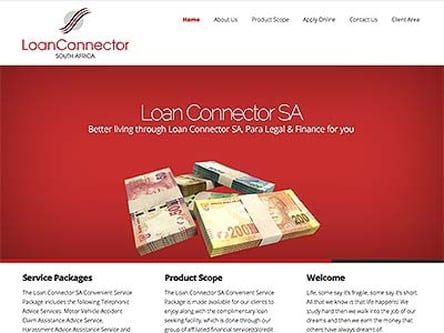 Author Loan Connector SA. Screenshot of Loan Connector SA website.


[Accessed December 9, 2022]
About Loan Connector SA
Loan Connector SA connects you to lenders that will change their life.
This service provider is your connection to the world of finance when you really need it.
In today's busy world, most people don't the spare time to go out hunting for the best possible lending firms in the country.
Even with a majority of lenders offering their loans online, it's difficult to ascertain if you're getting the best offer, rates, and terms.
Loan Connector SA does the searching for you and connects you to the best possible lender that will offer you the best rates with competitive interest rates. By having options you can compare the different terms and find the correct fit for you.
Loan Connector SA's expert team
Loan Connector SA has a team of highly experienced consultants who are passionate about what they do. They can answer all your questions and guide you through each step of the application process.
The paralegal experts on their team will advise and assist you when you need their help via their customer hotline.
Get the benefits you deserve
When you subscribe as a member you'll receive a host of benefits through Loan Connector SA's online platform.
Loan Connector SA combines financial services with paralegal expertise to create a full package of value-added services for our clients.
Apply now and receive all the advice, guidance, and assistance that you need through the site that connects you to the financial world.
Loan Connector SA Services
Loan Connector SA offers a product that's appealing to clients who struggle to get finance through traditional methods.
Quality efficient services
This platform's service is extremely unique which makes them the lending platform of choice for all South Africans, even those who are blacklisted and battle to get finance from other lenders.
Simply subscribe online via their website and get, not only a free online loan search tool but advice and assistance with:
Motor vehicle accident claims
Harassment
Domestic violence
Personal injury
Conveyance
Criminal law
Litigation
Will and Testament
Civil & labour law
Matrimonial law
Monthly electronic service assistance pack
Complimentary loan finding service
For a minimal subscription fee clients receive a whole package of value-added benefits, to suit their financial and legal needs. You never know when you're going to need expert financial advice or assistance for unexpected situations in life.
These benefits are included in Loan Connector SA's all-inclusive package for only R429 once-off and then a subscription fee of R99 per month, (for the remaining 11 months). Loan Connector SA connects you to the technology, experts, and financial tools that will make life easier for you starting from the minute that you sign up.
Loan Connector SA – Bad credit loan
Loan Type

Bad credit loans

Interest Rate

10.71 – 21.55% p/a

Repayment

3 months to 60 months

Decision

24 hours
Benefits of Loan Connector SA
Quick and easy bad credit loans

Repayments between 3 and 60 months
Thousands of blacklisted clients helped
Professional financial advice available
Free loan finding service
Bad credit loan calculator
Blacklisted? Get the best loan options at Loan Connector SA today!
Loan Connector SA aims to deliver quality service with the guidance of their para-legal advice team and provide assistance and benefits that you actually need.
This provider understands the difficulties of trying to get finance and personal loans when you have bad credit. You may get turned away from the majority of financial firms even if you are able to fulfill your repayment terms.
Make life a lot more simple
Loan Connector SA do their utmost best to connect you to the loans that you want when you need them. They base their applications on what you can currently afford and not on your credit score.
You won't be penalized if you've experienced financial complications and non-payments in the past. Loan Connector SA works within the regulations prescribed by the National Credit Act regulations which state that a loan may only be granted if the client is able to afford the loan repayment terms.
Benefits and a free loan finding service
Loan Connector SA makes your life easier. You can get a full package of benefits by visiting their website, signing up, and registering as a member. Receive a FREE loan-finding service option as part of your benefits package to use whenever you like during your subscription period.
This will allow you to apply for finance and let Loan Connector SA do all the necessary searching for you. They've assisted thousands of blacklisted clients in finding the right lender who meets their financial needs.
Simple and convenient services
Their loan finding service is simple to use and very convenient. There's no need to stand in long queues or waste your time visiting the loan office in person instead of simply applying online and receive your loan today.
Your entire loan application can be processed online through Loan Connector SA's easy-to-use website. Should you need any assistance from their consultants, they'll happily assist you via telephone or through email.
Working faster to get you your cash
When you apply for a personal online loan it's usually because you need to pay for something quickly, Loan Connector SA aims to get you the loan you need as quickly as possible. From beginning to end, the entire process only takes around 24 to 48 hours.
Register today, and get all you need and more from Loan Connector SA!
Customer Reviews & Testimonials
"
May 2019
Applying for a Loan Connector SA credit plan is short and easy to understand. Every question that is asked is specific to your loan application.
Thabiso P
— Rustenburg —
April 2019
I wasn't charged any interests for settling my loan earlier than the required date.
Luther C
— Pietersburg —
May 2019
If you are not happy with your previous credit providers, apply for a Loan Connector SA today and see the financial difference for yourself.
Kelly J
— George —
Loan Connector SA Contact
Contact Number
E-Mail
Website
Physical Address
N Bank Ln, Century City

Cape Town

Western Cape

7441

South Africa
---
Postal Address
PO Box 569, Century City, 7446, South Africa
Opening Hours
Monday

08:00 – 17:00

Tuesday

08:00 – 17:00

Wednesday

08:00 – 17:00

Thursday

08:00 – 17:00

Friday

08:00 – 17:00

Saturday

– Closed

Sunday

– Closed