Fast Loan Comparison
Low-interest up to 27%
Repayment up to 60 months
In-page navigation
---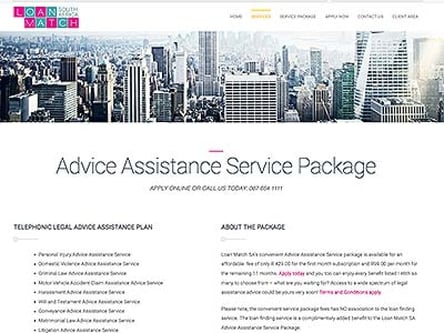 Author Loan Match SA. Screenshot of Loan Match SA website.


[Accessed December 9, 2022]
About Loan Match SA
Loan Match SA provides for all your loan requirements under one online platform.
They've been helping clients source the lender that meets their needs for many years and through their technology and innovative systems they offer competitive lending options to all their clients.
Free loan finding service
Loan Match SA's loan finding service is totally free. This forms part of a number of unique features included in the package that they offer to you when you subscribe.
Their loan finding service will find you a loan even if you're blacklisted. They'll arrange an easy-to-manage payment plan to help you get back on your feet.
Loan Match SA is your lender of choice
Loan Match SA will help you apply for an online loan from their list of hundreds of preferred lenders. You can then select the best deal that suits your budget.
Fast online services
Loan Match SA's process is fast and very easy to use.
What makes their service even more convenient is the fact that it can all be accessed online in only a few minutes. Stop stressing and apply today even if you're currently blacklisted.
You may apply for a loan of between R1 000 to a maximum of R500 000 depending on what you can afford.
Loan Match SA Services
Loan Match SA doesn't beat around the bush by wasting your precious time, time that you could spend doing more important things.
This provider's turnaround time is one of the fastest in the business so their loans are great for emergencies when you need quick cash.
Simple and on point
With their online technology making your life a lot easier, you can subscribe, login into your account, and apply for a personal loan online or a quick cash blacklisted loan.
Extra benefits
Loans just got a lot easier and more affordable! With more benefits than you could ever have imagined, Loan Match SA also includes a free loan finding service, where you can stipulate your loan requirements. Their loans offer fast turnaround times which means that you can get your cash today.
You have options
Loan Match SA brings you a shortlist of lenders who will be able to assist you and offer you the most competitive rates and repayment terms to meet your loan requirements. Choose the option that you like best and complete the loan application to proceed to the next step.
Excellent customer service
Loan Match SA knows how to please clients, with a continuous quality-driven service, they strive to bring you the best low-cost loan products.
Loan Match SA doesn't let your credit score stop you from getting the finance you need. They go the extra mile for every client, to ensure no one is left behind and they're able to grant your loan request.
Loan Match SA – Bad credit loan
Loan Type

Bad credit loans

Interest Rate

up to 27%

Repayment

3 months to 60 months
Benefits of Loan Match SA
Loans for bad credit clients
Repayment periods between 3 and 6 months
Easy, affordable repayments
Short-term finance for all pockets
Bad credit loan calculator
Loan Match SA finds you a personal loan, even if you are blacklisted
Don't let your low credit score stand in your way - get a loan with Loan Match SA!
Loan Match SA offers more than loan opportunities for blacklisted clients. They offer advice and legal assistance. Their bad credit loan options are perfect for those that are currently battling with debt.
Bad credit loans
Anyone can apply, even if you have bad credit. Loan Match SA will have a lender who will offer you the best rates and benefits that you won't find anywhere else.
Subscribe to a world of loan benefits on their website and get the cash you need in your bank account faster than ever before!
When you subscribe, you get a world of benefits including advice and assistance with:
Personal injury
Domestic violence
Criminal law
Harassment
Will and Testament
Conveyance
Matrimonial law
Litigation
Civil & labour law
Monthly electronic service
Complimentary loan finding service
Registration is simple and quick
Simply complete the required fields with your personal details and sign up for a world of value-added services, which can help you through your financial and legal difficulties.
Receive all these added benefits for a minimal subscription fee. With Loan Match SA you get far more benefits than you bargained for.
Loan Match SA provide blacklisted loans
Loan Match SA believes in adding value to your life, so when you need a loan for bad credit, you can make use of their free search engine.
This amazing online service allows you to sort through hundreds of lenders so that you're able to borrow money quickly and easily. This service is completely free.
Clients receive interest rates that are highly competitive in the financial industry. With Loan Match SA you can compare lender's extra fees and charges, as well as their repayment terms and how long they give you to repay the loan.
Most lenders offer terms of between 3 and 60 months. So chose the one that ticks all the boxes and hit apply!
Worried that your application will be denied?
Get an all in one legal and lending advisory service to help make your life a little more simple. Loan Match SA will find what you looking for, even when the banks have turned you down because you're blacklisted.
Being blacklisted can halt your dreams of extending your home, going on holiday, or anything else that you may need a personal loan for.
Loan Match SA is able to assist you with finance, today! Register as a subscriber on their website and apply for your customised personal loan. Applications can be done online or call via telephone at 087 654 1111.
Customer Reviews & Testimonials
"
April 2019
Within one business day, the funds were deposited into my account.
Celine P
— Kimberly —
May 2019
I thought applying for a Loan Match SA would be so complex. To my surprise, the online application is so easy to follow through.
Richard F
— Ladysmith —
Loan Match SA Contact
Contact Number
E-Mail
Website
Physical Address
N Bank Ln, Century City

Cape Town

Western Cape

7441

South Africa
---
Postal Address
P.O Box 569, Century City, 7446, South Africa
Opening Hours
Monday

08:00 – 16:00

Tuesday

08:00 – 16:00

Wednesday

08:00 – 16:00

Thursday

08:00 – 16:00

Friday

08:00 – 16:00

Saturday

08:00 – 13:00

Sunday

– Closed