About Quick Rands
Quick Rands sources the best loans, custom-built just for you.
This lender puts in the time and effort to look at the best loan options from various credit suppliers to present you with the best loan based on your credit record and budget.
The best loan compare service
Quick Rands compare loans in South Africa to find the right one for you – and the one that will provide the fastest pay-out.
They do all the paperwork and investigating for you, with the goal of finding the best quick cash loan product for you.
They will prepare your application within 24 hours (which is quicker than if you had to try and do it all yourself by going to your local bank)!
All your information is kept private and confidential and is transitioned in a secure and confidential way, so as to keep your mind at ease. There's no extra cost to you for using Quick Rands' services because their services are 100% free.
Quick Rands Services
In the event that you find yourself in a position of needing cash in a hurry and you're not sure where to turn to, you can depend on Quick Rands to find the perfect loan for you.
It may be the case that you simply need to pay off a couple of accounts or that you need cash for that crisis that just can't wait!
You can utilize your cash loan for anything. Rest assured there isn't a long list of prerequisites and whatever your needs are, an online loan can resolve your financial emergency immediately.
Quick Rands stay in touch with credit providers constantly in order to get you the loan you need when you need it.
You can get a number of loans, including:
Payday loan – a payday loan is a little cash loan that you will pay back by your next payday
Term loan – a term cash loan is a larger loan sum where you can get up to 36 months to repay the loan
All loans are unsecured loans so you needn't bother with any insurance or security
Benefits of Quick Rands
QUICK Loans
INSTANT Cash Loans
PERSONAL Loans
Quick Rands will deliver your credit in less than 24 hours
Getting a loan has never been easier than it is today.
You don't even have to do all the scouting online or via the phone to try to find the best loan option. Quick Rands acts as a broker and investigates hundreds of loans to find the most suitable one for you.
The application is simple
You don't need to do anything more than complete the online loan application form and submit it. When Quick Rands have received your loan application they'll do the important checks and find you the best-suited offer.
All loan applications will need to be approved by the lender and decisions will be based on their requirements and your credit score, affordability, and needs. Even if you've been declined by other banking institutions or lenders, Quick Rands will more often than not, find a loan for you.
Whether it is a term loan, quick loan or a payday loan, Quick Rands has the ability to source the right financial partner to assist you.
Despite the fact that you may be blacklisted and perhaps you don't fit the criteria for a loan, the most ideal path is to send Quick Rands your loan application and let them see what they can accomplish for you.
Required information for loan products:
A completed loan application form
South African ID book or passport
3 Month bank statements
Most recent payslips
When they receive your application they get right down to work in order to get your loan approved.
Yes, it's that simple!
Once you've submitted all the requested information, they'll gladly send you the loan documents, with every one of the points of interest, which you have to sign and return.
Quick Rands, can have the cash in your bank account in less than 24 hours of consenting to the loan offer.
Your credit profile and ability to pay back your loan dictates your loan amount and loan term. Every one of their loans is liable to a credit check and salary confirmation.
However, there are many loans out there that don't scrutinize your credit score (should it be slightly off-target). Let Quick Rands find you the loan that best suits you and your budget!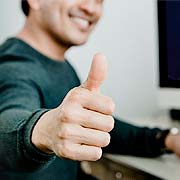 Quick Rands is a trusted & reliable provider of quick loans
In our review, Quick Rands adheres to the compliance criteria in accordance with the National Credit Act, where the granting the loan will not cause financial distress to the consumer.
Quick Rands is a registered credit provider in South Africa: NCRCP1380
Customer Reviews & Testimonials
"
Quick Rands ensured that I get my loan on the very same day I had applied for credit.
Nombuso M
— Port Shepstone —
Applying for a Quick Rands loan was the best thing I did for my budget.
Sam S
— Cape Town —
If you looking for a good and affordable credit plan, Quick Rands is the best way of ensuring that you get an advance that you can pay off in easy monthly instalments.
Regina D
— Kimberley —
Quick Rands Contact
Contact Number
E-Mail
Website
Physical Address
Corner Corlett Drive and M1 Highway, Melrose

Johannesburg

Gauteng

2076

South Africa
---
Postal Address
PO Box 650796, Benmore, Johannesburg, 2010, South Africa
Opening Hours
Monday

08:00 – 17:00

Tuesday

08:00 – 17:00

Wednesday

08:00 – 17:00

Thursday

08:00 – 17:00

Friday

08:00 – 17:00

Saturday

09:00 – 14:00

Sunday

– Closed